Drobo iSCSI SAN Recovery - SAN RAID Data Recovery
Drobo iSCSI SAN recovery - RAID Data Recovery
For small and mid-size businesses entrusting their information to Drobo B810i iSCSI SANs, ACE Data Recovery offers professional file recovery services. Just in case there's data accessibility issue that threatens to grow into data loss. Using highly-specific tools created onsite, a team of well-trained recovery engineers hired from all over the world, will restore every single piece of readable data even from a physically damaged Drobo B810i iSCSI SAN drive.
According to a series of reviews, Drobo B810i iSCSI SAN is quite popular device that is often included with lower-cost network-attached storage systems. Just like other iSCSI SAN drives, Drobo's user-friendly product is used to improve performance and ensure safety to sensitive information. To prevent crucial data from loss, the drive relies on Drobo BeyondRAID technology that ensures enterprise-class data protection when required.
Drobo iSCSI SAN data recovery process: how it works for our clients
1.

YOU BRING

Bring or ship your failed storage media to our office for a free diagnostic evaluation.
2.

YOU APPROVE

Receive and approve an all-inclusive quote, so we can start the process immediately.
3.

WE RECOVER

Give us few days to recover your data and to copy it to a free return media.
4.

WE DELIVER

Get your data back, copy it to your computer and benefit from our free post-recovery support.
Free external hard drive or usb flash with each
completed
recovery
Why do you actually need to deal with companies like ACE Data Recovery if you can rely on a couple of IT-savvy guys living next door or do all that recovery stuff on your own? ACE Data Recovery's experience has shown that permanent data loss often follows thoughts like that. On the contrary, early referral to specialists can save both data and money.
Our Experts are Ready to Recover Data from Your Failed Drobo iSCSI SAN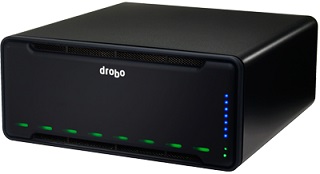 But the world isn't that easy. Data loss can happen when you least expect it. To organize files, Drobo B810i iSCSI SAN uses RAID technology, which makes the drive vulnerable to most physical and logical failures common to all RAID arrays. Failed RAID controller, overheated disk(-s), failed firmware upgrade or human error can lock all important information inside Drobo storage drive and make it inaccessible. When it happens, the only way to get critical files back is to call professional data recovery specialists for help.
Drobo iSCSI SAN data recovery: ACE Data Recovery experts can retrieve intact files back
Since 1981, ACE Data Recovery provides the A-grade technical services to corporate and individual users having issues with critical data accessibility. In most cases, when files weren't severely corrupted or overwritten, there's a chance to restore information. For more than 35 years the company has created a broad range of reliable solutions that make it possible to recover data other companies can't.
It comes without saying that professional data recovery can be very expensive. However, ACE Data Recovery's price policy is based on a simple principle: No Data — No Charge. The point is, ACE Data Recovery changes its customers for successfully completed cases only. That makes basic company services affordable not only for large corporations, but also for small businesses and households.