Recovery data from Seagate Backup Plus Slim Portable Hard Drive SRD0VN2 at Dallas, TX - ACE Data Recovery cases blog
Data recovery from water damaged Seagate Backup Plus Slim Portable Hard Drive - SRD0VN2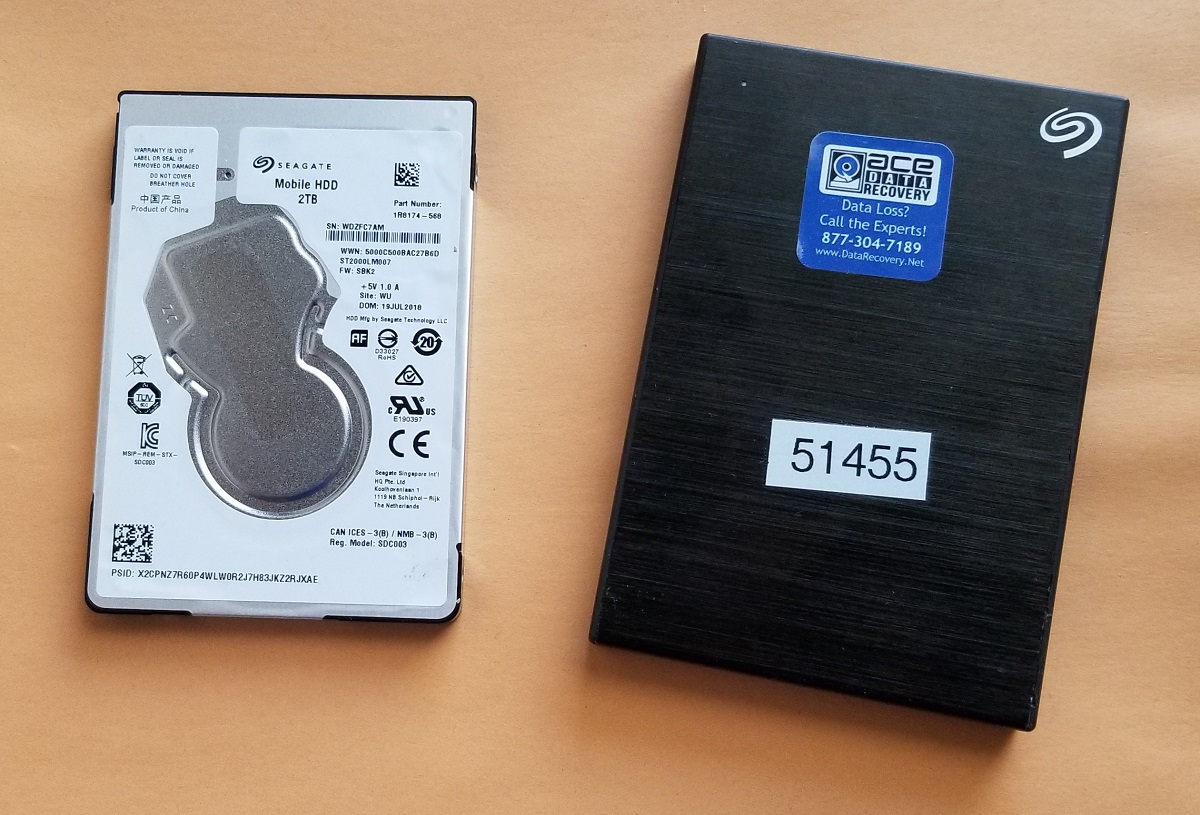 Customer in tears (of joy!) as ACE performs a complete external hard drive recovery that leads to thousands of invaluable family memories being rescued. The drive had been submerged in water for several weeks before being brought to us.
"The most important thing in life is family and love," said famous basketball coach John Wooden, and after a devastating house fire, it may be all you have left. Well, a recent customer of ACE was at risk of losing that too, in the form of hundreds of gigabytes of family photos and documents and was in dire need of hard drive data recovery.
The client had come across their external hard drive water submerged in a bin of water while navigating the wreckage that had been their home. To the benefit of the customer, before making their next move, they did a Google search for hard drive recovery and found ACE, from our website, they were able to conveniently connect with one of our data recovery advisors who were able to guide the customer on what to do next and how we can help. 3 days later, our engineers were carrying out the clean room hard drive recovery keeping the gravity of the situation close at mind.
The external hard drive (Seagate Backup Plus Slim Portable Drive - SRD0VN2), to no one's surprise, was completely unresponsive and was receiving no power. The engineer had to first, open the hard drive to physically examine it, and then clean the media by taking advantage of our proprietary platter cleaning solution. Next, the engineer replaced the printed circuit board (PCB) of the drive and used our exclusive imaging software to create a full image of the data present. Data recovery is a very meticulous process, and one wrong move to the HDD (Seagate ST2000LM007) could have cost the client their data forever.
Within 4 business days of the drive being brought to our in Dallas, TX data recovery lab, we were able to recover 100% of the data and copy it to a new complimentary hard drive. The client, David, shares his testimony here: "A month ago I didn't know what data recovery was, I didn't know how my hard drive worked, and I didn't know what I held so dear could be taken away from me so quick. I hope I never need hard drive repair again, but if I do, ACE Data Recovery will be the first place I turn to. My family and I are eternally grateful for the data recovery service you were able to provide."
Free external hard drive or usb flash with each
completed
recovery