WD My Passport SSD SN550E
March, 2021
WD My Passport SSD SN550E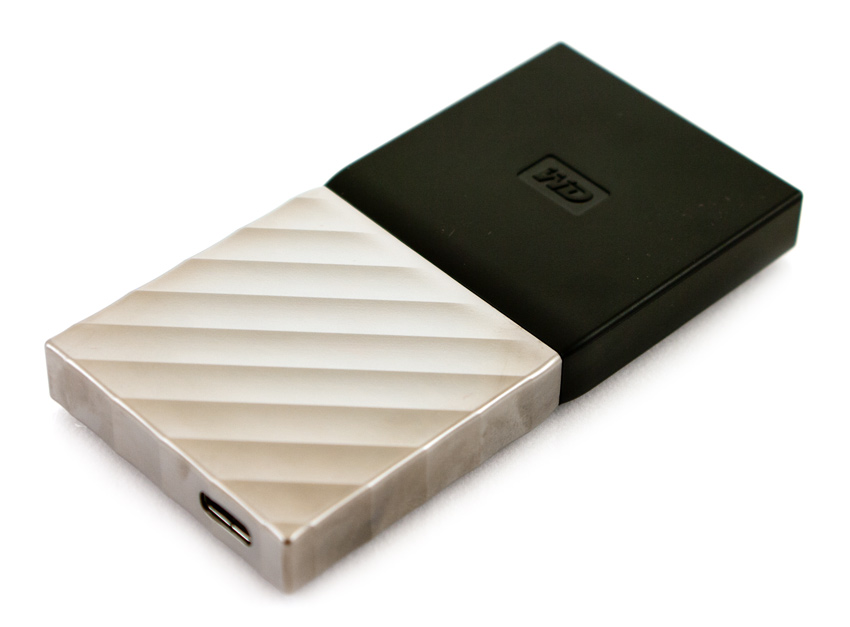 The Western Digital My Passport SSD is a DRAM-less portable NVMe SSD, and it comes in various color options, including gold, silver, grey, blue, and red. With a USB 3.2 Gen2 controller and the company's WD Blue SN550E NVMe SSD under the hood, this portable SSD is designed to deliver high performance. The SSD drive also comes with hardware-based AES 256-bit encryption for the security conscious computer users and support by its WD Discovery software. WD Security lets users add password protection (supported by the hardware encryption).
Ranging from 500GB up to 4TB, the WD My Passport SSDs come in a variety of capacities, and they all are rated to deliver up to 1,050/1,000 MBps of read/write performance under sequential workloads.
Measuring 100 x 55 x 9 mm and weighing in at under 54 grams, WD's My Passport SSD is sleek, slim, and can easily slip into a pocket. WD supplies the My Passport SSD with a USB Type-C to Type-C cable that supports USB 3.2 Gen 2. There's also a USB Type-C to Type-A adapter which means that the drive is backwards compatible with older connections.
WD also provides the company's Discovery software to manage the My Passport SSD and enables downloading a few other apps. WD Security and WD Backup software manage the SSD's password protection and configure backup tasks on both macOS and Windows-based computers. The WD My Passport SSDs come formatted as exFAT for compatibility with both macOS and Windows-based computers and support S.M.A.R.T. data reporting. When formatted as NTFS, the My Passport SSDs support TRIM.
The WD My Passport SSDs offer a reasonable blend of capable hardware and value and are a really good option for anyone who needs compact storage on the go. But, unfortunately, they may fail just like any other storage media, and then their owners will need to contact a reliable data recovery services provider to get their photos, videos, and other documents back. ACE Data Recovery team can successfully recover data from SSDs of all makes and models and is ready to help the WD My Passport SSD owners with their data recovery needs.