Western Digital budget-priced Blue SN570 M.2 NVMe SSD
December, 2021
Western Digital budget-priced Blue SN570 M.2 NVMe SSD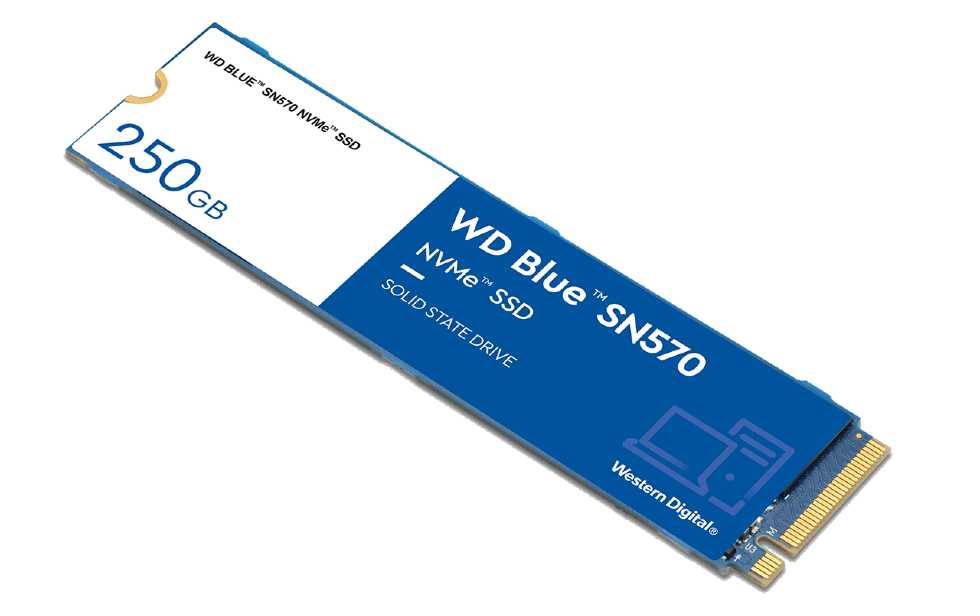 The Western Digital Blue SN570 NVMe SSD is Western Digital's latest budget-priced internal solid-state drive that is a solid performer among affordable NVMe SSDs although it sticks to the PCI Express 3.0 rather than the newer 4.0 interface. The WD Blue SN570 is currently available in 250GB, 500GB, 1TB capacities, but WD plans to release a 2TB model in 2022.
The WD Blue SN570 SSD improves upon its predecessor the WD Blue SN550 by boosting performance while retaining rock-bottom pricing and high reliability, making it a solid value pick for most system builders. The new SN570 SSD is faster in most types of desktop PC work. That comes courtesy of the company's BiCS5 112-Layer TLC flash paired with the PCIe 3.0 interface. The SN570 SSD also features a new controller to manage the flash at higher interface speeds.
While the WD Blue uses a new type of flash, the SLC cache implementation hasn't changed. The SN570 SSD uses a small, quick-to-recover static cache to reach sequential speeds of up to 3.5/3.0 GBps read/write. The 1TB model is the top performer of the series and can deliver up to 460,000/450,000 random read/write IOPS.
The Western Digital Blue SN570 SSDs are backed by a five-year warranty and have the same endurance metrics as the company's top-tier WD Black SN850 SSDs. Through the use of refined Low-Density Parity-Check (LDPC) ECC and roughly 10% of flash dedicated to over-provisioning, the Blue SN570 SSDs can endure up to 600TB of writes per terabyte of flash capacity.
The Blue SN570 SSDs come with Western Digital SSD Dashboard, an app that allows users to monitor the SSD and perform various other functions, for example, updating the firmware. Acronis True Image for Western Digital software is also available for download on the support page – it enables simple, quick, and free data cloning and backup. The SN570 SSDs also come with a one-month membership to Adobe Creative Cloud apps and services.
But no matter how good they are, the WD Blue SN570 NVMe SSDs are vulnerable to physical and logical failures that may result in data loss. To get their critical data back, the owners of the WD Blue SN570 NVMe SSDs will need to contact a professional SSD data recovery services provider. ACE Data Recovery team has extensive experience in successful recovering data from SSDs of all makes and models. ACE Data Recovery engineers are ready to help the WD Blue SN570 NVMe SSD owners with their data recovery needs.