New Western Digital SN850X NVMe High Performance SSD
October, 2022
New Western Digital SN850X NVMe High Performance SSD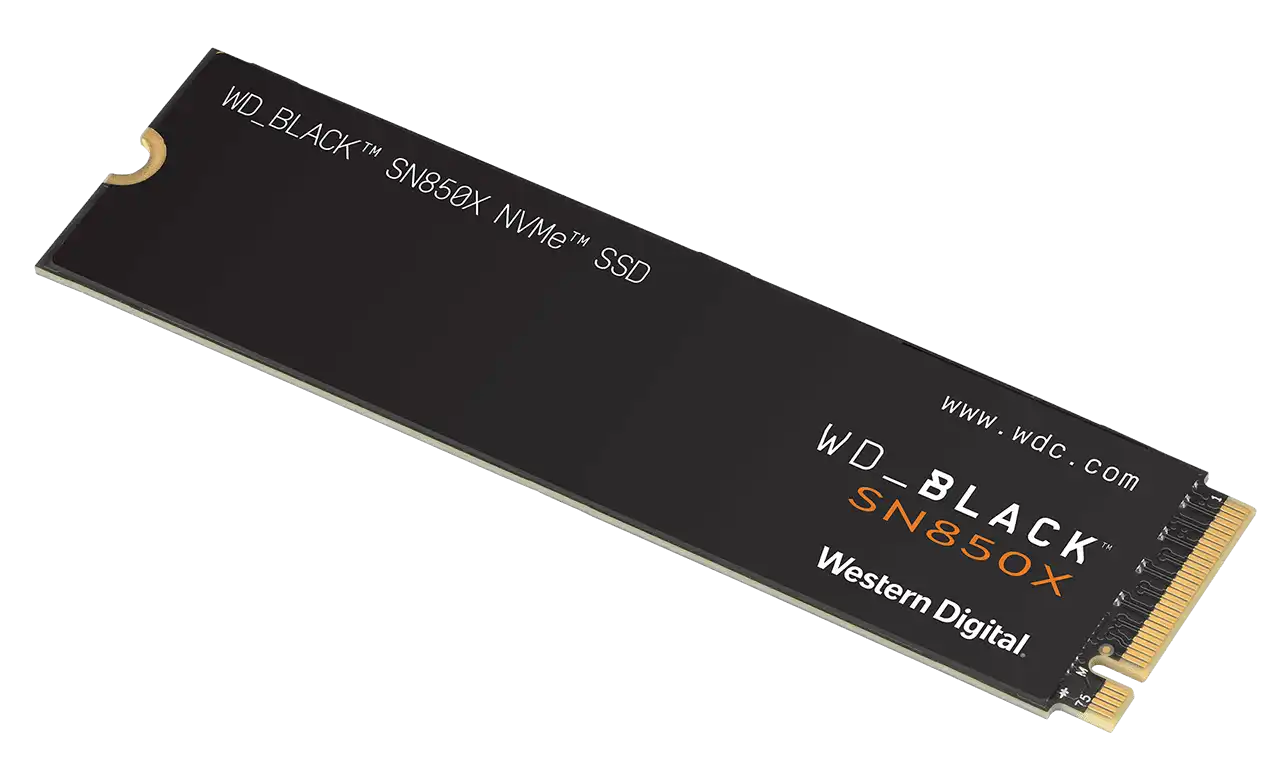 The WD Black SN850X is touted by Western Digital as a powerful, high-end PCIe 4.0 SSD for gaming that has options for RGB lighting and a heatsink, making it ready for the PlayStation 5 (PS5) or your PC. The WD SN850X internal solid-stat-drive is an upgrade to Western Digital's high-performance PCI Express 4.0 gaming SSD, the SN850. It improves on an already excellent SSD by giving buyers the option for a 4TB version and an upgrade in flash memory that boosts sequential read and especially write speeds.
The original SN850 SSD combines a competitive price with great all-around specifications and performance. If it had a weak point, it was operating temperature: the SN850 runs a little hot. So this new WD SN850X SSD model addresses that head-on. It has WD's full-length heat spreader, and WD also says the SN850X SSD drive has a new thermal management profile to reduce performance throttling under heavy load.
The new WD SN850X SSD also brings a number of additional tweaks, including a revised controller chip and upgraded NAND flash memory. The SN850X employs 112-layer TLC 3D NAND flash memory. It is manufactured on an M.2 Type-2280 (80mm long) "gumstick" printed circuit board and uses the NVMe 1.4 protocol over the PCIe 4.0 bus, with a homegrown WD/SanDisk controller.
The WD Black SN850X SSD is available in 1TB, 2TB, and 4TB capacities. In addition, the SN850X SSD has options for a heatsink with RGB for the 1TB and 2TB models, but not for the 4TB drive. Western Digital touts the 1TB and 2TB capacities as the best for the PS5.
Western Digital improved performance in sequential read workloads, with a maximum of 7.3GBps from 7.0GBps, and sequential writes improved from up to 5.3GBps to 6.6GBps. Performance in random workloads has also improved significantly, up from a maximum of 1M / 720,000 read and write, respectively, to 1.2M / 1.1M. Finally, the WD Black SN850X SSDs come with the latest 2.0 iteration WD's Game Mode drive management software.
The WD Black SN850X SSDs are powerful gaming drives that are also great for use by performance-minded photographers and videographers, but they are vulnerable to some defects and have a limited number of write cycles, so the ability to write to SSD will eventually wear out, leading to potential data loss. Then the owners of the WD Black SN85X SSDs will need to contact a professional data recovery services provider. ACE Data Recovery supports more brands and models of SSD storage than any of our competitors and can boast of an unsurpassed 98% success rate. ACEs are ready to help the WD Black SN850X SSD owners with their data recovery needs.