Introducing the WD BLACK SN770M NVMe SSD
September, 2023
Introducing the WD BLACK SN770M NVMe SSD
Western Digital has introduced a new Solid State Drive solution for gamers, the WD BLACK SN770M NVMe SSD. This is a premium, high-performance M.2 2230 solution that is designed for the emerging handheld PC gaming market.
It offers up to 2TB of fast storage for your games, with speeds up to 5,150 MB/s (1TB and 2TB models) that enhance game installation and loading times. It is also compatible with M.2 2230 SSD-enabled laptops, such as the ASUS ROG Ally, giving you more flexibility and performance for your gaming needs.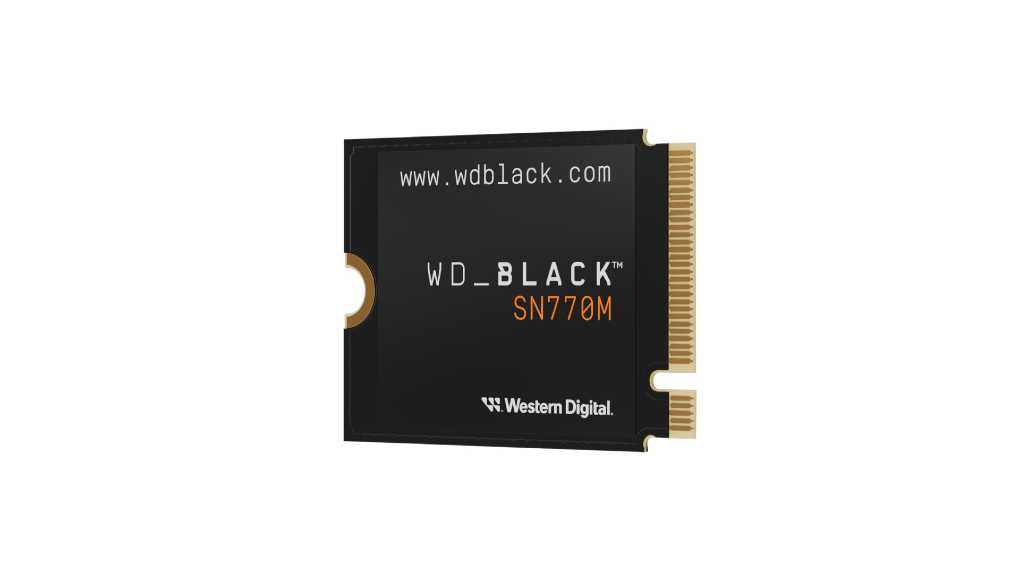 Features of the WD BLACK SN770M NVMe SSD
Capacity: The SSD comes in two options, 1 TB and 2 TB, which provide ample storage space for your games, files, and applications. You can use this SSD to store your photos, videos, music, documents, and more..
Low Power Mode: Reduces power consumption and extends battery life.
Shock-Resistant Design: Protects your data from drops and bumps.
WD BLACK Dashboard: A software tool that lets you monitor and optimize your SSD for gaming, with options to enable gaming mode, check the health and temperature of your drive, and update the firmware. You can also use this tool to customize your SSD settings and preferences according to your needs..
3D NAND Technology: A memory technology that stacks flash memory cells vertically in multiple layers, increasing the storage capacity, durability, and efficiency of your SSD, while reducing power consumption and heat generation. 3D NAND technology works by using a 3D charge trap flash (CTF) structure that stores electrons in an insulating layer rather than in a floating gate. This allows for more cells to fit in a smaller space and reduces cell-to-cell interference..
5-Year Limited Warranty: A warranty that covers your SSD for up to 5 years or up to the endurance rating of your drive, whichever comes first. The endurance rating is the amount of data that can be written to your SSD before it wears out, and it varies depending on the capacity of your drive. For example, the 2 TB model has an endurance rating of 1200 TBW (terabytes written)..
Shock and Vibration Resistance: A design that protects your SSD from physical damage caused by drops, bumps, or vibrations.
Comparison with Other SSDs
How does the WD BLACK SN770M NVMe SSD compare with other SSDs in the market?
According to PCMag, the SN770M has a moderate price for a PCIe 4.0 drive and matched its rated sequential read and write speeds in their testing. It also performed well in overall storage and some trace tests. However, it lacks 256-bit AES hardware-based encryption and does not include any heat dissipation hardware. Some of its competitors, such as the WD Black SN850, the Crucial P5 Plus, and the Samsung SSD 980 Pro, have similar or higher endurance ratings and support hardware encryption. The XPG Atom 50 is another budget-friendly PCIe 4.0 drive that has slightly higher endurance rating and lower power consumption than the SN770M. The WD BLACK SN770M NVMe SSD is a great choice for handheld PC gamers who value speed, capacity, and compatibility, but it may not be the best option for those who need encryption or heat management.
The WD BLACK SN770M NVMe SSD is not only a great solution for gamers who want to enjoy the best handheld PC gaming experience with speed, stability, and security, but also a great solution for anyone who wants a fast and reliable SSD for their handheld device.
ACE Data Recovery for Western Digital SSD Drives
ACE Data Recovery specializes in providing comprehensive data recovery solutions for Western Digital SSD drives. With years of experience in the field, ACE Data Recovery has developed advanced techniques and state-of-the-art technology to recover lost data from a wide range of Western Digital SSD models. Whether you've experienced data loss due to hardware failures, accidental deletions, or other issues, our skilled technicians have the expertise to retrieve your valuable data. We understand the importance of your data, and our commitment to quality and security ensures that your files remain confidential throughout the recovery process. When it comes to Western Digital SSD data recovery, trust ACE Data Recovery to deliver outstanding results and bring your data back to life.
ACE Data Recovery is your trusted partner when it comes to recovering data from Western Digital SSD drives. We understand that data loss can be a distressing experience, and our mission is to provide you with the best chance of retrieving your valuable files and memories.
Our team of highly skilled engineers and technicians has the expertise to handle various scenarios that lead to data loss, such as SSD controller failures, NAND flash issues, firmware problems, and more. We work tirelessly to recover your data using cutting-edge technology and proprietary tools developed specifically for SSD data recovery.
One of the unique challenges with SSDs is their complex architecture and data management algorithms. Western Digital SSDs are known for their advanced technology, and our specialists are well-versed in dealing with these intricacies. We have a proven track record of successfully recovering data from Western Digital SSDs, even in cases where other data recovery providers have deemed the data unrecoverable.