The New Toshiba's MG10F 22TB Enterprise Class Hard Drive
October, 2023
The New Toshiba's MG10F 22TB Enterprise Class Hard Drive
Toshiba has announced a new 22TB model, the MG10F. This is a conventional magnetic recording (CMR) hard disk drive (HDD) that leverages Toshiba's 10-disk helium-sealed design. The MG10F 22TB HDD is compatible with a wide range of applications and workloads for both cloud-scale and traditional data-center use cases. It features 7,200rpm performance, a 550TB per year workload rating, and a choice of SAS and SATA interfaces. The MG10F Series HDD is designed to meet the growing data storage needs of its largest customers. Sample shipments of the 22TB MG10F Series HDD with the SAS interface are expected to start this month, and with the SATA interface in the fourth quarter of the year.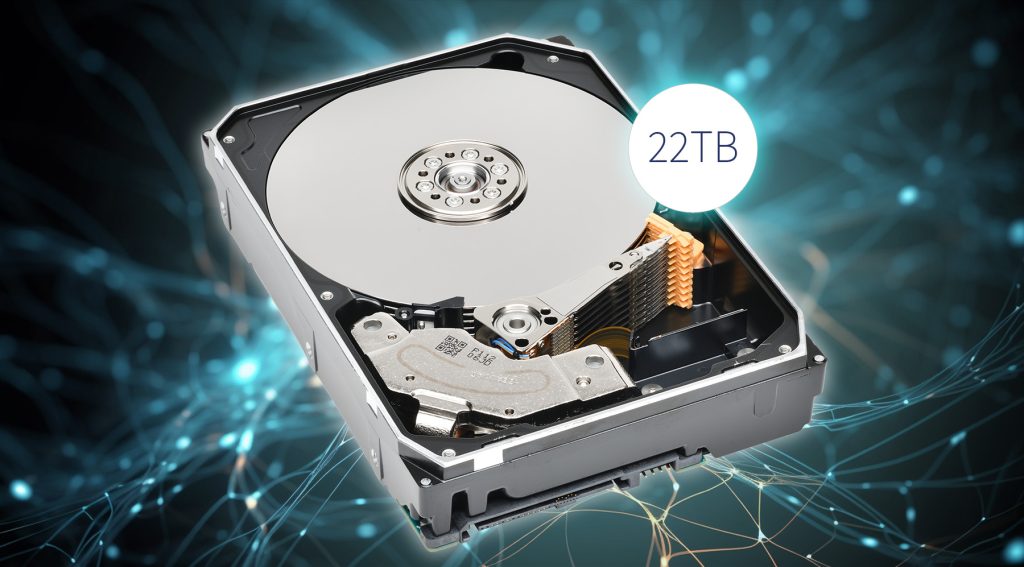 SAS and SATA HDD Interfaces
SAS (Serial Attached SCSI) and SATA (Serial Advanced Technology Attachment) are two types of interfaces used to transfer data between the motherboard and storage devices. While both interfaces perform the same function, they are built with different hardware and have different capabilities. SAS is generally more expensive than SATA and is better suited for use in servers or processing-heavy computer workstations. It offers faster data transfer speeds, higher reliability, and better error-handling capabilities than SATA. SATA, on the other hand, is less expensive than SAS and is better suited for desktop file storage. It has a larger storage capacity than SAS but is slower and less reliable.
Benefits of Helium-Sealed Hard Drives
Helium-sealed hard drives have several benefits over traditional air-filled hard drives. Helium is seven times lighter than air, which creates less drag and turbulence when the hard disk platters spin. This results in lower power consumption, cooler temperatures, and less noise. The thinner disks in helium-sealed hard drives require less power to spin, which translates to more disks per HDD and increased data storage capacity. Helium also keeps out humidity, which improves reliability.
Comparison with SMR Drives
Toshiba does not offer a shingled magnetic recording (SMR) version of the Toshiba MG10F 22TB drive, which could provide approximately a 15 percent additional capacity increase through partially overlapping write tracks. Western Digital's 22TB drives have 26TB SMR variants. A roadmap from February 2022 for Toshiba's disk drives indicated the release of a 26TB SMR product, but it has not materialized as a product.
Both the Toshiba MG10F 22TB and WD Ultrastar DC HC570 support vibration protection technology, safeguarding the drive from damage caused by vibrations. In contrast, the Seagate IronWolf Pro ST22000NT001 does not offer vibration protection technology.
Performance and Reliability
In terms of performance, all three drives are very similar. They employ the latest technologies, such as CMR recording and TLER, to deliver the best possible performance. However, the Toshiba MG10F 22TB has a slight edge in terms of read and write speeds.
Vibration Protection and Technology Support
All three drives are also highly reliable, boasting a high MTBF (mean time between failures) rating of 2.5 million hours. Nevertheless, the Seagate IronWolf Pro ST22000NT001 and WD Ultrastar DC HC570 come with a longer warranty period of 5 years, in contrast to the Toshiba MG10F 22TB's 3-year warranty.
The WD Ultrastar DC HC570 also supports SMR (shingled magnetic recording) technology, allowing for higher-capacity drives, while the Seagate IronWolf Pro ST22000NT001 and Toshiba MG10F 22TB use conventional magnetic recording (CMR). Western Digital's Ultrastar DC HC570 drive provides speeds of up to 291MBps, and Seagate's 22TB IronWolf Pro delivers speeds of up to 285MBps.
All three drives are excellent choices for high-capacity storage. The Toshiba MG10F 22TB offers the best performance, whereas the Seagate IronWolf Pro ST22000NT001 and WD Ultrastar DC HC570 provide a longer warranty period and more features. If you prioritize top-notch performance, the Toshiba MG10F 22TB is your best choice. However, if you're seeking a drive with a longer warranty period and additional features, the Seagate IronWolf Pro ST22000NT001 or WD Ultrastar DC HC570 would be better options. It's worth noting that the Toshiba MG10F 22TB is still a relatively new drive, so there is less available information regarding its reliability compared to the other two drives.
Data Recovery Services for Toshiba's enterprise hard drives
ACE Data Recovery is a leading provider of data recovery services for Toshiba enterprise hard drives. Whether you need to recover data from a failed RAID array, a corrupted NAS device, or a damaged hard disk drive, we have the expertise and technology to help you. Our engineers have extensive experience with Toshiba enterprise hard drives, and can handle any data loss scenario, including logical, physical, mechanical, and firmware issues. We use advanced tools and techniques to ensure the highest success rate and the fastest turnaround time. We also offer a free diagnostic evaluation and a no data, no charge policy for your peace of mind. If you have lost critical data from your Toshiba enterprise hard drive, don't panic. Contact ACE Data Recovery today and let us recover your data quickly and securely.