Toshiba 18TB MG09 9-disk Helium FC-MAMR Hard Drives Launched
March, 2021
Toshiba 18TB MG09 9-disk Helium FC-MAMR Hard Drives Launched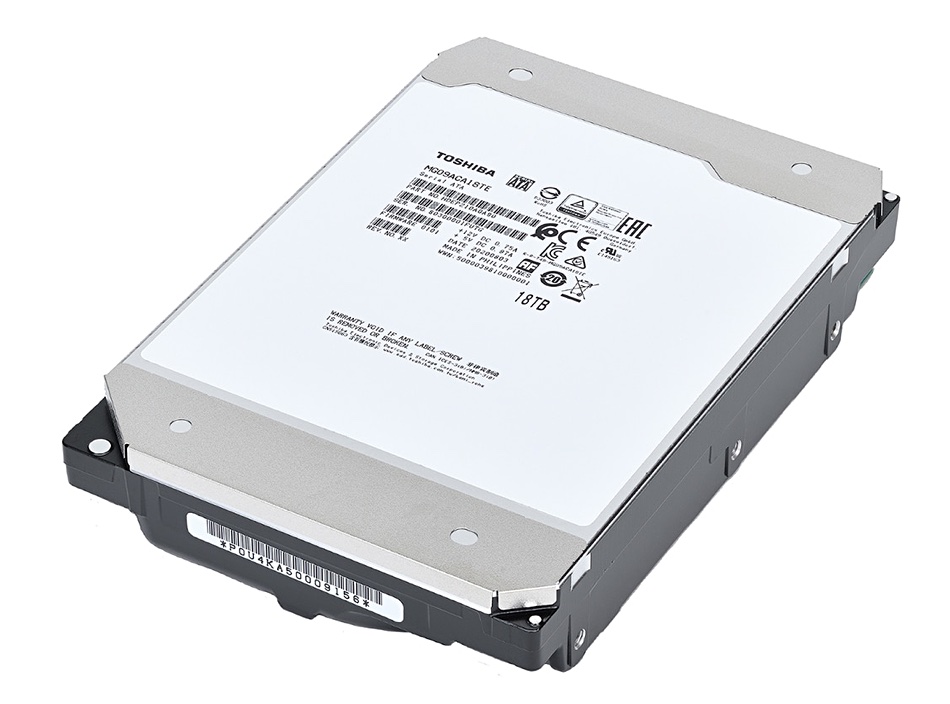 Toshiba announced the industry's first hard drive featuring flux-control microwave-assisted magnetic recording (FC-MAMR) technology to help increase density. The new Toshiba MG09-series HDDs are designed primarily for enterprise applications, and they offer an 18 TB capacity along with ultra-low idle power consumption.
The Toshiba MG09-series 3.5-inch 18 TB HDDs are based on the company's 3rd generation 9-platter helium sealed platform. Each aluminum platter features an areal density of around 1.5 Tb/inch2 and can store up to 2 TB of data. The MG09 series also includes a 16 TB model, which presumably features a lower number of platters.
The MG09 HDD is a 7,200rpm drive with a 550TB per year workload rating. Toshiba will offer its new drives both with SATA 3.3 (6 Gbps) and SAS 3.0 (12 Gbps) interfaces.
One of the noteworthy things about Toshiba's MG09-series FC-MAMR HDDs is their low power consumption. In active idle mode, they typically consume only 4.16/4.54 Watts (SATA/SAS models). As far as power consumption efficiency at idle is concerned, the 18 TB MG09 is an undeniable champion because it consumes just 0.23 Watts per TB (in case of the SATA version).
The MG09 series HDDs feature several enhancements to ensure consistent performance, reliability, and durability. They include top and bottom attached motors, RVFF, and environmental sensors. Toshiba's MG09-series units are rated for a 550 TB average annualized workload, 2.5 million hours MTBF, and are covered with a standard five-year warranty.
Also, the new MG09 hard drives support Toshiba's persistent write cache (PWC) with power loss protection (PLP) technology. Toshiba said it would begin sample shipments of its 18 TB MG09-series MAMR HDDs at the end of March 2021.
According to Toshiba, its new 18TB MG09 Series will deliver new levels of storage density and power efficiency to cost-conscious cloud-scale and storage solutions customers. But they are also vulnerable to physical and logical failures like any other HDDs, and that will result in downtime for businesses, so they'll need to contact a professional data recovery services provider to get their precious data back. ACE Data Recovery team has an extensive experience in recovery data from all types of storage media and is ready to help the owners of Toshiba 18TB MG09 Series HDDs with their data recovery needs.