TerraMaster D6-320 6-Bay External Hard Disk Enclosure
October, 2023
TerraMaster D6-320 6-Bay External Hard Disk Enclosure
The TerraMaster D6-320 is a 6-bay external hard disk enclosure tailored to meet the demands of modern data enthusiasts. Whether you are an amateur photographer archiving extensive collections of high-resolution RAW files or a professional video editor in search of a versatile mass storage solution, the TerraMaster D6-320 6-bay delivers the flexibility required for your storage needs.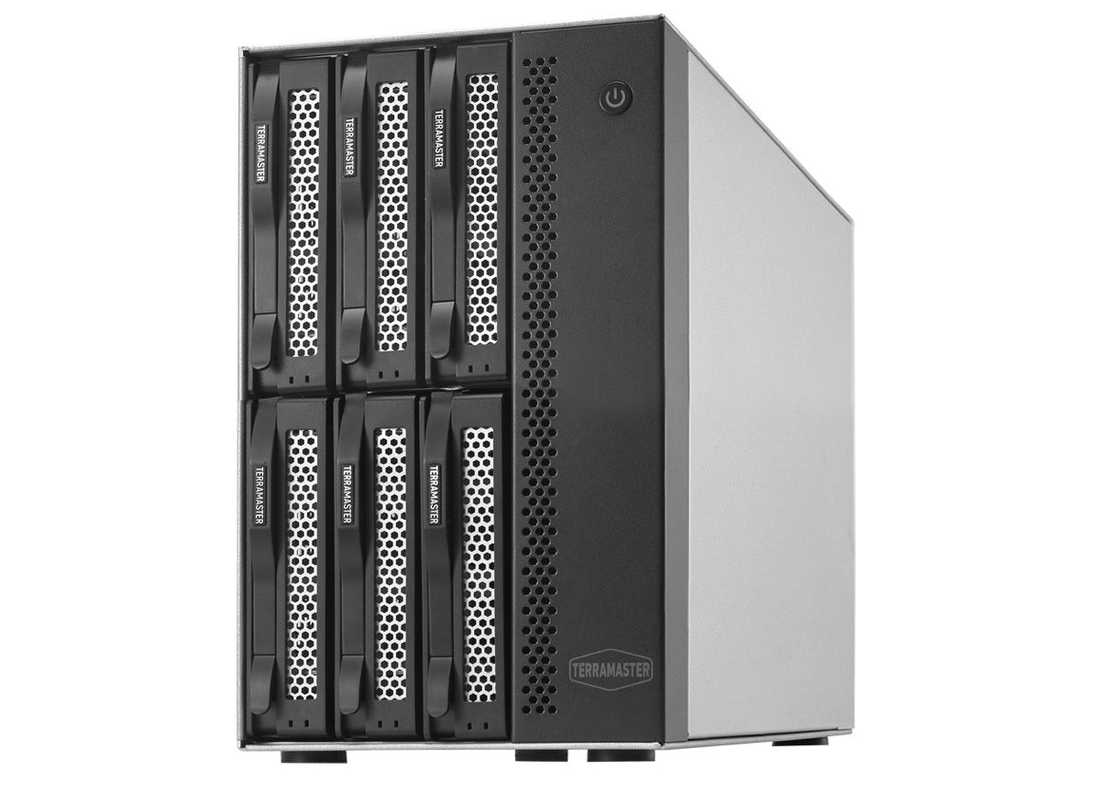 TerraMaster D6-320 High-Speed Data Transfer
Harnessing the power of the latest USB 3.2 Gen2 protocol, the D6-320 offers an impressive data transmission bandwidth of 10Gbps. This translates to real-world read and write speeds of up to 1,016MB/s, provided you have the right hard drives and configurations in place. Such high-speed capabilities are especially valuable when handling substantial media files. Moreover, the D6-320 supports a broad array of hard drives, including 3.5-inch and 2.5-inch SATA hard disks, as well as 2.5-inch SATA SSDs.
Flexibility with a Few Caveats
However, it is important to note a couple of limitations. The D6-320 operates exclusively in a single-disk working mode, lacking built-in hardware RAID recovery functionality. RAID configurations must be managed through third-party software. Additionally, if you intend to expand your NAS storage, this feature is exclusively available on TerraMaster NAS drive systems running TOS 5.1 or later.
Effortless Drive Management
Setting the D6-320 apart from other hardware RAIDs or enclosures is its straightforward drive management system. Each drive you install into the caddy appears as an individual drive on your desktop, making it ideal for software RAID setups.
Industrial-Chic Design with Practicality in Mind
The TerraMaster D6-320 prioritizes practicality and performance over aesthetics. Its design exudes an industrial-chic charm, characterized by an all-metal enclosure that conveys robustness rather than elegance. Positioned at the rear are two large fans that efficiently dissipate heat even under heavy workloads, ensuring optimal drive temperatures. The power input is neatly tucked away, maintaining a clutter-free workspace.
Versatile Connectivity with Some Limitations
A solitary USB Type-C port graces the back of the unit, offering versatility to connect the D6-320 to a compatible TerraMaster NAS box or directly to your computer. However, this single USB port can only serve as the terminal link in a daisy chain of NAS systems, which may pose limitations for those planning complex setups.
Hot Swap Capability
Notably, the D6-320 incorporates a hot swap capability for hard drives. A simple push-and-release mechanism allows for swift drive extraction or insertion, even while the device is operational.
Feature-Rich for Tech Enthusiasts
The TerraMaster D6-320 boasts a wealth of features suitable for both amateur and professional tech enthusiasts. Compatibility with various hard disk types, while optimized for TerraMaster NAS systems running TOS 5.1 or above, offers scalable storage solutions for gradual capacity expansion. The hot-swapping functionality streamlines drive management, enhancing HDD recovery convenience.
Impressive Performance and Silent Operation
In terms of performance, the D6-320 excels with its USB Type-C controller, achieving speeds of up to 450MB/s when SSDs are employed. Intelligent features like the disk sleep function function seamlessly, ensuring a silent operation when the computer is inactive. This functionality has been thoroughly tested and performs admirably, particularly when connected to an OWC hub.
TerraMaster Versatile Storage Solution
The TerraMaster D6-320 seamlessly integrates key features with practical real-world applications, making it a compelling choice for a wide range of storage needs. Whether you prioritize functionality over aesthetics, this robust workhorse delivers on its promise of speed, storage, and versatility.
When equipped with SSDs, the TerraMaster D6-320 NAS system soars to impressive transfer speeds of approximately 450MB/s, demonstrating outstanding performance that, while commendable, only scratches the surface of its capabilities. Even with HDDs, the D6-320 maintained a respectable 140MB/s, using WD Red drives. When utilizing lower-end WD Green drives, test results still achieved a decent 80MB/s.
Despite its high-speed performance, the D6-320 operates in near silence, with the most noticeable noise stemming from a hard drive nearing the end of its lifespan. The operational and fan noise remains well within acceptable limits, thanks to the intelligent, temperature-controlled fan system, ensuring optimal cooling even during extensive data transfers.
Given its status as a 6-bay NAS system, the D6-320 offers a myriad of RAID options, allowing for a delicate balance between speed, redundancy, and capacity. Speed enthusiasts may gravitate toward RAID 0, albeit at the cost of reduced data protection. For a balanced approach, RAID 5 or 6 offers both speed and tolerance for one or two drive failures, respectively. Those prioritizing maximum data protection will find RAID 10 to be a compelling choice. These RAID options are available through software configurations, with an initial setup using Apple's Disk Utility to create a RAID 1.
The disk setup also allows for the creation of different RAID Arrays, although more advanced options may be required to fully harness this potential.
Should You Invest in a TerraMaster D6-320 NAS?
The TerraMaster D6-320 NAS enclosure, while not necessarily a visual standout, offers a robust build and an impressive array of features, including hot-swapping, intelligent temperature control, and disk sleep functionality. Its standout feature is unquestionably its performance, delivering remarkable speed even when fully populated with drives. However, it is not without its limitations, notably the single USB Type-C port and specific compatibility requirements that may limit its suitability for certain users.
If you are considering the purchase of a TerraMaster D6-320 NAS, it represents a solid investment, providing reliable performance and robustness to streamline your storage needs or expand your capacity. Ensure that it aligns with your existing or planned tech ecosystem.
Why You Should Consider the TerraMaster D6-320 NAS
Consolidation of Hard Drives: If you are seeking a streamlined, consolidated storage solution with the capability to scale efficiently, the D6-320's six bays offer an ideal solution. This enclosure facilitates the organization of existing hard drives, simplifying data management and providing high-speed data access.
Increased Storage Capacity: As your digital library grows, the TerraMaster D6-320 steps in to address your expanding storage needs. With six bays compatible with high-capacity drives, this NAS enclosure offers a scalable solution to accommodate your growing storage requirements.
Considerations Before Purchase
Single USB Limitation: It's essential to be aware that the D6-320 features a single USB Type-C port, limiting its role within a larger, daisy-chained network. This may potentially constrain future expansion options for your setup.
Compatibility with TerraMaster Systems: The D6-320 is primarily designed for compatibility with TerraMaster NAS systems running TOS 5.1 or above. If you are using a different brand of NAS, this limitation could pose challenges and diminish the device's universal appeal.
The TerraMaster D6-320 excels in delivering an impressive combination of speed and capacity while maintaining an accessible and user-friendly setup. The choice of disks and configurations inevitably impacts overall speed, but the D6-320's foundation supports the upper limits of the disks it houses.
ACE Data Recovery for Terramaster storage devices
ACE Data Recovery is a leading provider of data recovery services for Terramaster storage devices. We can help you recover your valuable data from any type of failure, such as logical, physical, firmware, or RAID configuration issues. Our experienced engineers use state-of-the-art tools and techniques to ensure the highest success rate and the fastest turnaround time. We also offer a free diagnostic evaluation and a no data, no charge policy for your peace of mind. Contact us today to get started with your Terramaster data recovery case.
Terramaster NAS Data Recovery
We have a proven track record of success with Terramaster NAS devices. We have recovered data from various models of Terramaster NAS devices, such as the F2-210, F4-210, F5-221, F8-422, and more. We have recovered data from single-disk, RAID 0, RAID 1, RAID 5, RAID 6, and RAID 10 configurations. We have recovered data from encrypted volumes and damaged disks. Our success rate for Terramaster NAS data recovery is over 98%, which is one of the highest in the industry. You can trust us to get your data back quickly and securely.
Other Storage Devices Data Recovery
In addition to Terramaster storage devices, we also support data recovery from other brands and types of storage devices, such as hard drives, SSDs, flash drives, memory cards, optical discs, tapes, servers, and more. We can handle any data loss scenario, such as accidental deletion, formatting, virus infection, power surge, fire damage, water damage, and more. No matter what kind of storage device you have or what caused your data loss, we can help you recover your data with our professional and reliable service.
When it comes to data recovery for NAS storage servers, ACE Data Recovery stands out as a trusted and dependable service provider. Their expertise, advanced technology, commitment to data security, and customer-centric approach make them a top choice for individuals and businesses seeking professional data recovery services for their TerraMaster NAS devices. With ACE Data Recovery, clients can rest assured that their valuable data is in the hands of experts who will go the extra mile to recover it successfully.