Western Digital Desktop Green Recovery - Hard Drive Data Recovery
Western Digital Desktop Green Recovery - Hard Drive Data Recovery
For those who are looking for great performance for affordable price, the WD Green hard disk can be a very good option. This hard disk is available from 500GB - depending on the amount of data you plan on storing and can be an excellent way to keep everything well organized in one place. WD doesn't disclose much information about the technology they have used to produce the device but if we take into consideration its performance, whatever they did, they did it well.
So is there something that can help apart from ACE Data Recovery? No! We have been offering recovering services for more than three decades and we have many happy customers whose careers we have saved. Why choose us?
We work fast. It takes us up to 48 hours to diagnose the problem and inform you on the cost and recovery process. Then we will need additional 2 to 5 business days to restore the data and get it back to you.
We are reliable. We never promise things we can't deliver. If we don't recover your data as promised, we won't charge you. No data for you, no money for us.
We are versatile. Apart from WD Green hard disk recovery we offer recovery from other hard disks, SSD or flash media recovery, tape data recovery and RAID recovery.
WD Desktop Green data recovery process: how it works for our clients
1.

YOU BRING

Bring or ship your failed storage media to our office for a free diagnostic evaluation.
2.

YOU APPROVE

Receive and approve an all-inclusive quote, so we can start the process immediately.
3.

WE RECOVER

Give us few days to recover your data and to copy it to a free return media.
4.

WE DELIVER

Get your data back, copy it to your computer and benefit from our free post-recovery support.
Free external hard drive or usb flash with each
completed
recovery
Our Experts are Ready to Recover Data from Your Failed Western Digital Desktop Green Drive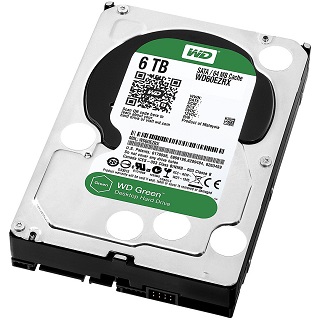 When it comes to using WD Green hard drive or as a or as a matter of fact any other hard disk, you need to be very careful not to compromise the data. Sometimes even a bug in the software can cause great damage and you might end up losing everything. If such unfortunate thing happens seek professional help of a data recovery company. Here i. Here is what Andrew, one of our clients, said: "ACE Data Recovery did wonders with my WD Green hard disk that due to file system corruption lost everything I had stored. They were very honest, fast and delivered everything as promised."
We work in our own laboratory. This is important because we have full control over the working conditions, and we monitor every aspect that can be crucial for the success of the process. Our laboratories are equipped according to the highest standards and have everything this type of process requires. Our team is well trained and has extensive experience with working on WD Green hard disks, or any other disk and they will always keep your data private.
Let Us Get Back Data from Your Desktop Green Drive
You've lost your data, don't panic and call ACE Data Recovery. Our engineers are ready to start working on your data recovery project!