Synology launches HAS5300 SAS enterprise hard drives
July, 2021
Synology launches HAS5300 SAS enterprise hard drives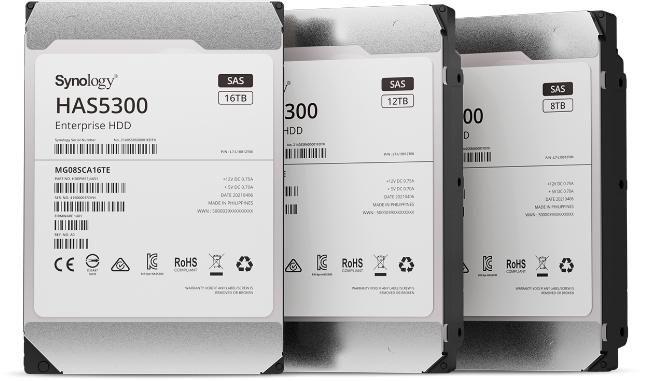 Synology has launched its HAS5300 SAS enterprise hard drives, designed to meet growing demand for high-capacity, high-performance, and resilient storage systems. The HAS5300 HDDs are the latest addition to Synology's range of enterprise hard drives. They are available in 16TB, 12TB, and 8TB models and are optimized for performance with Synology products. They are made to be companions to Synology's high-performance and highly scalable SA and UC series storage solutions.
The new HAS5300 SAS enterprise hard drives offer support for 550 TB/year workloads and are rated for a 2.5 million hours mean time to failure (MTTF). That means they are built to deliver consistent performance in intense environments.
According to Synology, the HAS5300 hard drives allow customers to scale up to 180 drives on the high-performance Synology SA series or to maximize iSCSI system availability with the dual controller setup on the UC3200 active-active IP SAN. The HDDs also support fast data transfer for data-intensive configurations.
The HDD drives have undergone more than 200,000 hours of compatibility and stress testing to ensure high reliability and integration with Synology NAS units. The HAS5300 series was optimized during development to ensure the best performance possible, including a significant performance improvement in RAID rebuild performance.
According to the company, custom firmware and optimization for Synology hardware enable 27% faster RAID rebuild times on systems with HAS5300 drives compared with similar-class drives on the market. That significantly reduces the time that arrays spend in a degraded state and helps customers boost long-term system availability.
Firmware updates will be deployed with DiskStation Manager (DSM) operating system updates and the drives come with a five-year limited warranty. The HAS5300 8TB and 12TB drives have a 256MiB cache, while the 16TB drive has a 512MiB cache. The drives are rated with a maximum sustained transfer rate of 230MiB/s for the 8TB model, 242MiB/s for the 12TB model, and 262MiB/s for the 16TB model.
The new HAS5300 SAS enterprise hard drives are available for purchase now and can be the good choice for enterprises that require maximum performance and reliability. But they are also vulnerable to physical and logical failures that can make critical business data inaccessible. If that happens, the owners of Synology HAS5300 SAS enterprise hard drives can rely on ACE Data Recovery. Ace Data Recovery engineers can successfully recover data from all types of storage media and are ready to help businesses with their data recovery needs.