Synology DS923+ New 4-bay NAS unveiled
January, 2023
Synology DS923+ New 4-bay NAS unveiled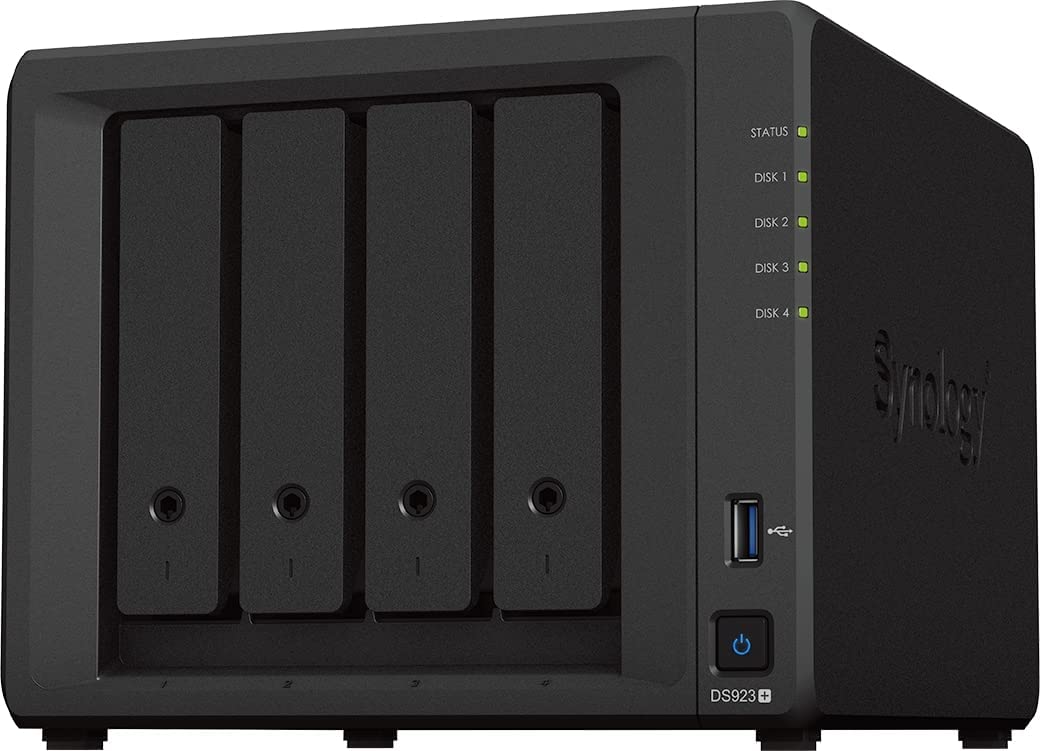 The Synology DS923+ NAS is the follow-up to the DS920+ NAS (released over 2.5 years earlier), and this new Diskstation system has certainly made a number of big changes to the arguably rigid formula that the brand has been using in the last few generations of this NAS series. With changes in network connectivity, internal architecture and even storage capabilities arriving in the new DS923+ NAS, we can say that there are many reasons why the DS923+ NAS might be the right solution for your needs.
This Synology NAS is equipped with an AMD Ryzen R1600 dual-core (4-thread) CPU at 3.1GHz, as well as 4 GB or SODIMM DDR4 ECC memory (upgradable to 32 GB). Four bays on the front side can accommodate 2.5" and 3.5" HDD or SSD drives, and two M.2 2280 slots on the bottom are reserved for NVMe SSDs for cache purposes. The Synology DS923+ NAS arrives with an upgrade slot on the rear of the chassis (PCIe Gen 3 x2) that allows the installation of a 10GbE (10GBASE-T) network upgrade module that allows the system to upgrade towards a 1,000MB/s network connection. At launch, the DS923+ NAS arrives with the latest version of Synology software, DSM 7.1, providing access to a lot of services, applications (first and third-party supported) and a huge number of client applications for desktop, mobile, Windows, macOS and Linux.
The Synology DS923+ NAS is a flexible storage platform for small businesses and home offices that offers a powerful functionality in a tiny package, but NAS systems can become corrupt due to power failure, voltage fluctuations, or overvoltage. And although many Synology NAS are equipped with recovery functionality, it is applicable only to restoring hardware and software components of the NAS itself, and it can't be used to restore user files.
So in case of failures, professional approach and professional tools are required to restore critical user data, and the owners of the Synology DS923+ NAS will need to contact a professional data recovery services provider. ACE Data Recovery has proven experience in recovering data not only from enterprise class storage systems, but also from popular small appliances like those from Synology. ACEs are ready to help the Synology DS923+ NAS owners with their data recovery needs.