The Synology DS120j: Affordable and Efficient File Serving
June, 2023
The Synology DS120j: Affordable and Efficient File Serving
The Synology DS120j offers affordable and efficient file serving capabilities, making it an ideal entry-level storage appliance for home networks. It is a single-bay Network-Attached Storage (NAS) device enclosure that allows you to add your own drive. Powered by a two-core 64-bit Marvell Armada 3700 processor and 512MB RAM, the DS120j is simple to set up and operate.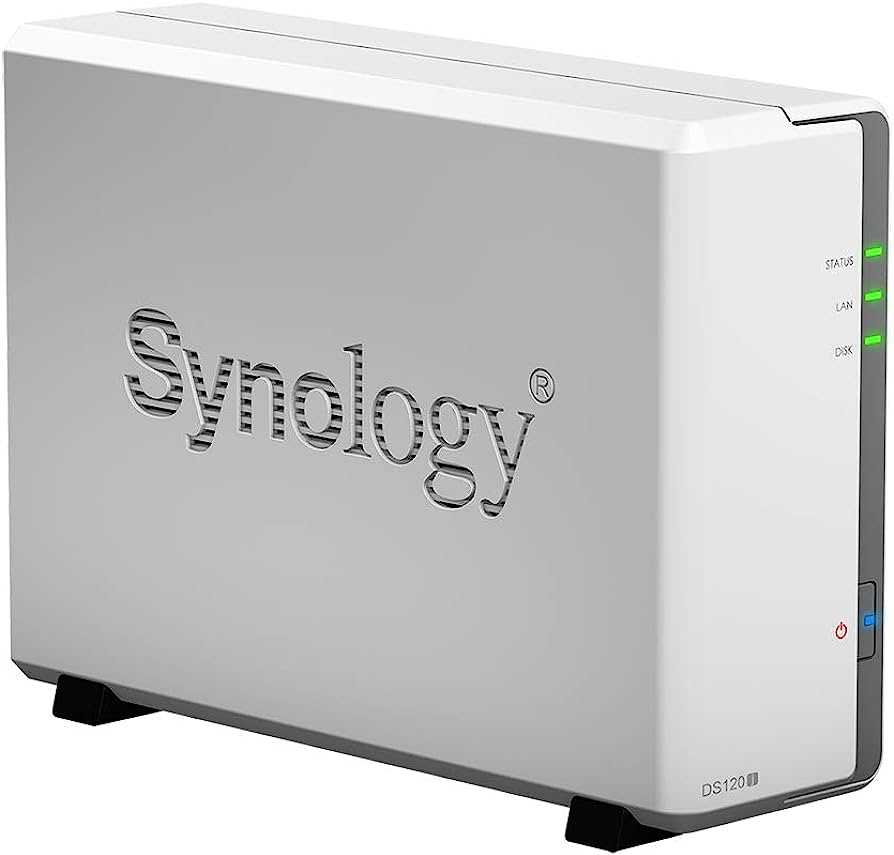 Synology DS120j Compact and Versatile Design
Measuring approximately 8.8 inches by 6.5 inches by 2.8 inches, the DS120j is compact, lightweight, and operates silently. It accommodates either a 2.5-inch or 3.5-inch SATA drive.
At the rear, you will find one DC power jack, one Gigabit Ethernet RJ45 network port, two USB 2 ports, a silent cooling fan with adjustable speeds, and two rear case screws. The front panel features a power button and four LEDs (Status, LAN, and Disk) in green, along with a blue power LED on the power button itself. The Status LED flashes and changes color during power-on and initial setup, indicating the device status. Once the drive is installed, you reassemble the case halves and secure them with the rear screws. Then, connect the DC power adapter and an Ethernet cable to the rear ports, press the power button on the front, and the device powers on.
The DS120j supports hard drives or SSDs with a capacity of up to 18TB. Most standard modern SATA II and SATA III drives are compatible with the device, as indicated on Synology's drive compatibility page.
While NAS devices typically include multiple drives for RAID configurations, the DS120j's single-drive setup does not offer the benefits of redundancy or increased speed. Nevertheless, it provides network-attached storage capacity for various purposes. The provided Synology OS supports features like Wake-on-LAN and scheduled power on/off. The DS120j consumes approximately 5 Watts in hibernation mode and 10 Watts during disk access.
DS120j Efficient Performance and Storage Capacity
The internal metal frame accommodates either a 3.5-inch hard drive or a 2.5-inch laptop hard drive or SSD. For a 2.5-inch drive, you will need a 3.5-inch to 2.5-inch adapter, although it is possible to secure a 2.5-inch SSD with Kapton tape.
Startup may be slightly slow, taking between thirty to sixty seconds, but it is automatic and straightforward. After the front panel LEDs stop blinking, you can access the device's setup web page by following a special link provided by Synology in your browser. The web page searches for Synology networked devices, and upon selecting your DS120j and clicking Connect, you will be prompted to create a device username and password during the initial connection.
Network speeds may vary depending on factors such as drive performance, Ethernet switch performance, network complexity and latency, number of users, load, and type of Ethernet cables used.
Synology User-Friendly Setup and Interface
The device's embedded software, called DiskStation Manager (DSM), operates through a web browser. Synology offers various DSM desktop and mobile software packages on their website. Once connected to DSM in the web interface, you will be guided through the process of setting up a volume on the internal drive. Once completed, you can mount the drive on your Mac's Desktop using the Samba (SMB) protocol, accessed through the Connect to Server option in the main menu.
Finder allows you to choose the volume you set up in the web DSM, which will then be mounted on the Desktop. Once connected, you can transfer files to and from the DS120j as if it were a local drive volume on your Mac. During file transfers, the front panel Disk and LAN LEDs indicate activity, and Finder displays a standard file copy progress window. The internal drive is formatted with an Ext4 volume format, but you can also attach external drives to the rear USB ports and format them as Ext 3 or 4, Windows NTFS, FAT/exFAT, or Apple's HFS+.
Although USB 2 drives attached to the DS120j's USB 2 ports may have slightly reduced speeds compared to USB 3, this is unlikely to be a bottleneck over a LAN, as USB 2 access times are generally faster than network speeds.
The DSM web software provides a wide range of options presented with simple icons. Additionally, you can download and install additional software packages from the DSM interface, including servers like Apache, NGINX, DHCP, DNS, email, Subversion, Git, and more. Productivity servers for photos, contacts, calendar, and other purposes are also available. DSM upgrades can be performed directly from the web interface. Although the DS120j does not include built-in wireless networking, it can function on wireless LANs when appropriately wired.
Synology DS120j Quiet and Cool Operation
The DS120j operates silently, with negligible fan noise even at maximum speed. In fact, you may not notice any sound or airflow at all unless a 3.5-inch hard disk is in use. The internal fan effectively keeps the device cool, even with bulky drives. Using a 2.5-inch SSD or mechanical drive with the auto-speed setting in software results in minimal fan noise, as the fan efficiently maintains cool temperatures for both drive types.
Heat is generally not noticeable, except when using a 10,000 or 7,200 RPM 3.5-inch hard drive under heavy access load. Even in such cases, the DS120j's outer plastic case only becomes slightly warm to the touch. During idle periods, there is no significant heat generation, regardless of the drive mechanism type.
Overall, the DS120j is an excellent choice for budget-conscious users seeking an entry-level NAS device. Its straightforward setup and user-friendly interface make it accessible, even for those with limited technical knowledge. Seamless integration with macOS and Finder enables a user experience similar to that of local disks. The Samba networking protocol ensures compatibility with Windows and Linux machines, making it an ideal NAS device for mixed-environment networks.
ACE Data Recovery Services for Synology NAS Appliances
If you have lost your data due to a hardware failure, accidental deletion, virus attack, or any other reason, you may be looking for a reliable and professional data recovery service for your Synology NAS. Synology NAS appliances are popular devices that offer high-performance storage solutions for home and business users. However, they are not immune to data loss scenarios, and recovering data from them can be challenging and complex.
That's why you need the help of experts who have the skills, experience, and tools to handle any data recovery situation involving Synology NAS appliances. At ACE Data Recovery Services, we have a team of certified technicians who can recover your data from any Synology NAS model, regardless of the size, configuration, or file system. We use advanced techniques and equipment to ensure the highest success rate and the fastest turnaround time.
We understand how important your data is to you, and we treat it with utmost care and confidentiality. We offer a free diagnosis and a no-recovery, no-fee policy for your peace of mind. Whether you need to recover your personal photos, videos, documents, or business files, we can help you get them back in no time.
The Synology NAS Data Recovery Process
To start your Synology DS120j data recovery process, simply contact ACE Data Recovery today and speak to one of our recovery advisers. We will guide you through the steps and provide you with a free quote. You can then ship your Synology NAS appliance to our secure facility or drop it off at one of our local branches. We will perform a thorough analysis and inform you of the results and the cost before proceeding with the recovery.
Don't let data loss ruin your day. Trust ACE Data Recovery Services for your Synology NAS appliance data recovery needs. We have the expertise and the technology to recover your data quickly and safely. Contact us today and let us restore your data and your peace of mind.