Synology Trio of New Enterprise NASes
March, 2021
Synology Trio of New Enterprise NASes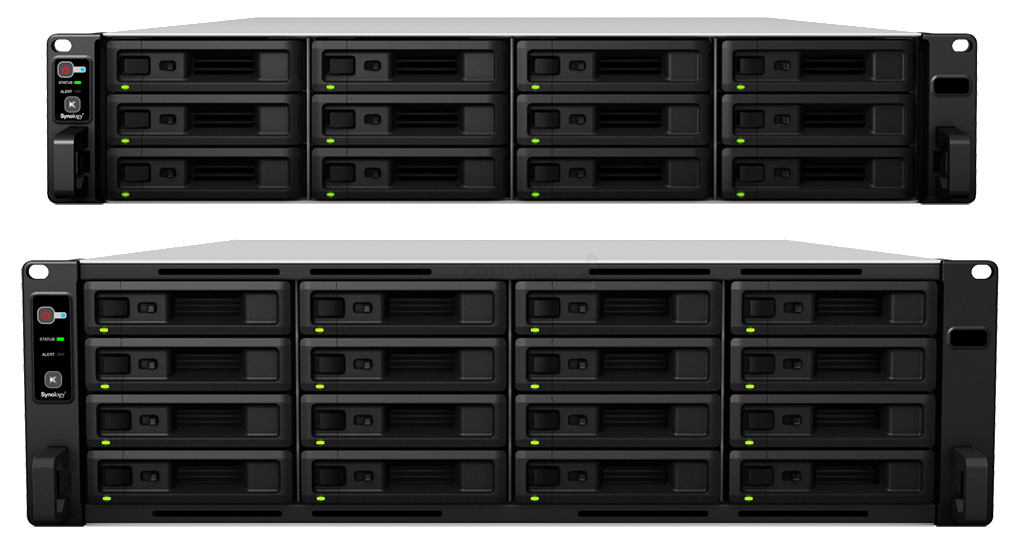 Synology has launched a new generation of RackStation units alongside its brand new, company-first HAT5300 enterprise hard drives. As part of the dual announcement, Synology is locking its new NAS units from using large hard drives from other vendors, instead only allowing its own hard drives to work in the units.
According to Synology, this is the next generation of RackStation units that support its highly successful backup, virtualization storage, surveillance, and remote work solutions. The 2U 12-bay RS3621RPxs and RS3621xs+, and the 3U 16-bay RS4021xs+ are designed for SMBs that require high-performance general-purpose storage. Synology's newest devices provide a reliable platform for data-intensive applications, such as large-scale backup, ISCSi SAN storage, on-premises collaboration solutions, and video surveillance deployments.
The Synology RS3621RPxs NAS is a2U 12-bay unit that has an Intel Xeon D-1531 (6C/12T) processor, 4x 1GbE networking, and an 8GB ECC UDIMM for memory. The Synology RS3621xs+ NAS features an upgrade to an Intel Xeon D-1541 8-core processor. It adds dual 10Gbase-T networking as standard and keeps the 8GB ECC UDIMM. The Synology RS4021xs+ NAS has Xeon D-1541 and dual 10Gbase-T. Aside from adding 4 more drive bays, this NAS also upgrades to a 16GB ECC UDIMM.
Synology says all three units offer significant performance improvements compared with prior generation units. The RS3621RPxs NAS delivers 68% higher random read IOPS than its predecessor, the RS3621xs+ 50% higher, and the RS4021xs+ 21% higher. The new RackStation NASes come with 2 PCIe Gen3 8x slots that allow for the addition of 10GbE NICs or NVMe SSD cache. The RS3621RPxs and RS3621xs+ NAS can scale to 36 drive bays, and the RS4021xs+ to 40 drive bays using two RX1217(RP) expansion units and validated drives.
The new Synology units are available for purchase now from Synology resellers globally. They can be a good option for handling mission-critical data in applications such as large-scale video surveillance, business file servers, backup tasks, office productivity software suites, and as cost-effective virtualization storage. But unfortunately, Synology Nas may fail just like any storage device. If that happens, ACE Data Recovery is ready to help the Synology RackStation NAS owners get their critical data back.