Seagate Unveils SkyHawk AI 20 TB HDD features Seagate's surveillance-focused ImagePerfect firmware
December, 2022
Seagate Unveils SkyHawk AI 20 TB HDD features Seagate's surveillance-focused ImagePerfect firmware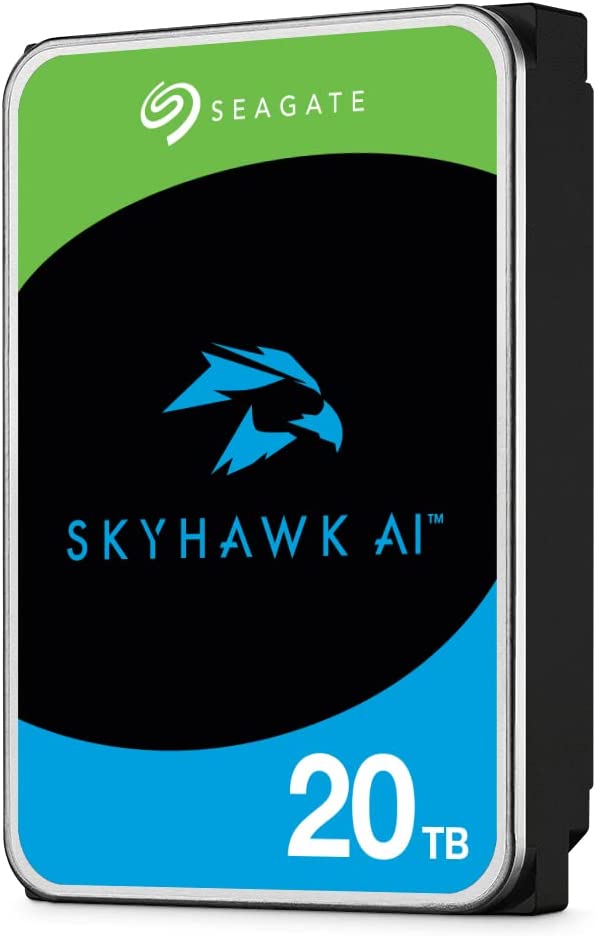 The Seagate SkyHawk AI HDD is now available at up to 20TB for network video recorders (NVRs), AI video and imaging analytics, and general server use. This Seagate HDD uses conventional magnetic recording (CMR) rather than shingled (SMR) to give the excellent performance for these workloads. The SkyHawk AI HDD comes with three years of data recovery, ImagePerfect AI, and explicit support for up to 32 AI streams and 64 HD cameras.
The SkyHawk line of HDD drives features Seagate's surveillance-focused ImagePerfect firmware. It improves video and imaging workload performance and reliability through multi-tier caching (MTC), the ATA-8 streaming command set, write-intensive workload optimization, superior error correction code (ECC), and scheduler optimization. The AI HDD models tweak performance further for analytical workloads.
The 3.5" 20TB Seagate SkyHawk AI HDD uses the SATA interface at 7200 RPM, and it can reach a sustained transfer rate of 285 MBps with a higher burst transfer rate. This is with CMR technology and 256MB of cache. Seagate states that this HDD drive can handle up to 32 AI streams or channels with 120 real-time AI capture events per second or 96 compare events per second. The Seagate SkyHawk AI HDD also supports up to 64 high definition cameras, as with the regular SkyHawk. Seagate also says the Seagate SkyHawk AI HDD can do video analysis and recording simultaneously during GPU analytics workloads.
The SkyHawk AI HDD drive also comes with SkyHawk Health Management (SHM) with RAID Rapid Rebuild. Other features of this HDD include PowerChoice to improve efficiency and rotational vibration (RV) sensors to improve reliability, and AcuTrac technology to improve functionality in multi-bay surveillance systems.
The 20TB Seagate SkyHawk AI HDDs make a good storage solution for video recording and processing, but they have mechanical parts and are vulnerable to physical failures, making critical user data inaccessible. Then the owners of the Seagate SkyHawk AI HDDs will need to contact a reliable data recovery services provider to restore their data. ACE Data Recovery engineers have extensive experience in recovering data from HDD drives of all makes and models. ACEs are ready to help the Seagate SkyHawk AI HDD owners with their data recovery needs.