Seagate Launched IronWolf 510 M.2 NVMe SSD for NAS
April, 2020
Seagate Launched IronWolf 510 M.2 NVMe SSD for NAS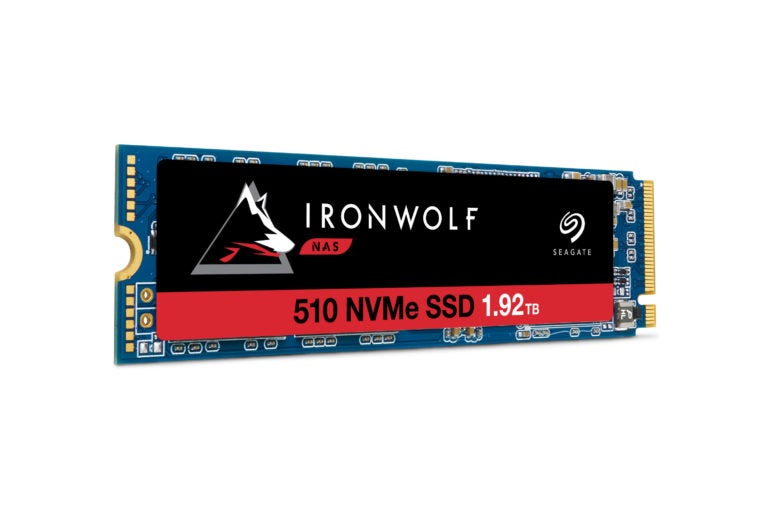 Seagate was one of the first vendors to introduce SSDs targeting the consumer / SMB / SME NAS markets with the IronWolf SSD 110 series at the 2019 CES. Recently, the company has announced the expansion of its IronWolf SSD product line. This is a M.2 NVMe with a 1 DWPD rating - significantly higher than other SSDs targeting the market segment today.
The new Seagate's IronWolf 510 is an M.2 NVMe SSD with caching speeds of up to 3 GBps for NVMe-compatible systems. According to the company, it is a solution for creative pros and business NAS needing 24×7 multi-user storage that is cache enabled.
SSD caching went from a niche feature to a fairly common one pretty quickly among NAS vendors. As more users looked to leverage the technology, they ran into the issue of giving up bays for the SSDs, therefore giving up capacity. A solution that brings the best of the both worlds was adding M.2 bays onto the NAS to allow the caching without giving up bays. Noting this, Seagate has rolled out the Seagate IronWolf 510 to fit in the bay and provide caching needs.
According to Seagate, the IronWolf 510 SSD meets leading top NAS manufacturer requirements of one drive write per day (DWPD), allowing multi-user NAS environments to do more with their data with lasting performance. The IronWolf 510 SSD is reliable with 1.8 million hours mean time between failures (MTBF) in a PCIe form factor, two years of Rescue Data Recovery Services, and a five-year limited warranty. The new SSDs will also come with IronWolf Health Management.
The IronWolf 510 SSD PCIe Gen3 x4, NVMe 1.3 is available in 240 GB, 480 GB, 960 GB, and 1.92 TB capacities and is compatible with leading NAS vendors. While the new drives are designed for both businesses and professionals in a network attached storage application, but they can obviously work for other things too. But no matter how good they are, the new IronWolf 510 M.2 NVMe SSDs have a limited number of write circles and will eventually fail making critical business data inaccessible. To get their irreplaceable data back business users will need to contact a reliable professional data recovery services provider like ACE Data Recovery. The company's engineers can successfully recover data from all types of SSD storage media, including Seagate NVMe SSDs. ACE Data Recovery team will gladly help all Seagate IronWolf 510 M.2 NVMe SSD owners with their data recovery needs.