Seagate Launches Its New FireCuda 530 Gaming SSDs
July, 2021
Seagate Launches Its New FireCuda 530 Gaming SSDs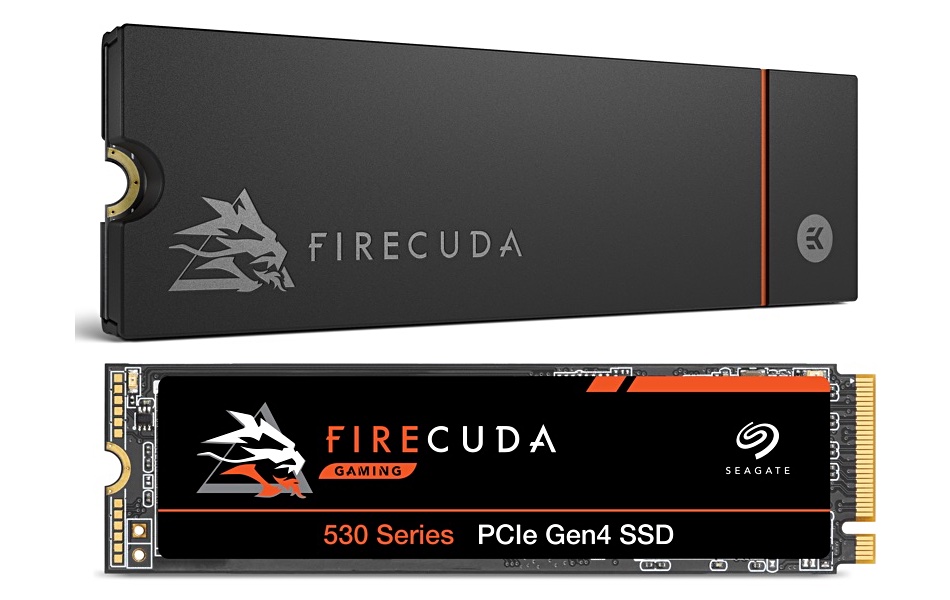 The Seagate has released its new range of FireCuda 530 M.2 NVMe Gen 4 SSD drive drives. According to Seagate, this is its fastest and most powerful gaming SSD. With sequential read speeds up to 7300 MB/s, the FireCuda 530 works up to two times faster than PCIe Gen3 SSDs, and up to 12 times faster than SATA-based alternatives. Сompared to the previous FireCuda 520 model, the new FireCuda 530 SSD gives random read IOPS a 33 per cent uplift and a 57 per cent increase in sequential write speed.
The FireCuda 530 uses the latest 176-layer Micron 3D NAND, comes in four different capacities – 500GB, 1TB, 2TB, and 4TB, and uses a Phison E18 controller. The FireCuda 530 SSDs offer long lasting endurance of 1.8M MTBF and up to 5100 TBW -- meaning gamers can write and delete 70 percent of the drive capacity every day for 5 years, Seagate says.
The two largest drives are both rated to deliver up to 7,300MB/s of sequential read performance and up to 6,900MB/s of sequential write performance. The slowest 500GB model delivers 7,000MB/s reads and 3,000MB/s writes, according to Seagate's datasheet.
Seagate intends to offer the FireCuda 530 with or without an anodized aluminum heatsink developed by EK, a widely known player in the custom liquid cooling scene. The drive also comes bundled with Seagate's SeaTools and DiscWizard utilities that will help users fix faults and manage the SSD drive.
The new Seagate FireCuda 530 SSDs will take gaming experience to the next level, but they are not vulnerable to failures, just like any other storage media. If that happens, the owners of the Seagate FireCuda 530 SSDs will need to contact a professional data recovery services provider to get their data back. ACE Data Recovery team can successfully recover data from all types of storage devices, including Seagate SSDs, and will gladly help with their data recovery of Seagate FireCuda 530 SSD.