New Seagate Exos Storage Uses Self-healing Drive Technology
July, 2021
New Seagate Exos Storage Uses Self-healing Drive Technology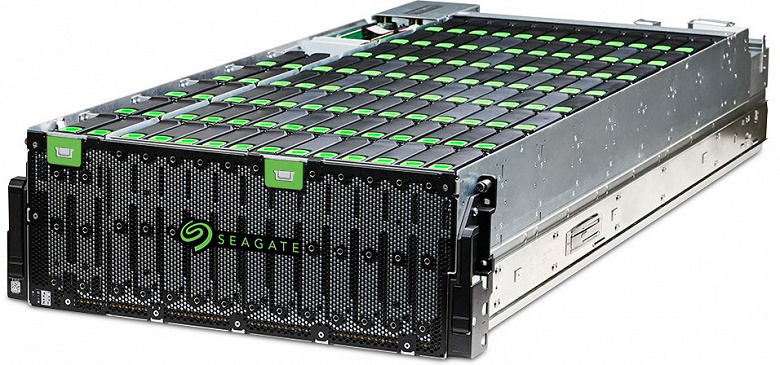 Seagate announced its Exos Corvault, a hardware-based self-healing block storage system designed to streamline data management and reduce human intervention for macro edge and data center environments. This system offers SAN-like performance using the sixth generation VelosCT ASIC, ADAPT erasure code data protection, and Autonomous Drive Regeneration.
Each 4U Exos Corvault chassis can hold up to 106 Exos X18 self-encrypting SAS HDDs for 1.9 PB of raw system capacity. The array supports 99.999% availability and nondisruptive upgrades and offers "one-button configuration" and on-board diagnostics, according to Seagate.
The Seagate Exos Corvault petabyte-scale block storage array features autonomous drive regeneration (ADR) technology that the company claims can bring most failing hard disks back into service without a manual drive swap. The ADR-based system can reconfigure the hard disk drive (HDD) to bypass the errant components.
When an ADR-capable Seagate Exos X18 HDD posts an error, the storage controller receives an alert, offloads data to other drives and removes the problem drive from the logical volume. The HDD and controller work together to diagnose the problem, bypass the failed component and regenerate the HDD's usable platters. The system then rebalances the volume and restores the storage array to full functionality.
ADR works in tandem with Seagate's Advanced Distributed Autonomic Protection Technology (ADAPT), based on erasure coding, to give customers more usable capacity than RAID for data protection. The ADAPT algorithm spreads the data across every drive in the system and speeds rebuilds without significant impact to performance.
Another new component in the Exos Corvault is Seagate's sixth-generation VelosCT chip that powers the system's dual redundant storage controllers and optimizes the HDD actuators in parallel to improve performance.
In the long run, the ADR technology could help Exos Corvault users save on administrative costs and reduce their electronic waste because they won't have to discard the failed drives. But the self-healing technology can't provide a fix for every type of HDD problem, so in case of HDD failure, the Seagate Exos Corvault owners will need to contact a professional data recovery services provider to get their critical data back. ACE Data Recovery engineers can successfully recover data from HHDs of all makes and models and are ready to help the Seagate Exos Corvault users with their data recovery needs.