16TB Sabrent Rocket XTRM-Q SSD
September, 2021
16TB Sabrent Rocket XTRM-Q SSD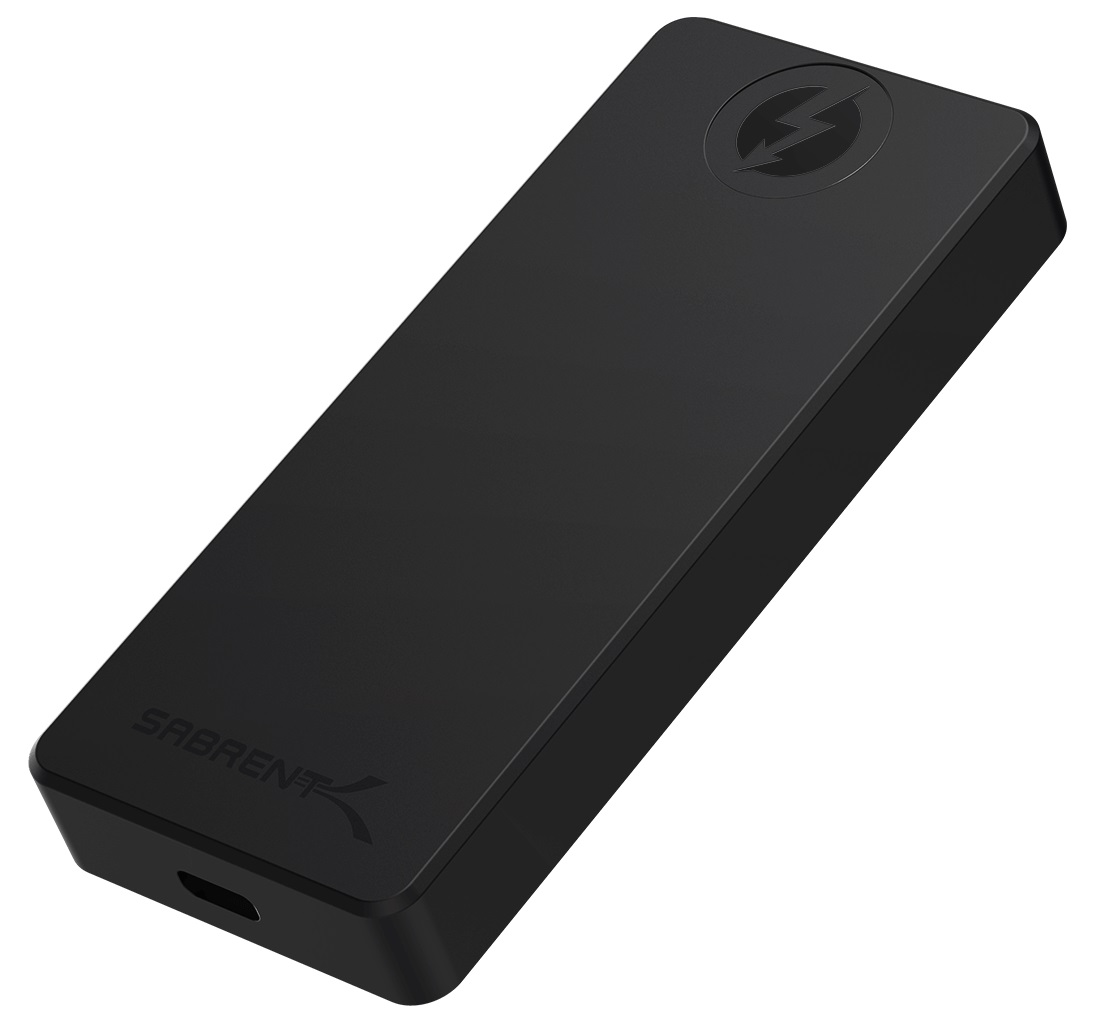 The Sabrent 16TB Rocket XTRM-Q Portable SSD contains two 8TB Rocket Q M.2 NVMe SSDs tucked inside a sealed all-aluminum dual drive enclosure. These two disks can be used independently or combined via software to be used as a single drive. Each 8TB Rocket Q M.2 NVMe SSD has a Phison E12S NVMe SSD controller and a DDR3L DRAM cache paired with eight NAND packages of Micron's 1Tb 96L QLC flash.
The 16TB Rocket XTRM-Q comes with a long 28" USB-C Thunderbolt 3 cable and a power brick to power the unit. The power brick is not optional — the Rocket XTRM-Q will not power on without it. In addition, the company provides Sabrent's RAID assistant software, enabling quick and easy configuration in RAID 0, RAID1, or JBOD setups. Given its capacity, the 16TB Sabrent Rocket XTRM-Q is a small and compact storage device because it measures 115 x 65 x 16 mm and weighs in at 233 grams.
The Sabrent 16TB XTRM-Q offers up sequential read performance of up to 1.4 GBps or 2.8 GBps over Thunderbolt 3, depending on how you configure the device. It can be configured in RAID 0, RAID 1, or as JBOD to tailor the drive for performance, data reliability, or flexibility, respectively.
The Sabrent Rocket XTRM-Q is powered by an Intel JHL6340 Thunderbolt 3 controller with two PCIe 3.0 lanes allocated to each of the SSDs. The drives support Trim and S.M.A.R.T. data reporting, but as an Alpine Ridge-based controller, the drive is only compatible with Thunderbolt 3 and won't work when plugged into a standard USB C port.
The Rocket XTRM-Q 16TB SSD comes backed by a three-year warranty, which is longer than Sabrent's standard one-year warranty. These SSDs are not only spacious but very fast and flexible, too, but SSD are vulnerable to failures that can make critical user data inaccessible. If that happens, the owners of the Sabrent Rocket XTRM-Q 16TB SSDs will need to contact a professional data recovery services provider to get their data back. ACE Data Recovery team can successfully recover data from all types of storage media, including high-capacity SSDs and will gladly help the Sabrent Rocket XTRM-Q 16TB SSD owners with their data recovery needs.