Qnap TVS-h874 desktop NAS appliance announced
April, 2023
Qnap TVS-h874 desktop NAS appliance announced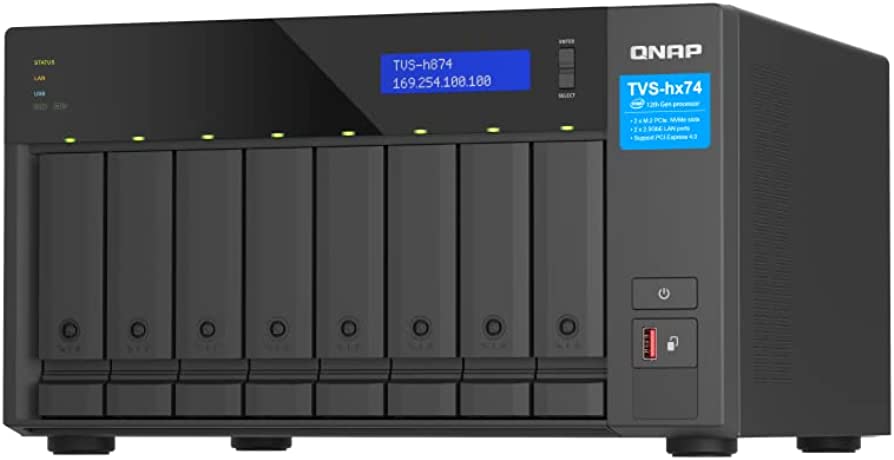 Qnap has been promoting its advanced QuTS hero operating system, and the TVS-hx74 family of desktop NAS appliances aim to provide SMBs with an entry point into the world of Qnap ZFS-based network storage. Qnap's flagship TVS-h874 8-bay NAS model is powered by a 2.5GHz Intel Core i5-12400 CPU which puts 6 P-cores on the table and teams them up. Along with 8 front hot-swap LFF/SFF bays, the Qnap TVS-h874 NAS offers 2 internal M.2 NVMe PCI-E Gen4 slots, which can be used for caching duties or as a high-performance storage pool.
Storage can be presented over the dual 2.5GbE multi-Gigabit ports; if users need more speed, two PCI-E Gen4 expansion slots are there for 10GbE or 25GbE upgrades. Multimedia is on the menu too, as the CPU's embedded UHD Graphics 730 GPU pipes 4K video at 30Hz to the rear HDMI 1.4b port.
According to Qnap, the TVS-h874 SMB NAS ensures data integrity and supports block-level inline data deduplication and compression, near-limitless snapshots, real-time SnapSync, and SSD optimization. The TVS-h874 delivers a good NAS solution for mission-critical file servers, virtualization servers, collaborative video editing, or efficient data backup and recovery applications.
QNAP's setup wizard gives users a choice of operating systems – QTS, a mid-range platform, and QuTS hero, a ZFS-based OS geared for business, which is a default choice. QuTS supports near unlimited snapshots, end-to-end checksums for transparent self-healing of data corruption, triple parity RAID recovery and triple mirroring, inline data deduplication plus compression and the option to apply WORM (write once read many) policies to NAS shares to protect them from tampering.
The Qnap TVS-h874 NAS offers SMBs a secure, reliable, and high-performance NAS solution that allows businesses streamline their business-critical tasks, but unfortunately, it can also fail, making critical data inaccessible. Then the owners of the Qnap TVS-h874 NAS will need to contact a professional data recovery services provider like ACE Data Recovery team. ACE Data Recovery engineers can successfully recover data from all types of storage devices, including NAS. ACEs are ready to help the Qnap TVS-h874 NAS owners with their data recovery needs.