QNAP Announces TVS-675 desktop NAS
March, 2022
QNAP Announces TVS-675 desktop NAS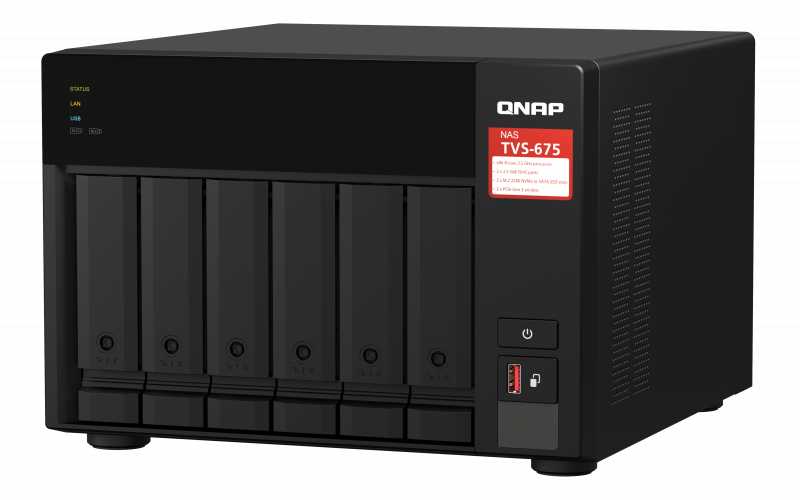 QNAP TVS-675 is a desktop NAS powered by the Zhaoxin KaiXian KX-U6580 octa-core processor and comes with features that allow for flexible expansion and efficient backup solutions. Zhaoxin is a brand based in China, and their products have only been largely available domestically. So, Zhaoxin's presence in QNAP's TVS-675 NAS is their big debut on a global stage.
The TVS-675 QNAP NAS comes with 8GB of base DDR4 non-ECC memory, which can be upgraded all the way up to 64GB using two 32GB SODIMM modules. The six front-facing SATA bays can support either LFF drives or SFF SSDs, and two internal M.2 NVMe SSD slots can be used to create a fast system pool or a performance-boosting cache.
As to connectivity, storage is served up over dual embedded 2.5GbE multi-Gigabit ports, while a pair of PCI-E slots provides scope to upgrade to 10GbE or even Fibre Channel. The dual ports support Port Trunking for up to 5Gbps transmission speeds. That improves the performance of bandwidth-hungry applications, such as large file transfers and fast backup/restoration. There's also an HDMI 2.0 port that supports 4K video output to a monitor or TV, thanks to the CPU's embedded ZhaoXin C-960 graphics processor.
QNAP TVS-675 NAS users can also choose between QNAP's QTS or QuTS hero operating systems. QuTS hero uses additional system resources to ensure an optimal environment for protecting business data. The QNAP TVS-675 NAS also supports AES-NI encryption.
The QNAP TVS-675 NAS supports different business and media applications (including snapshot protection, virtual machines recovery, cloud storage gateways, 4K HDMI display, and real-time transcoding) and is reliable data storage. But, still, it is vulnerable to physical and logical failures that may result in critical business files inaccessibility. In such situations, the owners of the QNAP TVS-675 NAS will need to contact a professional data recovery services provider to get their irreplaceable business data back.
ACE Data Recovery team has been providing high-quality data recovery services for more than 35 years and can boast of one of the highest HDD recovery success rates in the industry. ACEs will gladly help the QNAP TVS-675 NAS owners with their data recovery needs.