Qnap 6-Bay TVS-672X and 8-Bay TVS-872X 10GbE Desktop NAS
July, 2020
Qnap 6-Bay TVS-672X and 8-Bay TVS-872X 10GbE Desktop NAS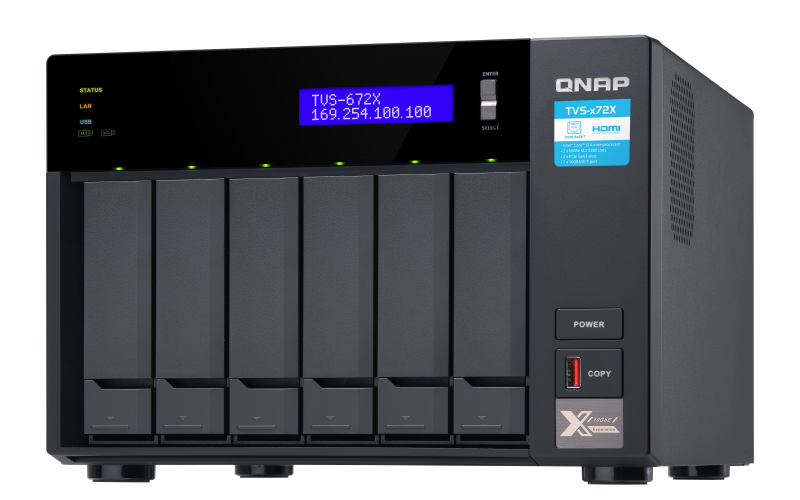 QNAP has launched 6-bay TVS-672X and 8-bay TVS-872X 10GbE NAS that come with high-performance Intel Core i3 processors. Both models feature M.2 NVMe SSD caching and 4K HDMI output for virtualization and multimedia. Alongside expandable storage capacity and feature-rich apps, Qnap 6-Bay TVS-672X and 8-Bay TVS-872X 10GbE Desktop NAS support multi-cloud backup, real-time transcoding, offer support for Azure Active Directory Domain Services (Azure AD DS), and have many other features to enhance the workflows and productivity of SMBs.
The TVS-x72X series is equipped with a Core i3-8100T quad-core 3.1GHz processor with dual-channel DDR4 memory (upgradable to 64GB). It provides 2Gb and 1x10GBASE-T RJ45 (10Gb/s/5G/b/s2.5Gb/s/1Gb/s/100Mb/s) port to increase VM performance, intensive file access, high-speed backup/restore, and media file transfer. There are 4 USB 3.2 Gen 2 (10Gb/s) ports that also allow compatibility with newer, faster USB drives and expansion enclosures for transferring large media files.
Users can take advantage of SSD caching by using either 2.5-inch SSDs or 2 M.2 NVMe 2280 SSDs (that are sold separately). PCIe expandability makes it possible to increases NAS usage potential by installing QNAP's QM2 cards, 2.5/5/10/25GbE network cards, FC cards, and storage expansion cards. The TVS-x72X series provides an HDMI 2.0 output that supports up to 4K (3840 x 2160p) @60Hz and allows for directly displaying multimedia, virtual machines, or an Ubuntu desktop on a monitor or TV.
The new Qnap NAS series meets storage demands for security, backup, file sharing, and central management. The Qnap operating system arrives with hundreds of free applications that can be accessed from a web browser or desktop client and many apps for mobile on IOS and Android.
TVS-672X and TVS-872X NAS users can switch the operating system from QTS to QuTS hero - QNAP's ZFS-based NAS operating system. QuTS hero provides end-to-end data integrity, data reduction (inline data deduplication, compression, and compaction), and uses additional system resources to ensure an optimal environment for protecting business data.