QNAP TS-h1283XU-RP NAS Available
October, 2021
QNAP TS-h1283XU-RP NAS Available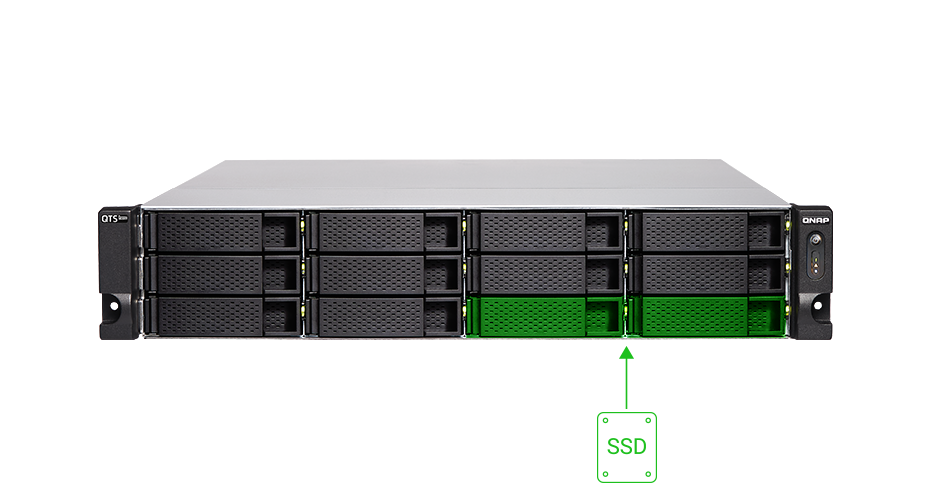 The QNAP TS-hx83XU series offers a choice of enterprise-class QuTS hero-powered rack models that includes three drive capacities ranging from 12 to 24 bays, and first of these is the entry-level TS-h1283XU-RP. It's a rackmount 2U NAS based on the company's QuTS Hero architecture.
The 2U 12-bay QNAP TS-h1283XU-RP NAS combines an impressive a speedy 3.4GHz six-core Xeon E-2236 processor with 32GB of ECC DDR4 memory expandable to 128GB. The QNAP NAS comes with two 10GbE ports pre-installed (two RJ45, with two SFP+ 10GbE ports optional) for faster network connections.
The TS-h1283XU-RP is massively expandable, and even with the two 10GbE cards in residence, it still has two more free PCI-E slots. Along with a choice of 10GbE, 25GbE and 40GbE network cards in addition to fibre channel adapters, the NAS accepts QNAP's multi-port SAS3 expansion cards allowing up to sixteen 16-bay TL-R1620Sep-RP disk shelves.
QNAP QuTS Hero is a new operating system that combines QTS with a 128-bit ZFS file system and delivers a range of valuable enterprise-class data integrity and protection features. End-to-end checksums offer transparent self-healing of data corruption, ZFS copy-on-write provides fast, near-unlimited snapshots for NAS shares and iSCSI LUNs, and it introduces triple mirroring. This makes it possible to store identical copies of data on three drives and triple parity RAID (RAID-TP) to protect against up to three drive failures.
NAS share data can be protected from unauthorized deletion or modification by applying one of two WORM (write once read many) policies, and QuTS Hero can also make big storage savings with compression and in-line deduplication.
The QNAP TS-h1283XU-RP has everything to satisfy businesses that want a solid combination of storage performance, data protection features, and expansion potential but that doesn't mean that it is completely NAS protected from failures that can result in data loss. If that happens, businesses will need to contact a professional data recovery services provider to get their precious data back. ACE Data Recovery team can successfully recover data from all types of storage devices, including NAS, and is ready to help the QNAP TS-h1283XU-RP NAS owners with their data recovery needs.