Qnap entry-level native NVMe TS-h1090FU NAS
November, 2022
Qnap entry-level native NVMe TS-h1090FU NAS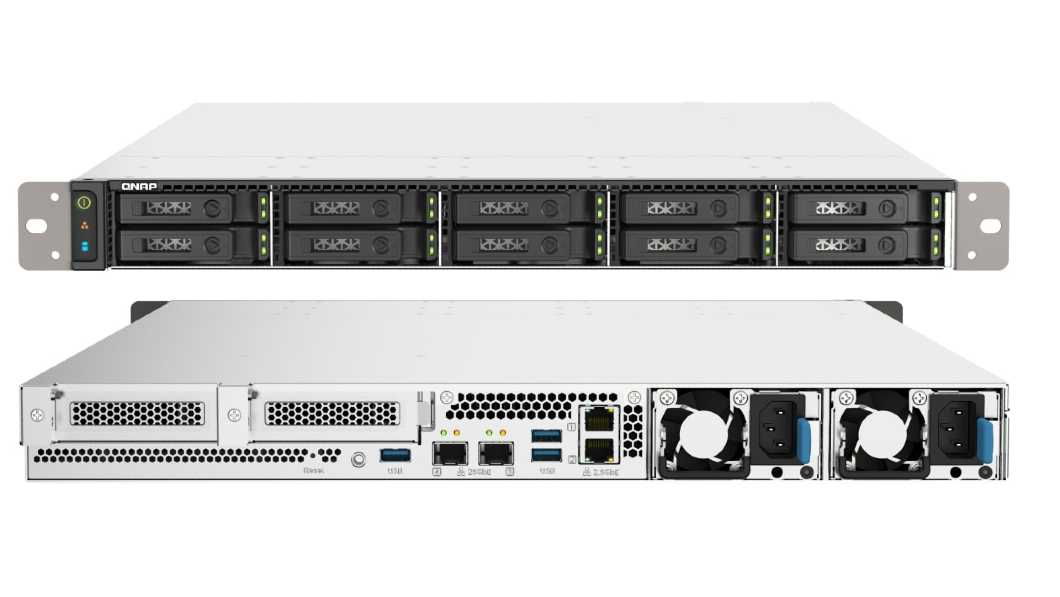 Qnap TS-h1090FU is NVMe all-flash NAS that features U.2 NVMe PCIe Gen 4 x4 SSD architecture. The TS-h1090FU NAS is presented in a short-depth 1U rack chassis with ten hot-swap drive bays at the front. It supports both U.2 form-factor NVMe SSDs and lower-cost SATA SFF SSDs. The TS-h1090FU Qnap NAS is powered by a 2nd-Gen AMD EPYC 7002 series processor and features DDR4 ECC memory with 12 Long-DIMM slots for up to 1TB memory for memory-intensive workloads.
For connectivity, the TS-h1090FU NAS includes dual embedded 2.5GbE multi-Gigabit and 25GbE SFP28 ports. There's room for more ports too, as the appliance has two free PCI-E 4 expansion slots and is certified for a wide range of Qnap's 10, 25, 40 and 100GbE network adapters.
During installation, the browser quick start wizard offer users the choice of Qnap's QTS or QuTS hero operating systems. There's little to choose between these OS for app availability, and their web interfaces are almost identical, but QuTS is the obvious choice. Although this OS has far higher memory demands than QTS, the massive 128GB in the TS-h1090FU unleashes all of its advanced data protection features.
QuTS also offers inline compression, Qnap ZFS copy-on-write for fast, near unlimited NAS share and iSCSI LUN snapshots, and end-to-end checksums for transparent self-healing of data corruption and supports triple parity RAID to protect against three drive failures or triple mirroring to store identical copies of user data on three drives.
As an entry-level native NVMe storage array, Qnap's TS-h1090FU NAS is hard to beat as it offers a powerful hardware package. The combination of AMD EPYC CPU and DDR4 memory delivers great NAS and IP SAN 25GbE performance, and support for both Qnap's QTS and QuTS operating systems adds extra versatility.
The Qnap TS-h1090FU is an entry level NAS that offers enterprise performance for SMB, but it can also suffer from crash because of human error. In such circumstances, the owners of the Qnap TS-h1090FU NAS will need to contact a reliable professional data recovery services provider, like ACE Data Recovery. ACEs have an extensive experience in recovering data from different types of storage media and are ready to help the Qnap TS-h1090FU owners get their critical data back.