New QNAP TS-855X NAS Versatile and Cost-Effective Storage
June, 2023
New QNAP TS-855X NAS Versatile and Cost-Effective Storage
QNAP Systems has recently unveiled the TS-855X NAS, a cutting-edge network-attached storage device that delivers a versatile and cost-effective storage solution for small to medium-sized businesses (SMBs). The TS-855X combines the power of six 3.5-inch HDDs and two M.2 PCIe NVMe SSDs, offering a hybrid storage space that allows users to optimize their storage strategy based on performance, cost, and capacity requirements.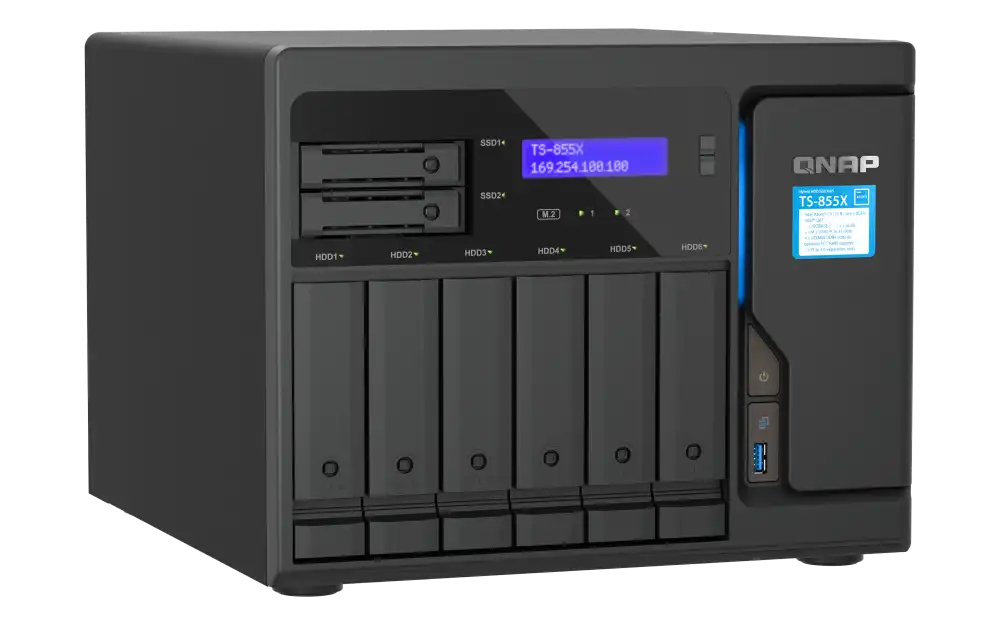 TS-855X Powerful Processing and Connectivity
Powered by an Intel Atom C5125 2.8 GHz 8-core processor, which includes Intel QAT and SR-IOV technology, the TS-855X delivers exceptional processing and data handling capabilities. It supports up to 128 GB DDR4 memory and is equipped with 10GbE/2.5GbE network ports, ensuring high-performance, high-speed, and highly-expandable storage and virtualization environments for SMBs with the lowest total cost of ownership (TCO).
QNAP TS-855X Impressive Hardware Design
The TS-855X NAS stands out as a benchmark in the realm of NAS devices, providing a comprehensive set of features for business backup, virtualization, and cybersecurity applications. Its tower model design includes hot-swappable bays for six 3.5-inch SATA 6 Gbps hard drives and two 2.5-inch SATA 6 Gb/s solid-state drives. Additionally, it offers various connectivity options, such as 10GbE RJ45 ports, 2.5GbE Gigabit RJ45 ports, M.2 PCIe Gen 3 x4 slots, PCIe Gen 3 x4 slots, USB 3.2 Gen 1 (5 Gbps) ports, and a USB 2.0 port.
TS-855X Optimal Balance of Performance and Cost
The QNAP TS-855X is specifically designed to deliver the optimal balance between performance and cost for SMBs. Its hybrid storage capacity, advanced processor, ample memory expansion options, and network connectivity capabilities make it an ideal choice for SMBs seeking a reliable and efficient data storage and backup solution.
SSD Caching and Qtier Technology
One notable feature of the TS-855X is its support for SSD caching and Qtier technology. The two built-in M.2 PCIe NVMe slots enable SSD caching, which significantly accelerates I/O operations by storing frequently accessed data on fast SSDs. This results in reduced latency and improved overall system performance. Additionally, Qtier technology automatically moves data between different storage tiers based on usage patterns, ensuring that frequently accessed data resides on the fastest storage media, while less frequently accessed data is stored on slower, high-capacity HDDs. This dynamic tiering optimizes storage efficiency and maximizes performance for different workloads.
QNAP Comprehensive Software Features
In addition to its impressive hardware specifications, the QNAP TS-855X NAS offers a range of software features that further enhance its functionality and appeal to SMBs. With its QTS operating system, the TS-855X provides a user-friendly and intuitive interface that allows for easy setup, configuration, and management of the NAS. Users can take advantage of versatile cloud-based services for hybrid cloud deployment, allowing for seamless integration with popular cloud storage providers. This enables businesses to create off-site backups and ensure data redundancy, minimizing the risk of data loss. The NAS supports regular snapshot creation, which provides an additional layer of protection against ransomware attacks by allowing users to easily restore their data to a previous state.
QNAP Virtualization and Containerization capabilities
With comprehensive backup and restoration capabilities, support for cloud-based services, snapshots for ransomware protection, and secure remote data access through QVPN service, the TS-855X offers a complete backup and data protection solution. It also provides virtualization options through Virtualization Station, allowing the hosting of Windows, Linux, UNIX, and Android virtual machines. Furthermore, Container Station enables the execution of Docker, LXD, and Kata Containers. Containers provide lightweight and isolated runtime environments for applications, making it easier to manage and scale software deployments.
QNAP Scalability and Certification for virtualization platforms
Certified by renowned virtualization platforms VMware vSphere and Microsoft Hyper-V, the TS-855X meets the demands of virtualization workloads with its high-performance storage capabilities. By seamlessly connecting to QNAP's JBOD expansion units, businesses can effortlessly scale their storage capacity according to their data growth requirements.
ZFS-based QuTS Hero QNAP Operating System
The TS-855X provides the option to switch to the ZFS-based QuTS hero operating system. ZFS is a robust and scalable file system that offers advanced data protection, including end-to-end checksums, data integrity checks, and automatic data repair. This ensures that data stored on the NAS remains intact and reliable, even in the event of hardware failures. For secure remote access to the NAS, the QVPN service allows IT staff to create virtual private networks, ensuring that data transmission is encrypted and protected from unauthorized access. This feature is particularly important for businesses that require remote access to their data while maintaining strong security measures. ZFS-based QNAP NAS provides a cornerstone for enterprise Big Data analysis, critical data backup, and optimized all-flash performance. With ZFS, you can store and process large amounts of data without worrying about data corruption or loss. ZFS also supports RAID-Z, which allows you to create flexible and resilient storage pools with different levels of redundancy and performance.
Overall, the QNAP TS-855X NAS represents a state-of-the-art solution that provides SMBs with exceptional storage performance, flexibility, and reliability, all while delivering a cost-effective storage and backup solution. The QNAP TS-855X NAS not only boasts impressive hardware specifications, but it also delivers a comprehensive set of software features designed to meet the storage, backup, virtualization, and data protection needs of SMBs. With its intuitive interface, advanced storage technologies, versatile applications, and reliable performance, the TS-855X stands out as an exceptional choice for businesses looking to optimize their data storage and management processes while keeping costs in check.
QNAP NAS RAIDs Data Recovery Services
ACE Data Group offers comprehensive data recovery services for QNAP NAS to help businesses and individuals recover their valuable data in case of unexpected data loss or system failure. With our expertise and advanced tools, QNAP's NAS data recovery services aim to minimize downtime and restore critical data efficiently. Whether it's a hardware failure, accidental deletion, or a damaged RAID array, ACE team of experienced professionals can handle a wide range of data QNAP's recovery scenarios. We follow a meticulous and secure process to recover data from QNAP NAS devices, employing specialized techniques to extract and restore data from various storage media. Our QNAP's data recovery services prioritize data integrity and confidentiality, ensuring that the recovered data remains secure and protected throughout the recovery process. By leveraging our extensive knowledge and resources, ACE Data Group helps businesses and individuals recover their vital data from any QNAP RAID configuration, offering peace of mind and minimizing the potential impact of data loss on their operations.