New QNAP TS-253D-4G dual-bay NAS
August, 2022
New QNAP TS-253D-4G dual-bay NAS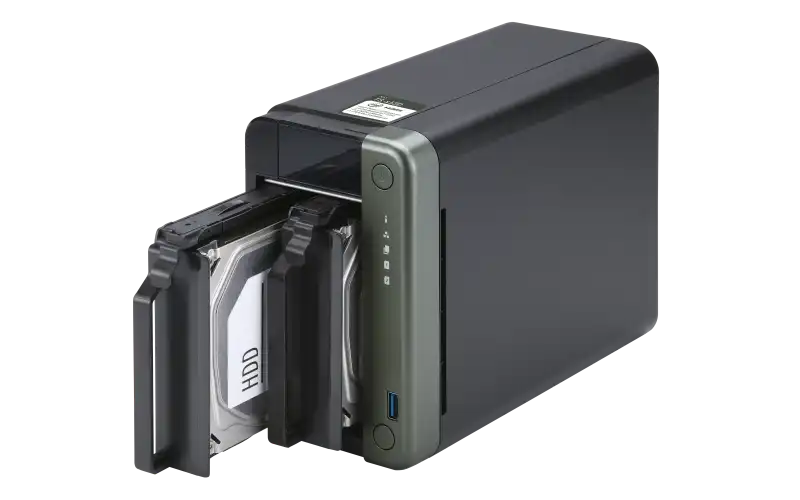 The QNAP TS-253D-4G is a dual-bay NAS that features an Intel Celeron J4125 Quad-core processor and 4 GB of DDR4-2400 RAM. It is designed for business and home users who need a network attached storage device that brings high-speed connectivity and expandability and offers a nice selection of apps.
The TS-253D-4G NAS measures 6.6 by 4.1 by 8.9 inches (HWD) and can accommodate 2.5 and 3.5 inch drives. The NAS supports single JBOD, RAID 0, and RAID 1 and supports a total capacity of 32TB using two 16TB drives. It's possible to achieve larger storage capacities by connecting the NAS to a QNAP SATA or USB expansion port. The TS-253D-4G doesn't come with drives, which means users have to supply their own storage.
The QNAP TS-253D-4G NAS is powered by Intel's 2GHz quad-core Celeron J4125 processor, 4GB of DDR4 RAM (which is expandable to 8GB), and 4GB of flash memory. The TS-253D-4G NAS uses Intel's HD Graphics 600 processor and supports hardware-accelerated video transcoding, and it also has an open PCIe expansion slot.
The TS-253D NAS can be managed using some mobile apps, but the QTS operating system provides everything users need to manage the NAS in a user-friendly web console. The App Center offers 118 backup, business, entertainment, home automation, security, and surveillance apps that allow home and business users to use this NAS as an iTunes or Plex server, an accounting and business management system, an IP camera surveillance station, and more.
With solid file transfer performance, high-speed LAN ports, and multiple I/O ports, the QNAP TS-253D-4G NAS can be considered a good option for your home or small business, but NAS drive can crash, resulting in data loss that can often happen accidentally. Then the owners of the QNAP TS-253D-4G NAS will need to contact a professional data recovery services provider to get their critical data back. ACE Data Recovery team has extensive experience in successful recovery from all HDD devices, including QNAP's NAS. ACE Data Recovery engineers are ready to help the QNAP TS-253D-4G NAS owners with their data recovery needs.