QNAP Announces its Ryzen Powered TS-h973AX 9-bay NAS
January, 2021
QNAP Announces its Ryzen Powered TS-h973AX 9-bay NAS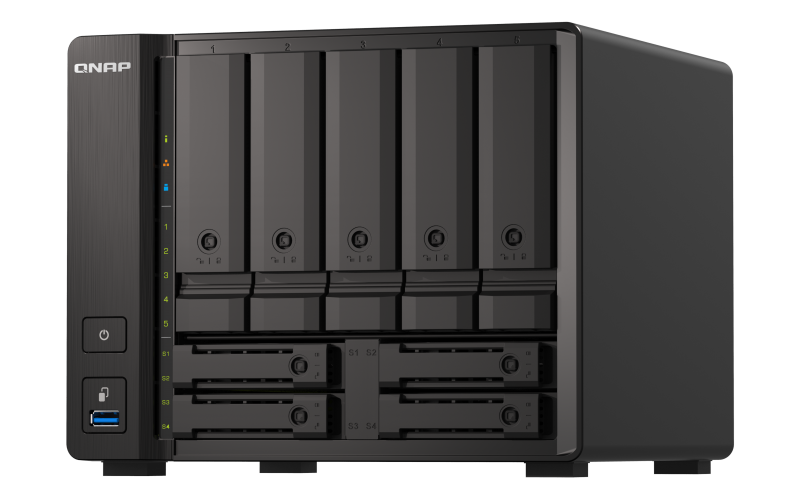 QNAP introduced the TS-h973AX QuTS hero NAS that features an AMD Ryzen V1000 series V1500B quad-core 2.2 GHz processor and 10GbE/2.5GbE connectivity. The NAS has four 2.5-inch SSD slots. Two slots support both 32 Gbps high-performance U.2 NVMe PCIe Gen 3 x4 SSDs or economical SATA 6 Gb/s SSDs for tackling latency-sensitive applications. The TS-h973AX runs the dependable ZFS-based QuTS Hero NAS operating system and delivers business-critical features. It enables up to petabyte capacity per shared folder, providing a cost-efficient NAS solution that offers high performance.
The TS-h973AX features a hybrid storage architecture and provides five 3.5-inch SATA drive bays, two 2.5-inch U.2 NVMe SSD slots (supporting either U.2 NVMe or SATA SSDs), and two 2.5-inch SATA SSD slots. It's possible to scale the total storage capacity of the TS-h973AX using numerous QNAP expansion enclosures. The NAS offers SSD-aware features (including Write Coalescing and SSD Pool Over-provisioning) that further increase the device performance and cost-efficiency. The TS-h973AX has one 10GBASE-T Multi-Gig port and two 2.5GbE RJ45 ports, supporting Port Trunking and failover to reinforce business virtualization, intensive file access, large backup/restoration tasks, and media transfer. The TS-h973AX is suited for use with QNAP's budget-friendly managed and unmanaged 10GbE/2.5GbE switches for high-speed, secure and scalable network environments.
According to QNAP, the TS-h973AX provides data integrity, self-healing, and supports multiple RAID configurations with Triple Parity and Triple Mirror to enhance data protection. Powerful inline data deduplication, compression, and compaction significantly reduce the overall storage footprint and also improve storage read and write speeds. QuTS hero supports near-unlimited snapshots and versioning for better data protection. The advanced block-based real-time SnapSync ensures that both the primary and secondary NAS maintain identical data, providing strong support for nonstop business operations.
There is an App Center that provides numerous install-on-demand apps to expand NAS recovery application potential. They enable hosting virtual machines and containers, streamlining cross-device/cross-team file synchronization, simplifying local/remote/cloud backups, implementing a backup solution for Google Workspace and Microsoft 365, centralizing VMware and Hyper-V virtual machine backups, setting up a cloud storage gateway to deploy hybrid cloud applications, and much more.
The company said that the ZFS-based TS-h973AX is perfect for tackling challenges faced by businesses of all sizes. But nevertheless it's vulnerable to logical and physical failures, just like any storage device. That can lead to critical data inaccessibility and downtime for businesses, so they will need to contact a reliable data recovery services provider. ACE Data Recovery team can successfully recover data from all types of storage media and will gladly help the owners of the TS-h973AX QuTS hero NAS with their data recovery needs.