OWC launches Accelsior PCIe SSD for Mac Pro up to 8TB
January, 2020
OWC launches Accelsior PCIe SSD for Mac Pro up to 8TB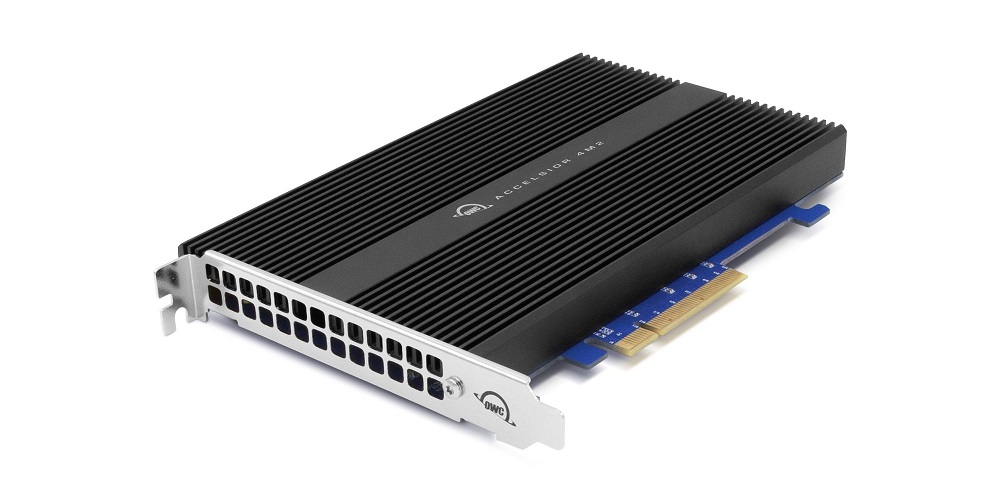 Apple has just announced the availability of the 8TB SSD upgrade option for its new high specification Mac Pro and OWC has announced the launch of its Accelsior PCIe SSD for Mac Pro. The new high-end SSD combines multiple M.2 drives to offer up to 8 TB of storage, with aggregate read/write well over 6000 MB/s.
According to the company, the Accelsior 4M2 is the fastest SSD ever built by OWC and is the perfect storage solution for large format video editing, VR/AR/MR environments, extreme gaming, compute-intensive applications, and other high bandwidth needs. In addition to the new Mac Pro 2019, the Accelsior 4M2 SSD is compatible with PCs and 2010 and 2012 Mac Pro machines, delivering the blazing performance, unstoppable reliability, and stunning versatility. It fits into a half-height or full-height PCI 3.0 or 3.0 8x or 16x slot but if no expansion slot is available, it also works with Thunderbolt 3-based external enclosures.
As is often the case for high-end OWC drives, the Accelsior 4M2 is meant to be used with OWC's SoftRAID software which supports various RAID modes (RAID 0, RAID 1, JBOD, etc.). Otherwise the drive can also be used in PCs. Despite the Mac-focus, it's presented as a generic PCIe card but PC users will need to supply their own RAID software.
The drive is entirely slot-powered which means it doesn't require any extra power connections to function, is plug-and-play without the need of additional drivers for installation, and can be used as the boot volume for fast start-up times.
When it comes to capacity, the Accelsior 4M2 storage solution will be available in 1 TB, 2 TB, 4 TB, and 8 TB raw capacities. OWC will start shipments of the Accelsior 4M2 SSDs on the week of December 30th.
According to OWC, Accelsior 4M2 offers performance gains in so many diverse ways that it will literally change the paradigm for storage applications. But, unfortunately, the new Accelsior SSD drives have a limited number of write cycles and can fail just like any other SSDs. Then their owners will need to contact a reliable professional data recovery services provider like ACE Data Recovery to get their critical data back. ACEs can successfully recover data from High-capacity SSDs of all makes and models and are ready to help the Accelsior 4M2 owners restore their irreplaceable data.