MSI Announcement of SPATIUM M570 Pro Gen5 SSDs
June, 2023
MSI Announcement of SPATIUM M570 Pro Gen5 SSDs
Introduction to SPATIUM M570 Pro Cutting-Edge Features
Recently announced, MSI's new SPATIUM M570 Pro series of Gen5 SSDs features the advanced PHISON E26 PCIe Gen 5 SSD controller, 3D NAND flash, and a meticulously tuned active cooling system. With a remarkable promise of delivering record-breaking 14 GB/s read speeds, these SSDs are designed to redefine storage performance. The SPATIUM M570 PRO Series SSD achieves an astonishing top read speed of 14 GB/s, shattering the world record and setting new industry standards.
It appears that MSI is nearing the launch of its Spatium M570 Pro PCIe 5.0 SSD. The company showcased its latest SSDs at the Computex booth in Taipei this week, allowing us to closely examine two versions of the SSD. We previously encountered the SSD earlier this year at MSI's CES booth, where it achieved sequential read and write speeds of 12,000 MBps and 10,000 MBps, respectively. In the months following that initial preview, MSI has further optimized the performance, solidifying its position as one of the fastest PCIe 5.0 SSDs for 2023.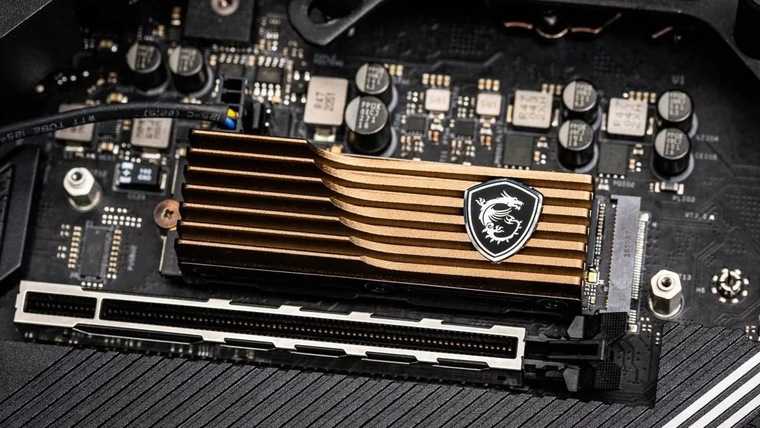 Introducing the Frozr and Frozr+ Versions
MSI showcased the Spatium Pro M570 Pro in two variants: Frozr and Frozr+. The former features a massive passively cooled heatsink and robust pipes for effective heat dissipation, resulting in a notable temperature reduction of up to 20 degrees Celsius. The Frozr+ takes it a step further by incorporating a Torx 5.0 fan and ARGB lighting, contributing to an additional temperature decrease of 10 degrees Celsius. While both versions deliver identical performance, the Frozr+ exhibits superior cooling capabilities under heavy workloads. Interestingly, once the speed threshold for Gen5 SSDs is surpassed, the most efficient cooling solution mirrors what we observe in other PC hardware components, such as high-stacked heatsinks with fans and pipes. The MSI Spatium M570 PRO Gen5 NVMe SSDs will be offered in two designs: FROZR and FROZR+. Although FROZR typically refers to active cooling fans, in this case, it is employed as a nomenclature for the heatsink itself. The standard Spatium FROZR heatsink boasts a substantial heat sink block equipped with a triple Core Pipe, known as the Well-pathed heatpipe and Ascent heatsink design by MSI. These Core Pipes feature a flat surface that ensures full contact with NVMe Controllers and DRAM modules, facilitating efficient heat transfer.
Spatium M570 Performance Benchmarks
According to MSI's latest performance benchmarks from CrystalDiskMark, the Spatium M570 Pro surpasses 14,200 MBps in sequential reads, with sequential writes exceeding 12,000 MBps. This positions the read performance slightly behind the T-Force Z54A, but it leads in terms of write performance. However, it is worth noting that SSD performance is not solely reliant on raw sequential read/write speeds. Nevertheless, MSI's entrance into the PCIe 5.0 SSD market showcases significant strength.
As an added bonus, MSI demonstrated two SPATIUM M570 Pro SSDs operating in tandem, achieving an impressive speed of 22 GB/s for reads and 23 GB/s for writes. However, it is important to highlight that the random numbers did not exhibit the same level of excellence, prompting MSI to acknowledge the need for further fine-tuning in that aspect. Additionally, MSI showcased the Spatium Pro M570 Pro Frozr operating in RAID 0, resulting in sequential reads reaching 22 GBps and sequential writes climbing to 23 GBps.
The Spatium M570 Pro family utilizes the Phison PS5026-E26 controller, which is expected to be featured in the majority of PCIe 5.0 SSDs released this year. In contrast, the aforementioned T-Force Z54A employs the Innogrit IG5666 controller. Additionally, these SSDs incorporate 232-layer 2,400 MTs NAND technology.
M570 Pro Cooling and Performance
Similar to other PCIe 5.0 SSDs, the M570 Pro series includes a robust heatsink and a vapor chamber plate to ensure consistent performance under heavy workloads. This is crucial as insufficient cooling solutions can lead to thermal throttling, significantly impacting performance.
Collaboration Between Phison and MSI
The collaboration between Phison and MSI began within the SSD product line. Both companies possess expertise in NAND controller technology and computer system integration, respectively. Furthermore, MSI has strategically expanded its presence in various industries, including gaming, content creation, commercial, industrial, robotics, and automotive, aligning with Phison's long-term strategy. This shared vision and market alignment have facilitated a fruitful partnership between the two companies.
The SPATIUM M570 Pro Series SSDs announced by MSI have adopted Phison's E26 SSD controller. Due to the significantly improved performance of PCIe 5.0 compared to the previous generation, Phison and MSI have conducted extensive tests and discussions regarding power consumption and heat dissipation, gaining valuable cooperative experience. Moving forward, Phison remains committed to supporting MSI through its advanced controller technology.
Data Recovery Services for SPATIUM M570 Pro
In the unfortunate event of data loss or SSD drive failure, ACE Data Group provides professional data recovery services for the SPATIUM M570 Pro SSD series. Recognizing the critical nature of data, ACE Data Group understands the importance of recovering valuable information and ensuring minimal disruption to business operations or personal data access.
ACE Data Group's data recovery services are conducted by highly skilled professionals with extensive experience in handling SSDs and HDD advanced data recovery techniques. They possess in-depth knowledge of the SPATIUM M570 Pro series, its controller, and NAND technology, enabling them to effectively recover data from various types of issues and failures.
Advanced SSD Recovery Tools and Facilities
ACE Data Group's data recovery labs are equipped with state-of-the-art tools and facilities specifically designed for SSD data recovery. These advanced resources, combined with the expertise of the professionals, enable efficient and reliable recovery of data from SPATIUM M570 Pro SSDs, even in complex scenarios.
ACE Data Group upholds strict confidentiality and security standards throughout the data recovery process. Customers can trust that their sensitive information remains secure and protected. ACE Data Group takes every precaution to ensure the privacy and integrity of recovered data, complying with industry best practices and applicable data protection regulations.
ACE Data Recovery Seamless Recovery Process
ACE Data Group's data recovery services aim to provide a seamless and hassle-free experience for customers. From initial consultation and assessment to the successful recovery and delivery of data, ACE Data Group's dedicated team guides customers through the entire process, offering transparent communication and updates at each stage.
The ACE Data Group's customer support team will assist you in initiating the data recovery process and addressing any queries or concerns you may have.