Intel Optane DC P4800X with Memory Drive Technology Discontinued
May, 2021
Intel Optane DC P4800X with Memory Drive Technology Discontinued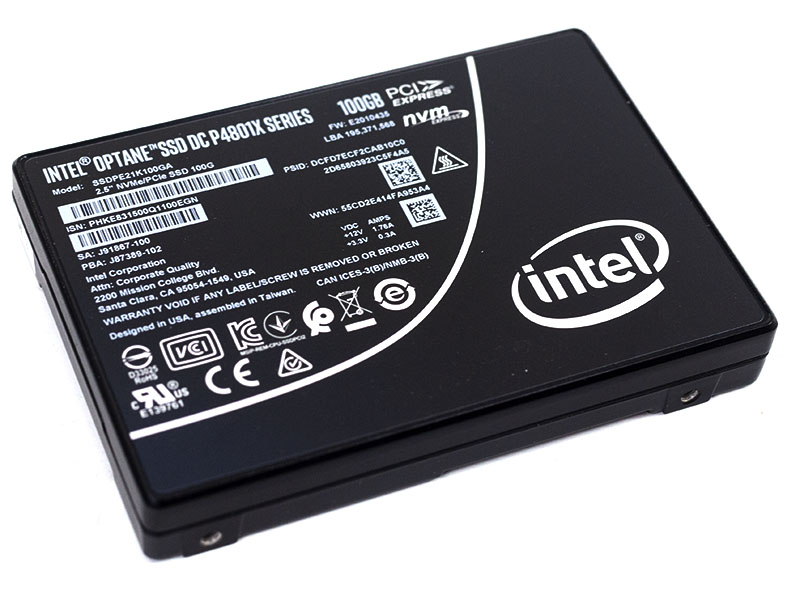 Intel has just announced that it is discontinuing the Optane DC P4800X with its accompanying Memory Drive Technology Plans. The same SSD drives without the Memory Drive software will continue to be shipped as long as there is demand, but the Optane with the said program will not be available from Intel by October. The last order date is set for June 30, 2021, and the last shipment date is September 30, 2021. Intel is in the middle of a technology transition to its new DDR4-3200/ PCIe Gen4 portfolio.
The discontinued family of Optane SSD DC P4800X with MDT products includes models with 100GB, 375GB, 750GB, and 1.5TB capacities in U.2 and card form-factors with a PCIe 3.0 x4 interface.
Along with the P4800X bundle end-of-life (EOL) we also see that the Intel Memory Drive Technology support is being discontinued. Speaking about the Intel Memory Drive Technology, it is used more on client PCs than servers and essentially makes 3D XPoint-based drives appear like DRAM to the OS and applications. The software was introduced in 2018 alongside the Optane SSD DC P4800X/P4801X and Optane SSD 900P/905P drives and was designed primarily to expand system memory capacity on first-gen Intel Xeon Scalable (and older) machines in a very cost-efficient way. Hot data would be written to DRAM, but then it could be pushed to the slower SSD tier. That works similar to the Intel Optane Memory for the desktop offering, but just on a larger scale.
It is fairly normal for Intel to discontinue its SSDs over time. The Intel Optane DC P5800X is much faster, so if you had to choose, you would pick the P5800X over the P4800X. That's why Intel would discontinue the older drives with Memory Technology. In SSDs, the biggest cost is the media so using 3D XPoint packages in either product, everyone would prefer them in the new PCIe Gen4 SSD. At the same time, because of the P4800X's cost, the SSD drive is going to be found in sensitive high-value applications. So, if you own the Optane DC P4800X with its accompanying Memory Drive Technology, we suggest you should ensure you have spares and warranty/ support coverage for them, especially, if for any reason, you can't use a different but newer model.