The Inland TN446 is a good choice for upgrading your device that supports M.2 2230 SSDs
August, 2023
The Inland TN446 is a good choice for upgrading your device that supports M.2 2230 SSDs
Inland's reputation as Micro Center's proprietary SSD brand has been steadily growing, thanks to their consistent delivery of reliable and efficient storage solutions. One notable standout from their lineup is the Gaming Performance Plus SSD, which has earned them recognition in the market. However, their innovation doesn't stop there. Inland has been a pioneer, introducing products like the PCIe 5.0 TD510 and the M.2 2230 TN436, both of which have left a mark in the tech community. Particularly, the TN436 gained significant attention for being a popular choice among early Steam Deck adopters looking to enhance their gaming experience through increased storage capacity.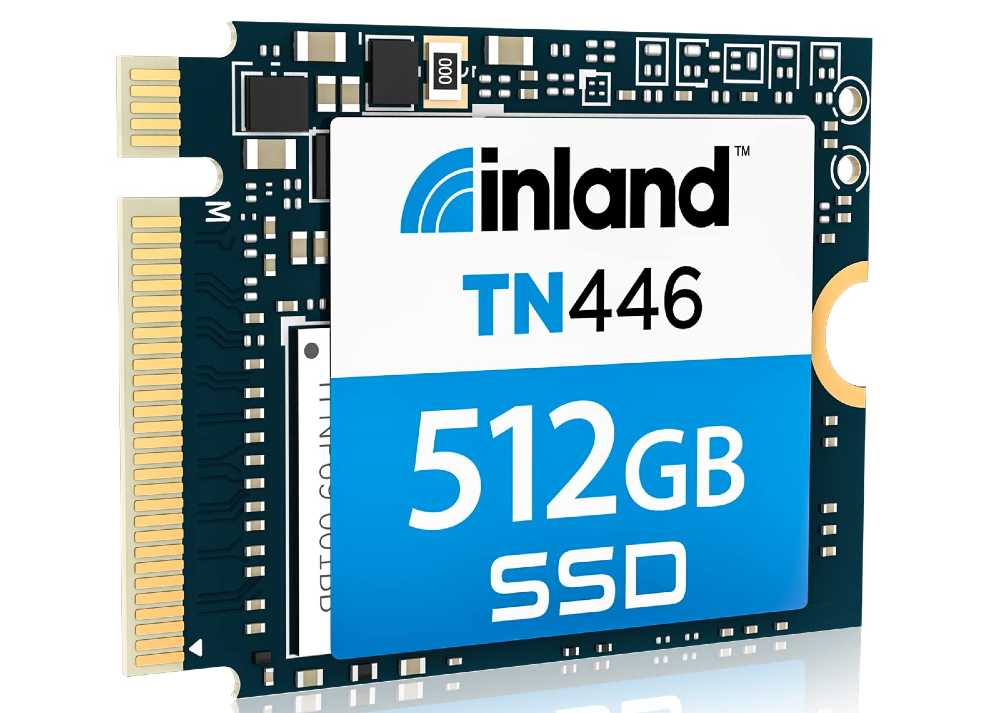 Inland's Innovative SSD Solutions
Building upon their previous successes, Inland has returned with the TN446 SSD, a new iteration designed to take their storage solutions to the next level. The TN446 continues Inland's tradition of accessibility, making it an easy-to-install option for those seeking to upgrade their portable systems. As the market for 2230 SSDs continues to expand, Inland's approach ensures that users have a straightforward solution at hand, especially if they have access to a Micro Center store.
The TN446 Performance Improvements
A notable improvement in the Inland TN446 is its departure from the shortcomings of its predecessor, the TN436. The TN436 was met with criticism due to its subpar performance and inefficiency. However, the TN446 represents a significant leap forward in terms of performance and design. To compare the Inland TN446 with other SSDs, we can look at some benchmarks and reviews from Tom's Hardware, which tested the 1TB model on both the Steam Deck and a Windows PC. According to their results, the TN446 performed well in most scenarios, but had some inconsistency in sustained write workloads. It also had lower sequential read and write speeds than the Rocket 2230 and the MP600 Mini, but higher random read and write speeds. The TN446 was also more efficient than the QLC-based Rocket Q4 2230 and the Addlink S91, which means it consumes less power and generates less heat.
Upgrade Considerations
The Inland TN446 is a good choice for upgrading your Steam Deck or other device that supports M.2 2230 SSDs. It offers reasonable performance and efficiency, as well as availability and affordability. However, it may not be the best option for users who need the highest sequential speeds or the most consistent performance. The TN446 also lacks a software management suite, which some users may find useful for monitoring and optimizing their drive.
Utilizing TLC Flash
An essential aspect of the TN446's enhancement is its utilization of TLC flash, an upgrade from the QLC flash found in the Sabrent Rocket Q4 2230 and Addlink S91. This shift contributes to improved performance and reliability, positioning the TN446 as a more competitive choice in the 2230 SSD market. However, it's worth mentioning that the TN436 did not offer a 256GB option, unlike the Rocket 2230. This limitation could have influenced users' choices in the past.
Comparison with Samsung 980 Pro
Another popular SSD that we can compare with the TN446 is the Samsung 980 Pro, which is one of the fastest PCIe 4.0 drives on the market. However, the 980 Pro comes in a larger M.2 2280 form factor, which means it is not compatible with the Steam Deck or other devices that require a shorter M.2 2230 SSD. The 980 Pro also uses Samsung's own controller and V-NAND flash, which are more expensive than Phison's controller and TLC flash. The 980 Pro has higher capacities up to 2TB, but also higher prices. The 980 Pro delivers much faster sequential read and write speeds than the TN446, reaching up to 7,000 MB/s and 5,100 MB/s respectively. It also has better performance consistency and reliability, as well as a software management suite.
Enhanced Technical Specifications
Delving into the technical specifications of the TN446, it's evident that Inland has prioritized performance. The sequential read and write speeds, as well as the random read and write IOPS, are all impressive numbers that point toward an SSD capable of handling demanding tasks with ease.
The choice of the Phison E21T controller is well-founded, as it has garnered a reputation for being a powerful and versatile option for both TLC and QLC flash configurations. The inclusion of a single flash package, labeled ICCIG94AYA, further exemplifies Inland's commitment to incorporating cutting-edge hardware components into their drives.
Inland's progression from the TN436 to the TN446 showcases their dedication to refining and expanding their SSD offerings. By addressing the drawbacks of their earlier model and embracing design cues from successful SSDs, Inland has positioned the TN446 as a competitive choice in the market. Its performance, reliability, and accessibility make it an appealing option for users seeking to upgrade their portable systems' storage capacity.
Expert Inland Data Recovery Services by ACE Data Recovery
ACE Data Recovery is a reputable and established company that provides specialized data recovery services for various storage devices, including Inland SSDs. With a team of experienced professionals and advanced tools, ACE Data Recovery aims to recover data from SSDs that might have experienced data loss due to various reasons such as hardware failure, accidental deletion, formatting, and more.
If you've encountered a situation where your Inland SSD has failed, and you've lost important data, ACE Data Recovery can be a viable option to consider. We specialize in recovering data from different types of SSDs, including those from brands like Inland. Here's how the data recovery process typically works:
Evaluation: You would need to contact ACE Data Recovery to discuss the details of your SSD issue. We will provide you with an initial assessment and guide you through the steps to proceed.
Shipping or Dropping Off: Depending on your location, you can either ship your faulty Inland SSD to ACE Data Recovery's lab or drop it off at one of their physical locations.
Diagnosis: Our experts will thoroughly diagnose the SSD to determine the extent of the problem and the potential for data recovery.
Recovery Attempt: Once the diagnosis is complete, we will attempt to recover your data using specialized tools and techniques. We have a high success rate for data recovery, even in challenging cases.
Data Verification: After the recovery process, ACE Data Recovery will verify the recovered data to ensure its integrity and completeness.
Data Delivery: Once the recovery is successful, you will receive the recovered data in a format of your choice, such as on a new storage device or through secure online transfer.
It's important to note that data recovery is a complex process, and success cannot always be guaranteed, especially in cases of severe physical damage. The cost of data recovery services can vary based on factors like the extent of the damage and the complexity of the recovery process.
If you're considering using ACE Data Recovery services for your Inland SSD, we recommend reaching out to us directly to discuss your specific situation and get a personalized assessment of the feasibility and cost of data recovery for your SSD.