Dell EMC PowerEdge XE7100 100x HDD Server
April, 2021
Dell EMC PowerEdge XE7100 100x HDD Server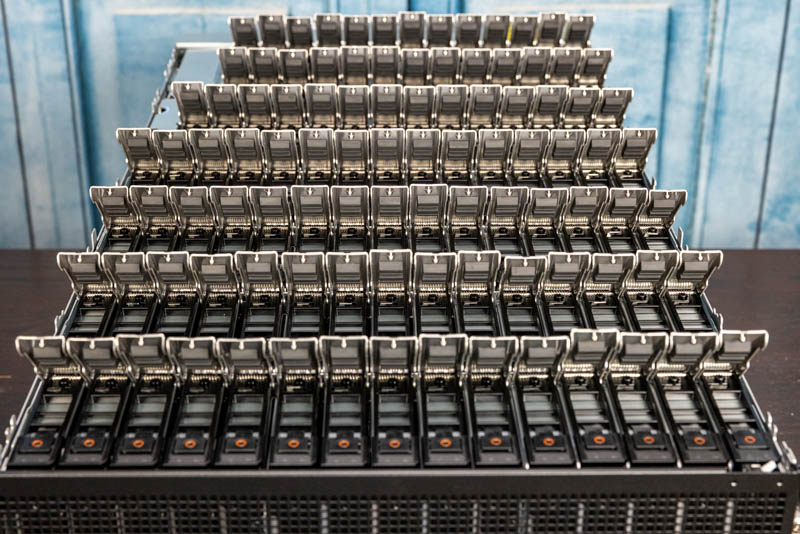 The Dell EMC PowerEdge XE7100 is a 5U server that handles 100x 3.5″ HDDs, with flexible CPU, GPU, and SSD options. The PowerEdge XE7100 is 911mm long or about 35.9 inches and uses the full depth of standard server rack cabinets. Dell says the EMC PowerEdge XE7100 has the industry's highest storage density. It is built for scalable data-intensive environments and good for object storage, intelligent video analytics (IVA), and media streaming workloads.
One of the interesting aspects of the PowerEdge XE7100 system is that Dell EMC has a number of configuration options. It is possible to configure the system with XE7420 nodes to provide two server nodes per system, but there is also a single node XE7440 option that allows using GPUs or accelerators instead.
On the front, we can see the two expander/ PERC controller/ 2.5″ SSD bay units. Each unit in our system has an expander and a PERC card which can be either a HBA or a RAID unit. HBAs are popular with scale-out solutions that use replication and erasure coding instead of older RAID. Each bay can house a 7mm 2.5″ drive.
The rear of the system has three major components – the fans, power supplies, and compute nodes. Primary cooling for the drives is actually handled by six fans in redundant modules at the rear of the chassis. The power supplies are fairly standard Dell 80Plus Platinum units rated at 2.4kW.
The PowerEdge X7100 offers Dell iDRAC 9 that features integration with existing Dell management tools. If you have an existing Intel Xeon infrastructure, Dell makes adding AMD nodes transparent. Another feature worth noting is the ability to set BIOS settings via the web interface. iDRAC 9 also features several iKVM console modes including Java, ActiveX, and HTML5.
The Dell EMC PowerEdge XE7100 is part of the "XE" line. The engineers behind this platform did a great job going beyond a standard industry practice of sticking a low-power node into a long 4U system. Instead, they realized that with top-loading storage there are practical density limitations for many of its customer base, and the move to a 5U chassis added for compute flexibility. As a result, the Dell EMC PowerEdge XE7100 is an excellent system that has enough capacity and flexibility to meet the majority of its customers' needs.