Asustor Drivestor 2 AS1102T NAS Appliance
October, 2021
Asustor Drivestor 2 AS1102T NAS Appliance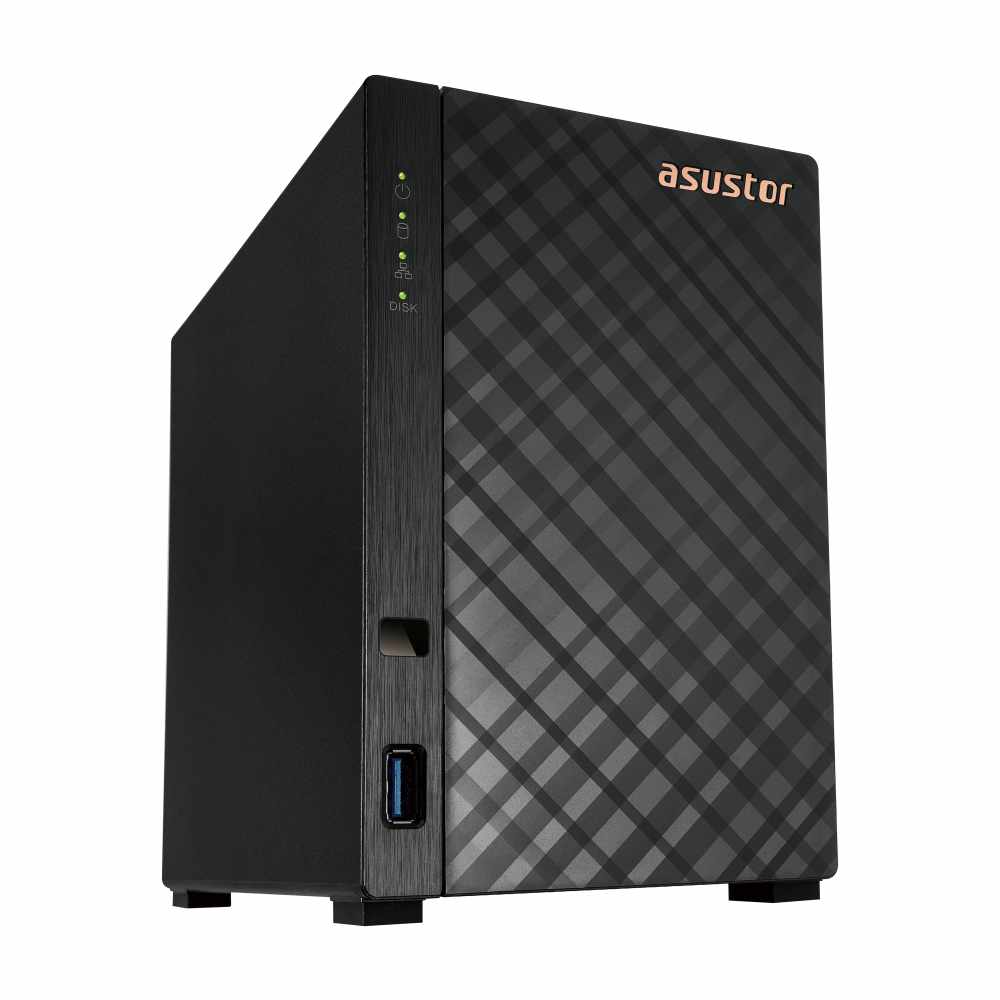 The Asustor Drivestor 2 AS1102T is an entry-level storage solution for all of your home's data. It's two-bay network-attached storage (NAS) device that offers some of features typically found on more expensive NAS devices for a reasonable price. The Asustor Drivestor 2 AS1102T NAS features multi-gig LAN ports and offers 4K video transcoding capabilities. It is also a solid performer that is easy to install, and it comes with a generous selection of apps.
The AS1102T NAS measures 6.5 by 4 by 8.6 inches (HWD) and doesn't require tools to access the internal drive bays. Its front panel is equipped with a USB 3.2 port and LED indicators for power, status, LAN connectivity, and disk activity. The rear panel has a 2.5-gigabit (2.5Gbps) LAN port, a second USB 3.2 port, a reset button, a power button, and a power jack.
The Asustor DriveStor 2 AS1102T is powered by a 1.4GHz quad-core CPU, 1GB of DDR4 RAM, and 8GB of flash memory. The NAS supports 4K video transcoding and will accommodate 2.5- and 3.5-inch drives (not included) for a total raw capacity of 36TB. Users can add an expansion-bay module ups the potential total raw capacity to 180TB. The AS1102T NAS supports RAID 0, RAID 1, Single, and JBOD volume types, along with the EXT4 file system.
The AS1102T features the Asustor's ADM 4.0 operating system that offers some features not found on previous versions, such as an improved search engine, updated OpenSSL connectivity, and user-friendly web server tools. They make management tasks a bit easier than on previous Asustor NAS devices. Users can create and share folders, back up data, configure drives, and download apps from the web-based ADM console with a Windows-like user interface. There is also a series of Asustor mobile apps to control certain NAS functions, though the apps lack the complete functionality of the ADM console.
The Asustor DriveStor 2 AS1102T NAS offers solid performance but it's also vulnerable to physical and logical failures that result in critical data inaccessibility. Then the owners of AS1102T will need to contact a reliable data recovery services provider to their data back. ACE Data Recovery team can boast of the highest success rate in the industry and is ready to help the Asustor DriveStor 2 AS1102T NAS owners with all their data recovery needs.