Asustor AS6602T LockerStor 2 NAS
October, 2020
Asustor AS6602T LockerStor 2 NAS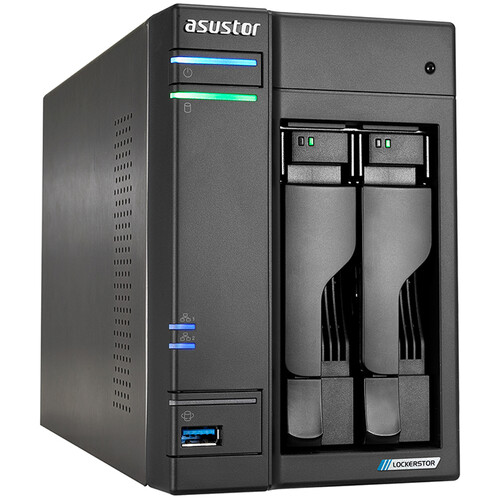 Asustor's AS6602T LockerStor 2 NAS is a new entry-level solution for enterprise users that provides 2.5Gbe networking and m.2 NVMe support. It is flexible and supports online capacity expansion and replacement. That means users can replace hard drives inside the LockerStor 2 NAS without downtime. If your storage requirements are small and the budget is limited, you can first buy smaller drives and then add more drives as your storage needs grow. You can fully replace all drives while continuing to use your NAS. And if you combine Asustor's AS6602T LockerStor 2 NAS with Asustor's MyArchive cold storage technology, you can store a virtually unlimited amount of information.
Design-wise, the Lockerstor 2 AS6602T features a rugged chassis that is almost exclusively metal in both external casing and right the way down to the individual drive trays. A metal chassis underneath provides a robust platform for 3.5" drives, and plastics offer aesthetics and room for LEDs to shine.
In terms of hardware, LockerStor 2 NAS comes with the latest- gen Intel Celeron J4125 CPU, a four-core solution, offering a 2GHz base clock and 2.7GHz boost. The Celeron J4125 is paired with 4GB of DDR4 upgradable via SO-DIMM to 8GB, and it is also equipped with HD600 graphics. It also features an HDMI out with 4K30 support. Speaking about additional features, we should mention dual m.2 support for NVMe and AHCI SSDs, a first for a two-bay platform, and dual 2.5Gbe and three USB 3.0 ports.
The NAS supports both the latest 16TB and 18TB drives, as well as numerous RAID configurations in JBOD, RAID 0, and RAID 1. That means it can support up to 32TB of storage, and can even be expanded with numerous official Asustor expansion devices.
Speaking about LockerStor 2 performance, it's quite good with 273 MB/s read and 250 MB/s write. It can stick with much more powerful platforms, including the Lockerstor 8 and 10 Pro. As for Workload testing, the Lockerstor 2 is excellent in Database operation at a touch over 6K IOPS while Filer Server came in at 4K IOPS and Email and Workstation hovered just above 1200 IOPS.
With the inclusion of Dual m.2 and 2.5Gbe into their entry-level mid-range platform, LockerStor 2 NAS is an affordable option for consumers and businesses alike that allows them to deploy multi-gigabit technology into their home or office. But like all storage devices, it may fail due to different reasons and make critical user data inaccessible. If that happens, ACE Data Recovery is ready to help the Asustor LockStor 2 NAS owners with their RAID data recovery needs.