Buffalo TeraStation TS3420DN NAS Now Available
September, 2020
Buffalo TeraStation TS3420DN NAS Now Available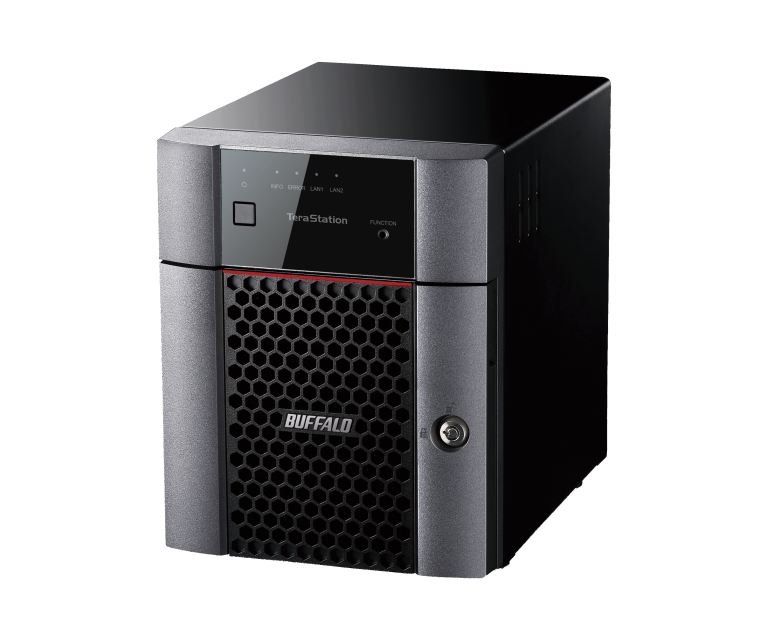 Buffalo's TeraStation TS3420DN is a high-performance, cost-effective NAS designed for small businesses with big data transfer needs and demanding small office and home office (SOHO) users. It's an affordable 4-bay desktop NAS that supports 2.5GbE, providing more than twice the speed of a regular gigabit connection over legacy Cat5e network cabling. Buffalo offers the appliance in 4TB, 8TB, 16TB, and 32TB capacities.
The core specification for Buffalo's TeraStation TS3420DN comprises a quad-core 1.4GHz Annapurna Alpine AL214 CPU and 1GB of non-upgradeable DDR3 memory. The 2.5GbE port is partnered by a standard gigabit one, plus a pair of USB 3 ports for attaching external storage devices.
This series is completely equipped with special NAS hard drives – Seagate Ironwolf NAS HDDs. There's no diskless option, but the standard 3-year warranty also covers the supplied drives. Data is protected from hardware failure with inbuilt RAID options (RAID 1, 5, 6 and 10) and needs, as well as JBOD and RAID 0 if you want it fast but unprotected.
Access control and security are covered with Active Directory feature, Buffalo'sTeraStation functions as a client of an Active Directory domain, so that domain users and groups can be used. Users can decide which protocols each share should be accessible over, set up local user and group lists, and optionally integrate with Active Directory. Another smart security measure is Buffalo's free Boot Authentication Tool, which protects user data if the appliance is stolen.
B-sync feature allows users easily synchronize easily files between their TeraStation and 3rd party cloud services to make backups. The Buffalo NAS supports Amazon S3 Cloud Services, Dropbox, OneDrive, and Azure. The Buffalo's TeraStation TS3420DN NAS comes with licensed NovaStor NovaBackup 19 software, and the license covers one Windows server and ten workstations.
With a strong set of back up and security features, the TS3420DN NAS is good for small businesses that want affordable, uncomplicated network storage at multi-gigabit speeds, but unfortunately, it can also fail victim to logical NAS and physical HDD failures, leaving irreplaceable user data inaccessible. To get their valuable data back, businesses will need to contact a reliable data recovery services provider like ACE Data Recovery team. ACEs have an extensive experience in recovering data from all types of storage media and are ready to help the Buffalo's TeraStation TS3420DN NAS owners with their data recovery needs.