Synology DiskStation DS224+ NAS Review
Synology DiskStation DS224+ NAS Review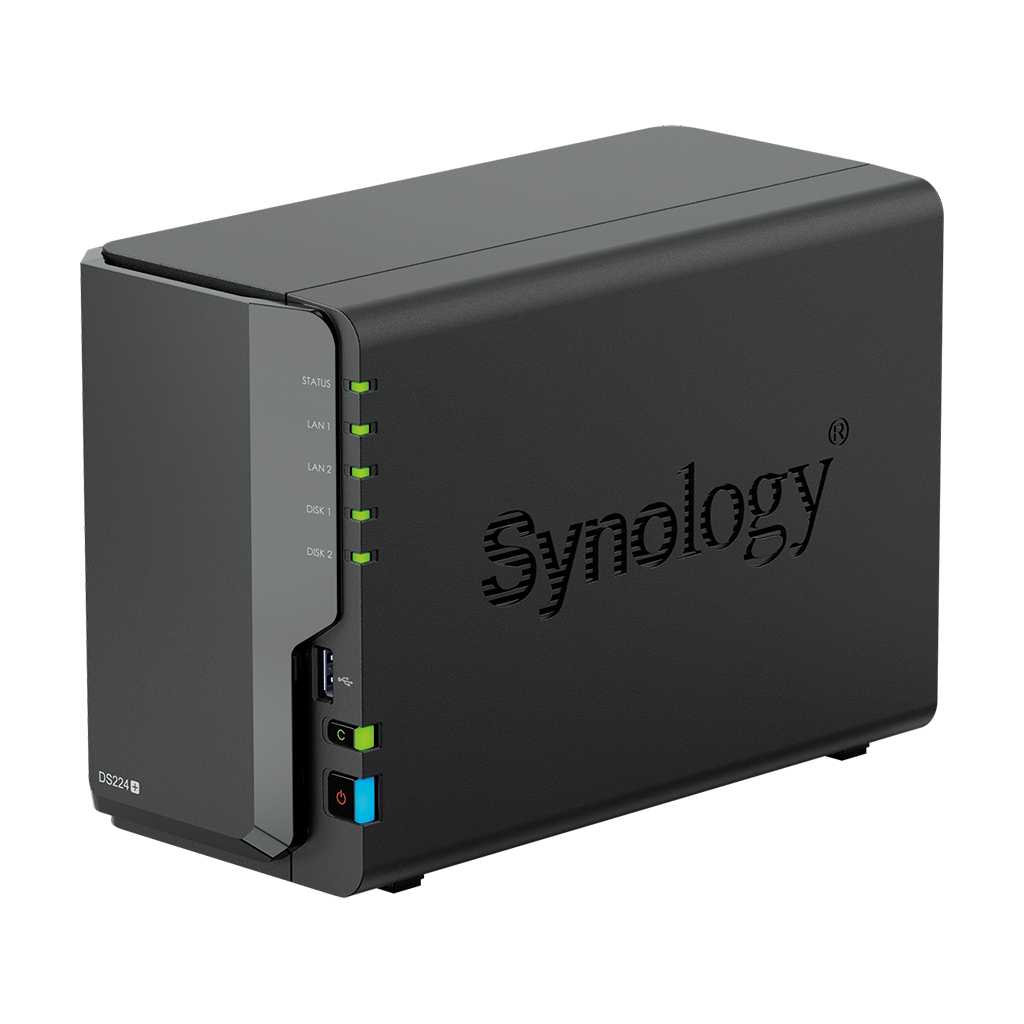 The Synology DiskStation DS224+ is a network-attached storage (NAS) enclosure that replaces the popular DS220+. It has the same design and most of the same specifications, but it comes with a new Intel Celeron processor. The DS224+ NAS also have any M.2 slots for SSDs, and the system memory capacity cannot be expanded beyond 6GB. However, it still has the excellent DiskStation Manager (DSM) operating system and countless available apps for expanding the functionality of the NAS beyond simple file storage.
The Synology DiskStation DS224+ NAS comes with everything you need to get started, including a quick installation guide, accessory pack, AC power cord, a 60W external power supply, and two CAT5e network cables. The NAS is an all-black server with a mix of plastic and metal. The front panel has a removable plastic cover to protect the drive bays, a single USB port, and a power button. There are also LED indicators for status alerts and drive/network activity. The drive trays are easily removed and require no tools to install 3.5-inch drives. 2.5-inch drives will require screws to attach them to the trays. The RAM slot is located on the right side of the enclosure.
The rear of the NAS has two USB-A 3.2 Gen 1 ports, two 1GbE ports, an e-SATA port, and DC input from the external power supply. A single fan pulls cool air through the NAS and exhausts it out the rear.
The Intel Celeron J4125 processor is showing signs of age, but it is still capable of powering through 4K transcoding. The two 3.5-inch drive bays can support drives with capacities up to 20TB, resulting in a maximum raw capacity of 40TB for the NAS. 2GB of DDR4 RAM is installed by Synology, which can be expanded to 8GB with an optional 6GB module upgrade. The two 1GbE network connections can be used to create a linked stack with higher bandwidth, though you will not see speeds higher than just over 100MB/s.
Installing Synology DiskStation Manager (DSM) is a painless process. Once up and running, the DSM web interface resembles that of a traditional PC operating system interface. As mentioned, we were able to fully saturate the network links with simultaneous connections, hitting a maximum throughput of 210MB/s. Streaming and transcoding 4K media through Plex Media Server was no issue.
The Synology DiskStation DS224+ is a powerful compact enclosure, but it is up against some seriously tough competition. The TerraMaster F2-223 is a similar NAS with two drive bays, an Intel processor, upgradable RAM, and a solid operating system. The TerraMaster NAS undercuts the DS224+ by a full $50 at MSRP and manages to pack a better processor, more RAM, faster networking ports, and two M.2 SSD slots. This can make the DiskStation DS224+ a difficult sell to those who want to get the most bang for their buck.
However, Synology does have the upper hand when it comes to software and app support. The company's DiskStation Manager is that good, and we'd recommend it over just about any other prebuilt NAS OS. The selection of apps available through the company's package manager is also excellent.
If you do experience a data loss event with your Synology NAS, ACE Data Recovery can help you recover your data. ACE is a leading data recovery company with over 30 years of experience. They have a proven track record of recovering data from all types of devices, including NAS, servers, and hard drives.
ACE offers a free consultation to assess your data loss needs. They will also provide you with a free quote before they begin work. If you choose to use ACE to recover your data, they will work with you every step of the way to ensure that you get your data back as quickly and as affordably as possible.