Western Digital Announces Ultrastar DC SS540 SAS SSD
November, 2019
Western Digital Announces Ultrastar DC SS540 SAS SSD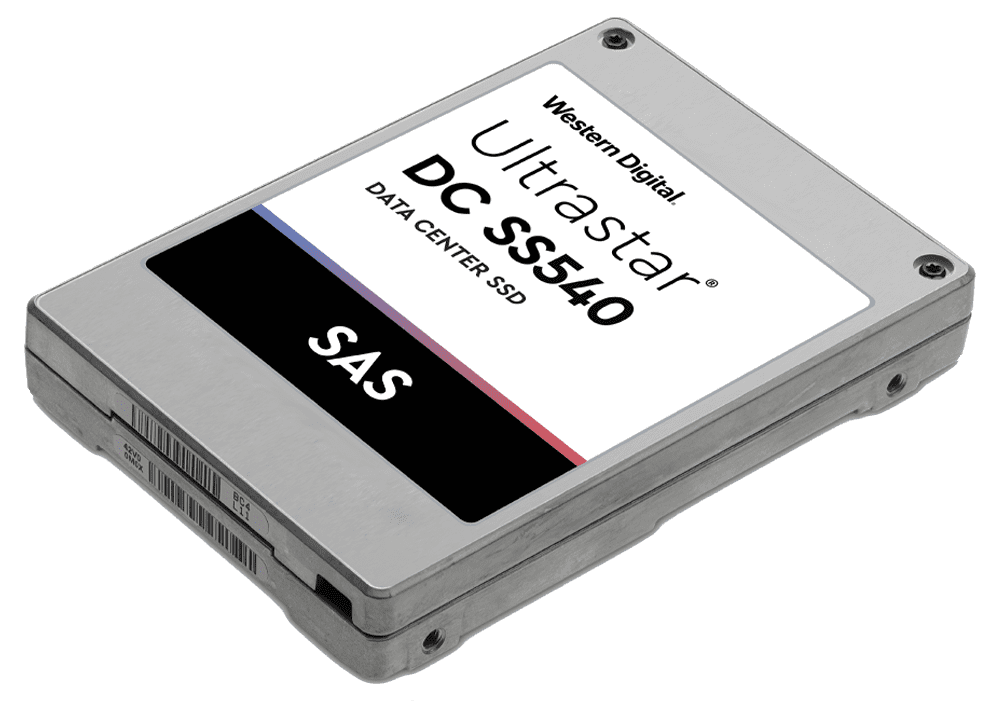 Western Digital has introduced its new series of SSDs designed for mission critical applications, including OLTP, OLAP, hyper converged infrastructure (HCI), as well as software-defined storage (SDS) workloads. The Ultrastar DC SS540 drives are aimed at mixed and write intensive workloads and can be configured accordingly. Since the new SSDs use an SAS 12 Gbps interface, they are drop in compatible with existing machines.
The Western Digital Ultrastar DC SS540 is based on the company's 6th-generation dual-port SAS 12 Gbps platform co-developed with Intel as well as 96-layer 3D TLC NAND memory and comes in a 2.5-inch/15 mm form-factor. The new SSDs are drop-in compatible with existing servers that support 9, 11, and 14 W per drive power options (drives with higher power consumption offer higher random read/write speeds).
The Ultrastar DC SS540 supports extended error correction code to ensure high performance and data integrity, exclusive-OR (XOR) parity in case a whole NAND die fails, and parity-checked internal data paths. In addition, the Ultrastar SS540 complies with the T10 Data Integrity Field (DIF) standard. It will be available in different SKUs with capabilities like instant secure erase and/or TCG+FIPS encryption to conform to various security requirements.
As far as sustained performance is concerned, the Ultrastar DC SS540 is rated for up to 2130 MB/s sequential read/write speed, up to 470K IOPS random write IOPS, and up to 240K random write IOPS, depending on exact model, which is generally in line with performance of the Ultrastar DC SS530 SSDs launched last year. The DC SS540 offers reliability of 2.5 million hours mean-time-between-failure (MTBF). The Ultrastar DC SS540 is currently sampling and in qualification with select customers. Mass production is scheduled for CYQ1 2020.
According to Western Digital, the new SAS SSD family is the ideal drive of choice for all-flash arrays (AFAs), caching tiers, HPC and SDS environments. But no matter how good they are, Ultrastar DC SS540 SSD have a limited number of writing cycles and may eventually wear out, leading to critical data inaccessibility and their owners will need to contact a professional data recovery service provider. ACE Data Recovery team has an extensive experience in recovering data from SSDs manufactured by Western Digital and is ready to help Ultrastar DC SS549 SSD owners with their data recovery needs.