Western Digital announces a new line of Red NAS drives
November, 2019
Western Digital announces a new line of Red NAS drives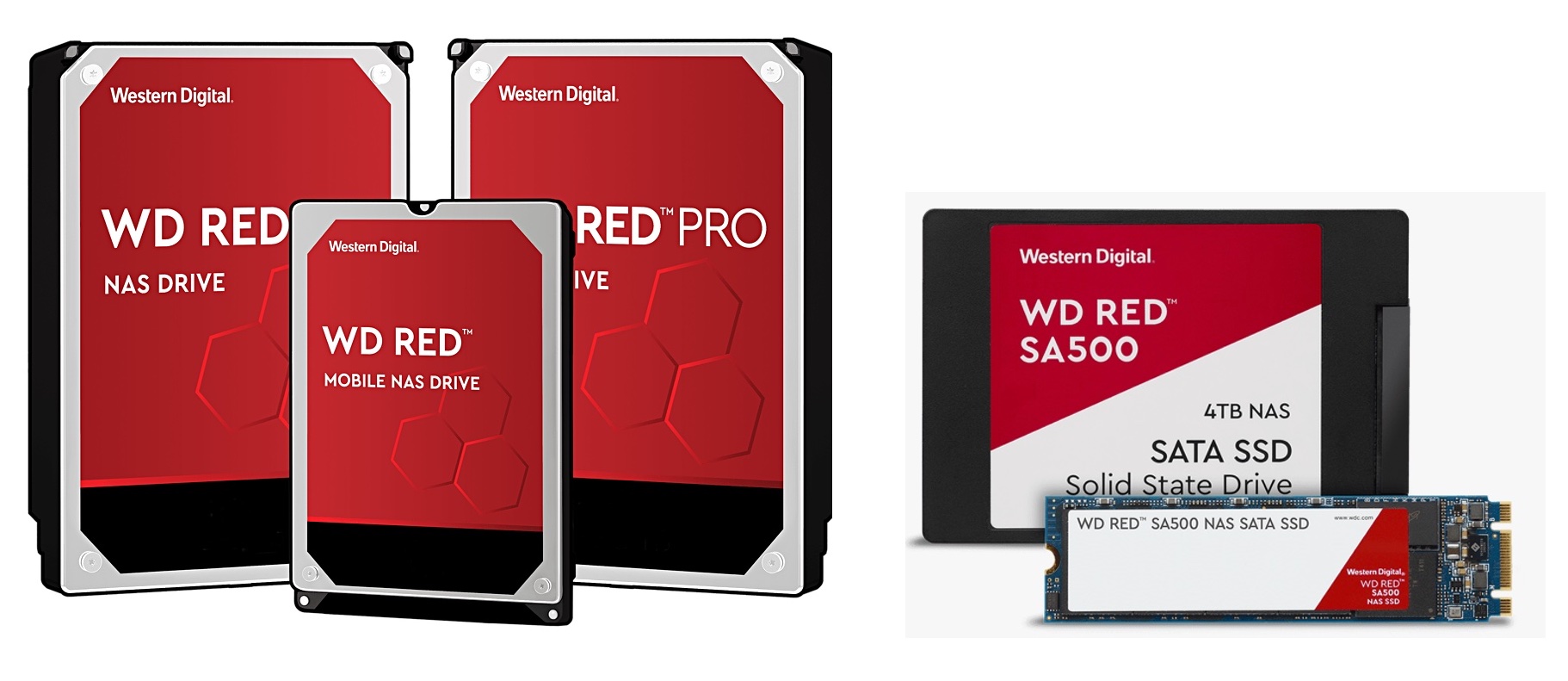 Western Digital has announced that it will add three new NAS drives to its WD Red product line with the aim of delivering improved performance, durability, capacity and accessibility for small businesses and home offices which rely on NAS drives for their storage needs. These new drives include the first-ever WD Red SSDs that enhance performance and caching abilities in a hybrid NAS environment as well as a 14TB storage option for both its WD Red and WD Red Pro HDDs.
Due to a rise in the virtualization and the use of 10GbE and higher connectivity speeds in modern NAS systems, Western Digital has upgraded its line of WD Red devices with 2 SSDs to cut down the chance of bottlenecks and provide full support of these modern systems, without compromising on WD Red's reputation for durability.
The WD Red SA500 SSD comes in both a 2.5-inch and M.2 form factor to offer greater comparability with a wider variety of systems and use cases. It supports OLTP databases, multi-user environments, photo rendering, 4K and 8K video editing. The 2.5-inch version of the WD Red SSD has a capacity of 500GB up to 4TB while the M.2 version has a capacity of 500GB up to 2TB.
The WD Red SA500 SSD helps boost performance when used as a caching solution in a NAS system while the new higher capacity WD Red and WD Red Pro HDDs are able to offer more storage space in the same NAS device.
The WD Red NAS HDD (14TB) is designed for use in NAS systems with up to 8 bays and is ideal for small-and-home-office 24/7 environments while supporting up to a 180 TB/year workload rate. Built with enhanced reliability, the Pro version of the new 14TB HDD supports up to 24 bays and features 3D Active Balance Plus technology and error recovery controls with NASware 3.0 technology.
The new Western Digital Red NAS drives will be a good option for small business owners and for those who are running out of storage space in their home office, allowing them to benefit from faster network transfer speeds and optimal endurance. But no matter how good they are, the new Western Digital Red NAS drive may fail due to physical or logical failures, just like any other storage media. Then their owners will need to contact a reliable professional data recovery services provider to get their critical data back. ACE Data Recovery team has an extensive experience in successful recovery of data from hard drives and SSD of all makes and models, including drives manufactured by Western Digital. ACEs can boast of 98% success rate and will gladly help owners of WD Red NAS drives with their data recovery needs.