Western Digital Blue SN550 NVMe SSD
January, 2021
Western Digital Blue SN550 NVMe SSD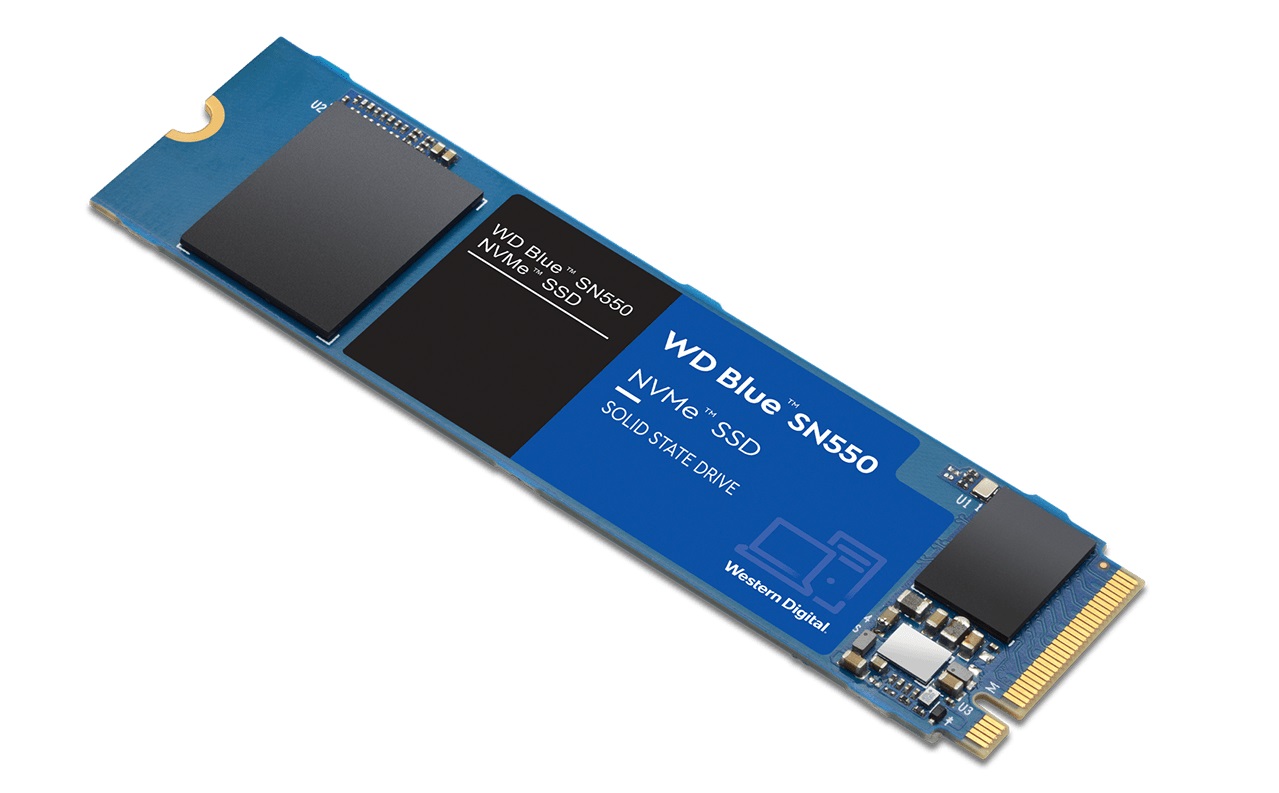 Western Digital divides its portfolio of solid state products into multiple families: Black, Blue, and Green, and the Blue is their mid-tier storage solution.
The WD Blue SN550 is an M.2 Type-2280 PCI Express 3.0 x4 NVMe SSD, based on a second-generation, 96-layer 3D TLC NAND manufacturing process. True to its name, WD's Blue SN550 comes with a blue PCB, in a single-sided M.2 2280 form factor, so it can fit in even the thinnest of devices.
WD's Blue SN550 is available in 250GB, 500GB, 1TB, and 2TB capacities to suit the mainstream crowd and offers very competitive performance for very low pricing. WD rates the SSD to deliver sequential read speeds of up to 2,400 MBps and write speeds of up to 1,950 MBps, although the smallest 250GB capacity can only hit 950 MBps of write speed. For random performance, WD rates the Blue SN550 at 410k IOPS for reads and 405k IOPS for writes.
The WD Blue SN550 uses SanDisk branded 96L BiCS4 TLC NAND flash in a single package containing 16 512-gigabit dies. The Blue SN550 does not have a DRAM cache, instead opting to use a portion of its flash memory as an SLC cache. The Blue SN550 does not natively support AES-256 encryption, so it's not a great choice for enterprise users.
WD supports the company's SSDs by providing end-users SSD toolbox. WD's SSD Dashboard constantly monitors the health of the SSD and maintains optimal performance. With its user-friendly graphical interface, this dashboard allows you to monitor and analyze your SSD's health, performance, as well as update the firmware if the company releases it in the future.
The WD Blue SN550 SSDs are good for PC users looking to improve overall system performance over traditional SATA SSDs and especially HDDs, for tasks including booting and application load speeds. It's also a good choice for those looking to move to an NVMe-based SSD at an affordable cost.
But, unfortunately, the WD Blue SN550 SSDs are vulnerable to physical and logical SSD failures, just like any other storage devices. ACE Data Recovery team has an extensive experience in recovering data from SSDs of all makes and models and will gladly help the WD Blue SN550 SSD owners with their data recovery needs.