WD BLACK P40 Game Drive USB 3.2 Gen 2x2 Portable SSD
December, 2022
WD BLACK P40 Game Drive USB 3.2 Gen 2x2 Portable SSD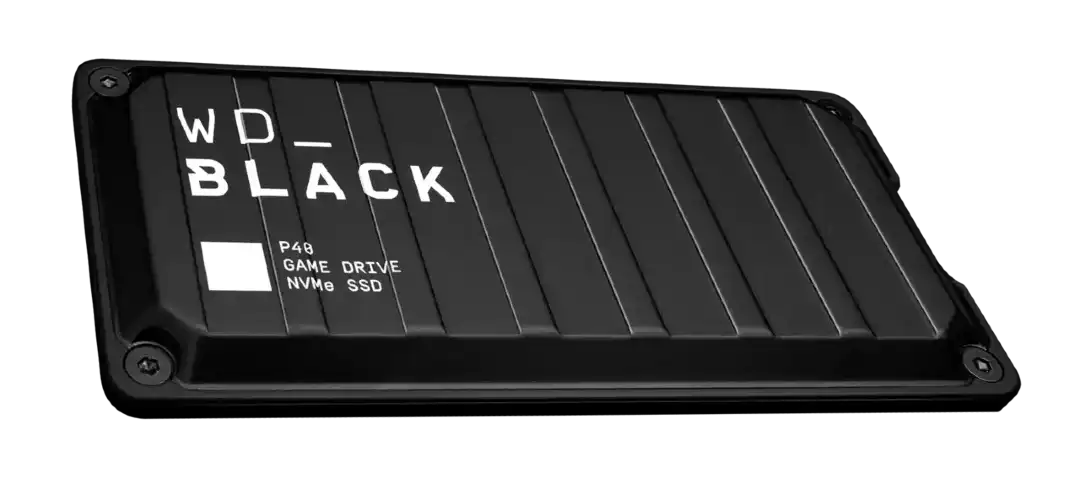 The WD BLACK P40 Game Drive SSD augmented the company's strong set of offerings in the gaming market. As a complement to the popular WD BLACK P50 Game Drive SSD, the new PSSD retained the USB 3.2 Gen 2x2 (20 Gbps) link while adding RGB lighting to the case. The P40 Game Drive SSD was launched with very similar specs (up to 2000 MBps) as WD_BLACK P50 but offered at a much lower price point.
The WD BLACK P40 Game Drive SSD retains the industrial design and appearance of its premium sibling although it is slightly more compact. One of the key updates appreciated by the target gaming market is the addition of RGB lighting (controllable via WD's dashboard software) to the case. Instead of supplying two separate cables, WD is providing a single Type-C to Type-C cable with an attached Type-C to Type-A adapter. The WD BLACK P40 SSD comes in three different capacities to fit users' needs — a 500GB model, as well as a 1 and 2 TB.
The WD BLACK P40 External Drive USB 3.2 Gen 2x2 Portable SSD is an interesting budget addition to the gaming-targeted lineup. The lack of performance consistency in writing out huge amounts of data is a deal-breaker for performance enthusiasts, but the SSD drive is able to make use of the high-speed interface well when reading out data. So, the WD BLACK P40 SSD could still be beneficial to a subset of the gamers who rarely write out whole games to the drive, but play them directly off the portable SSD. A segment of gamers may also appreciate the infusion of RGB lighting. The WD BLACK P40 Game Portable SSD is also a solid mid-range performer for traditional use-cases.
But no matter how good they are the WD BLACK P40 Game Drive USB 3.2 Gen 2x2 Portable SSDs are vulnerable to some defects like magnetic fields, electric charges, and abrupt power loss that may result in failures, making user data inaccessible. For data retrieval from the WD BLACK P40 SSDs will need to contact a reliable data recovery services provider to get their valuable data back. ACE Data Recovery is the only company that develops its own in-house proprietary hardware and software specifically to recover SSD drives. ACEs are ready to help the WD_BLACK P40 Game Drive SSD owners with their data recovery needs.