Kioxia and Western Digital presented BiCS5 NAND SSD memory with 112 layers
February, 2020
Kioxia and Western Digital presented BiCS5 NAND SSD memory with 112 layers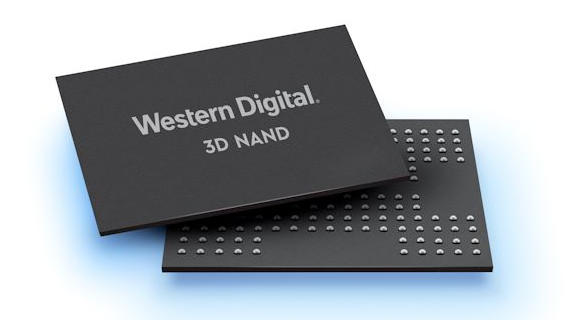 Western Digital and Kioxia (formerly Toshiba) have officially revealed their 5th generation of 3D BiCS NAND technology, which successfully stacks 112 layers of flash memory together with TLC or QLC technologies. This innovation is called BiCS5 and initial chips offer 512Gb of storage.
Kioxia plans to start shipping samples of the new device, which has a 512 gigabit (64 gigabytes) capacity with 3-bit-per-cell (triple-level cell, TLC) technology, for specific applications in the first quarter of calendar year 2020. Production of BiCS5 in meaningful commercial volumes is expected in the second half of calendar 2020Going forward, Kioxia will apply its new fifth-generation process technology to larger capacity devices, such as 1 terabit (128 gigabytes) TLC and 1.33 terabit 4-bit-per-cell (quadruple-level cell, QLC) devices.
Second-generation multi-tier memory hole technology, improved engineering processes and other 3D NAND cell enhancements significantly increase cell array density horizontally across the wafer. These "lateral scaling" advancements in combination with 112 layers of vertical memory capability enables BiCS5 to offer up to 40 percent more bits of storage capacity per wafer compared to the 96-layer BiCS technology, while optimizing cost. New design enhancements also accelerate performance, enabling BiCS5 to offer up to 50 percent faster I/O performance compared to BiCS4.
The new memory will find its way to a wide variety of applications, including traditional mobile devices, consumer and enterprise SSDs, emerging applications enabled by the new 5G networks, artificial intelligence and autonomous vehicles. BiCS5 offers exactly what the market wants from NAND – faster I/O speeds, smaller, more storage dense chips, and the promise of decreased production costs. It will allow users to store more personal and business data on flash media devices and transfer their files at higher speeds.
BiCS5 3D NAND Flash based media devices have several advantages over other portable storage media because they are faster, have higher storage density, and contain no moving parts. But sooner or later they will fail just like other storage media. Then their owners will need to contact a professional data recovery services provider to get their critical files back. ACE Data Recovery team has developed an advanced flash memory recovery process and is ready to help the proud owners of new devices based on BiCS5 3D NAND technology with their data recovery needs.