Toshiba Surveillance and Video Streaming Internal Consumer Hard Drives
June, 2021
Toshiba Surveillance and Video Streaming Internal Consumer Hard Drives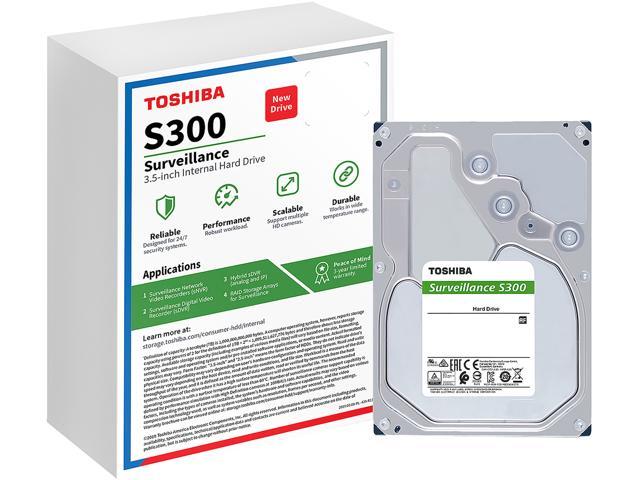 Toshiba S300 and V300 series 3.5-inch hard drives are designed for surveillance and video streaming applications. The S300 lineup offers high performance for up to 64 high-definition camera streams and up to 10 TB capacity, whereas the V300 hard drives are focused on energy efficiency and quiet operation with capacities of up to 3 TB and are suited for all entry level recording and streaming for the home.
The S300 surveillance hard drive series feature large cache size up to 256MB and a 7200 RPM spindle speed. The Toshiba S300 series HDDs support ATA streaming technology and are prepared to work in vibrating multi-drive environments of video surveillance applications (SDVR, SNVR, Hybrid SDVR). As for endurance, the S300 series HDDs are rated for 180 TB per year and one million hours MTBF.
As for performance, the Toshiba S300 10 TB HDD supports up to 248 MB/s media to buffer transfer speeds due to its very high areal density, and the performance of other HDDs is slightly lower. The power consumption of the S300 series HDDs varies between 7.88 W and 9.48 W (operating power), depending on the model.
The Toshiba V300 HDDS are entry-level consumer drives for video streaming applications; they feature a 5000 RPM-class spindle speed and up to 64 MB buffers. The V300 hard drives support the ATA streaming technology and can record data from up to four HD cameras at once. They are mostly aimed at consumers who want inexpensive 3.5-inch HDDs for their HTPCs and similar applications and can also be used for various home security applications.
The Toshiba V300 series HDDs offer built-in silent seek technology, which results in a quiet operation. The V300 low spin design reduces energy consumption by up to 25%. The V300 hard drives support video editing systems, set-top-box (STB), digital video recorders (DVR), and network video recorders (NVR).
The S300 and V300 hard drives further illustrate Toshiba's efforts to offer drives with higher storage and capacity for every consumer storage application, including PC, gaming, NAS, surveillance, and video streaming.