Toshiba Canvio Flex 2TB External Hard Disk Drive
December, 2020
Toshiba Canvio Flex 2TB External Hard Disk Drive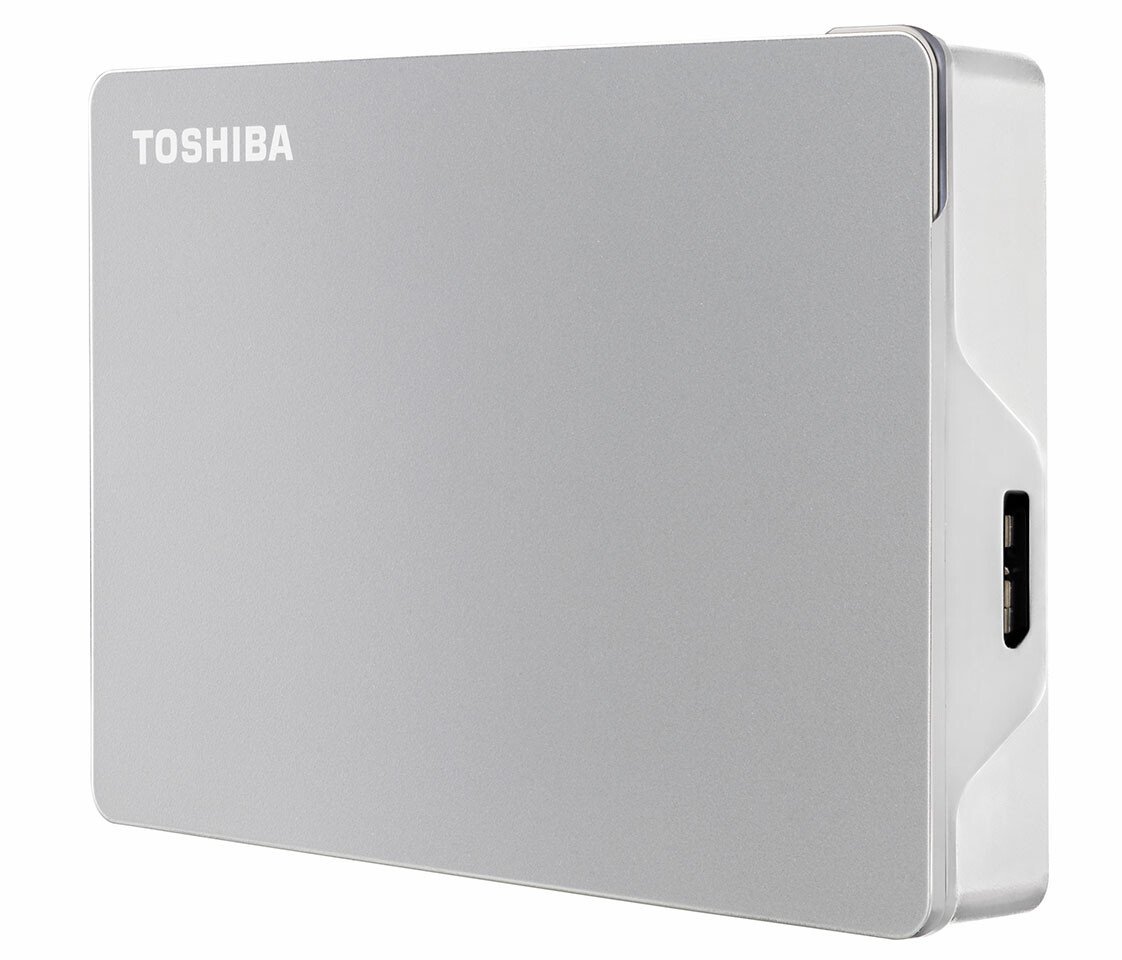 Toshiba has released the Canvio Flex, a family of portable external hard disk drives that feature 2.5-inch form factor. These HDDs are available in 1TB, 2TB and 4TB capacities with a high-end silver finish and a lightweight design. The Canvio Flex external HDD are categorized as specialty storage because they carry a long three-year warranty and come with a Type-C cable.
The Canvio Fex HDTX120XSCAA is a 2TB model, and it is reasonably compact (80 x 111 x 13.5mm) and light (149g). It comes with two USB cables, one with a Type-A connector, and the other one with a Type-C connector. The HDD uses drive-managed SMR technology, with a 5400RPM spinning speed and 128MB cache. It offers cross-device compatibility and is designed for PC, Mac, and tablets.
The Toshiba Canvio Flex 2TB HDD doesn't come with any utilities like some of its competitors; there's no free backup software, no cloud backup services, and no Adobe creative cloud trial (like for Seagate). When it comes to performance, the Canvio Flex performs in line with the rest of the competition, including the older Toshiba Canvio drives, reaching about 150MBps on average on read/write speeds. Still, the traditional hard drive technology has reached a plateau both in terms of throughput, access time, and sheer speed.
Toshiba Canvio Flex external HDD is keenly priced, reasonably built, and performs as expected. The only slight concern is the fact that it uses a Micro-B USB port for which there is no real need. So if you are in the market for an affordable, large capacity portable external hard drive with a long warranty and a Type-C connector (useful for connecting to a smartphone or tablet), the Canvio Flex makes a good option.
Still, Canvio Flex HDDs have moving parts and are vulnerable to physical failures that can result in critical files inaccessibility. Then the owners of the Toshiba Canvio Flex external HDDs will need to contact a reliable data recovery services provider to get their irreplaceable data back. ACE Data Recovery can successfully recover HDDs of all makes and models, including Toshiba hard drives, and will gladly help the Canvio Flex HDD owners with their data recovery needs.