Toshiba Announces 8TB HDD for Enterprise
April, 2017
Toshiba Announces 8TB HDD for Enterprise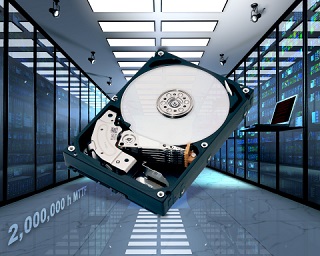 Toshiba, a leader and innovator in high technology, announced that it is now shipping its next MG series HDD - the MG05ACA800 that can provide 8 TB for business critical servers and shared storage systems. It is Toshiba's highest capacity HDD to date. This new MG series of HDD model has increased its capacity by 33%, from 6TB to 8TB, from the prior MG04ACA.
This drive is the first Toshiba 8TB SATA 6.0Gbit/s storage for enterprise, which has 12% increase in sustained transfer rate performance when compared to MG04ACA. As Toshiba states, the HDD' performance characteristics meet the requirements for applications such as software-defined storage infrastructures, public and private cloud deployments, digital archives and disk-based backup and data protection solutions.
The new 8TB hard drive is designed to operate 24/7 and provides a 550 transferred-per-year rated workload. The drive has power management features that can help in optimizing operating costs and operating environment during off-peaks activity periods. Besides, this model supports the new industry-standard host-initiated power-disable feature for improved device management capability.
The new HDD launch can become a challenge to many US companies that provide qualified data recovery services because eventually these storage units may fall victims to physical or logical failures.
Companies like ACE Data Recovery, the world leader in data retrieval, have enough experience and cutting-edge tools to take up the challenge. ACEs have several full-service labs to perform the most complex data recovery operations that require Class 100 cleanroom environment.
Besides, the company can be proud of the best engineers in the industry, which means that ACE data recovery experts can develop case-specific solutions to recover data from any file storage device known to modern PC/Mac users.
We are sure that ACE Data Recovery team will be able to find reliable solutions to get ready for the first data retrieval requests from the 8TB SATA enterprise-capacity HDD owners.