Toshiba Unveils the 18 Tb N300 and X300 Pro Series Hard Drives
April, 2022
Toshiba Unveils the 18 Tb N300 and X300 Pro Series Hard Drives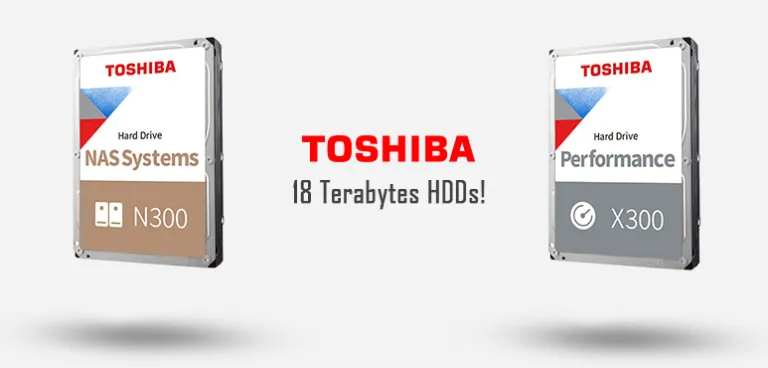 Toshiba announced the release of two new products – the N300 Pro and X300 Pro HDDs. These new hard drives are good solutions for business owners and creative professionals, respectively, seeking an HDD built for high performance and reliability. Both HDDs are available in capacities of up to 18TB with workloads up to 300TB/year and a come with a limited 5-year warranty.
According to the company, both N300 Pro HDD and X300 Pro HDD are built around Toshiba's latest innovations in HDD technology. The N300 Pro and X300 Pro hard drives combine Toshiba's Cache Technology and Stable Platter Technology (≥10TB range), and FC-MAMR (18TB) to provide an innovative solution for both advanced computer users and professionals.
With 7200 RPM rotational speed and CMR technology, Toshiba's unique laser welding helium-sealed process is used in the 10 TB, 12 TB, 14 TB, 16 TB, and 18 TB designs to help achieve low power consumption and acoustic output. The HDD drives are designed for 24/7 NAS environment, support up to 24 drive bays, have built-in RV sensor to mitigate rotational vibration, and are rated at 1.2 million hour MTTF. The N300 Pro HDDs are a perfect fit for medium or large-sized businesses.
The X300 Pro HDDs have innovative actuator designs that help optimize positioning accuracy and read/write performance for real-time access to data. The X300 Pro hard drives are manufactured with high-endurance components for enhanced HDD reliability and workload performance. These models spin at 7200 RPM and employee CMR technology for broad compatibility. The X300 Pro HDDs also use Toshiba's unique laser welding helium-sealed design in the 10 TB, 12 TB, 14 TB, 16 TB, and 18 TB models. All X300 Pro models have a 1.0 million hour MTTF and are built for workload-intensive applications for creative professionals and gaming PC enthusiasts. They are designed for professional desktop workstations, high-end gaming computers, high workload performance PCs, and multi-media design workstations.
The new Toshiba N300 and X300 Pro Series hard drives are built for high performance and reliability, but they can also fall victim to logical and physical failures that can result in data loss. Then business owners and creative professional will need to contact a professional data recovery services provider to get their irreplaceable files and documents back. ACE Data Recovery team has extensive experience in recovering data from all types of storage media and is ready to help the Toshiba N300 and X300 Pro HDD owners with their data recovery needs.