Toshiba Announces 10TB MG06ACA Enterprise Capacity HDD
October, 2017
Toshiba Announces 10TB MG06ACA Enterprise Capacity HDD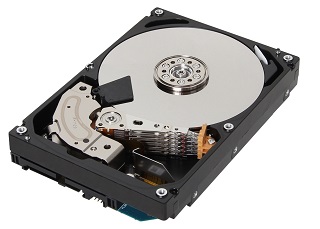 Toshiba has announced its new enterprise-grade MG06ACA-series hard drive that provides 7200 RPM performance and up to 10 TB of capacity that means a 25 percent capacity increase compared to prior generations. The new units have a new design and come in industry-standard 3.5-inch 26.1 mm height form factor.
Performance and reliability ratings of the MG06ACA-series drives are on par with other enterprise-class HDDs. The models are delivered at multiple capacity points (6TB, 8TB, 10TB) to better leverage capacity refresh qualification cycles for OEMs/ODMs infrastructure builders, cloud solution providers (CSPs) and system integrators.
Toshiba's 10 TB hard drive is based on the company's new platform featuring up to seven PMR platters along with a 7200 RPM spindle speed and the company's persistent write cache. Toshiba's PWC with power loss protection (PLP) stores data that is not yet written to the HDD media. Previously such feature was only found on enterprise-grade 10K and 15K hard drives to improve reliability, but Toshiba is installing it on nearline drives as well. Speaking of reliability in general, Toshiba rates the MG06ACA HDDs for 550 TB annual workload as well as for 2.5 million hours MTBF rating.
New Toshiba's 10TB MG06ACA HDDs feature high capacity and data reliability but, unfortunately, like any other HDDs, they are vulnerable to serious physical and logical failures that may lead to critical data loss. Data recovery from failed hard drives is a complex process that usually takes time and needs resources to complete it successfully so to get inaccessible data back, businesses and organizations will need to rely on professional data recovery services provider.
ACE Data Recovery engineers that are hired from all around the world are extensively experienced in recovering lost data from any type of hard drives regardless of the cause of failure. All data recovery procedures are performed in the company's proprietary full-service laboratories with clean rooms for HDD recovery. ACEs can develop highly specific solutions for unusual cases and ensure safe and successful data recovery. That's why ACE Data Recovery team makes the best choice when you need to recover data from any failed storage media.