Teamgroup T-Force M200 4TB External SSD Revealed
March, 2022
Teamgroup T-Force M200 4TB External SSD Revealed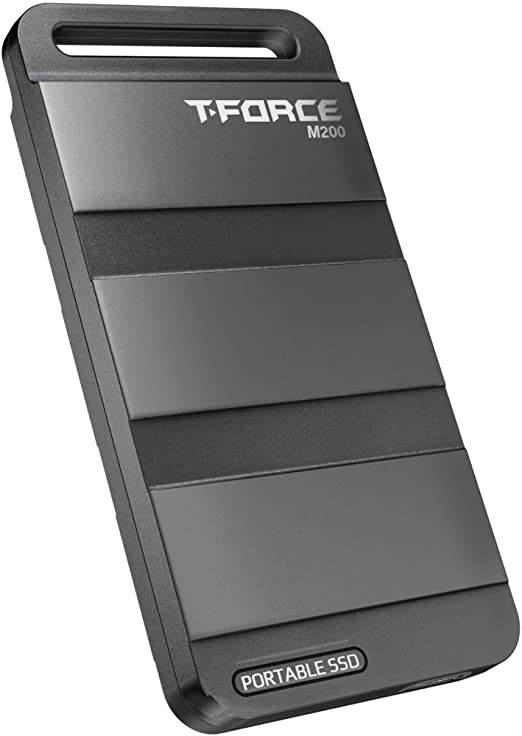 The T-Force M200 is the latest portable SSD from TeamGroup that is well designed, reasonably fast, and spacious. The light-weight SSD drive of 83 gr is available in 2TB, 4TB, and in 8TB capacities. It's not the biggest SSD out there, but it has a decent size (105 x 56 x 11mm).
Teamgroup's designers sought inspiration for the M200 SSD from the military (presumably because it's an external storage device that is aimed at adrenaline-filled gamers). One could even argue that the Teamgroup T-Force M200 looks a lot like the detachable box magazine of the CheyTac M200, the longest range sniper rifle in the world.
Teamgroup mentioned the use of a patented graphene cooling technology with a dual metal structure to increase cooling surfaces and ensure stable data transmission. Unfortunately, the M200 SSD doesn't have an IP-rating to be water resistant, but it has been tested to withstand falls of 2m on a carpeted floor without impacting stored data. There's also a gap – which Teamgroup calls a hanging hole - which serves the same purpose as the carabiner in the Extreme Pro range. You get two reasonably long cables as well.
The device uses a full size M.2 NVMe SSD coupled with a Phison E16 controller and an ASMedia ASM2364 USB Bridge. it uses QLC NAND (from Crucial) and can reach read/write speeds of up to 3.4GBps/3GBps, far higher than what USB 3.2 Gen2x2 can achieve – TeamGroup claims speeds of up to 2GBps on read/write.
The Teamgroup T-Force M200 4TB External SSDs offer wide compatibility with gaming consoles – they support multiple platforms, such as desktop/laptop computers, PlayStation, Xbox game console. The M200 SSDs also come with 5-year limited warranty, but unfortunately, SSD failure can make critical user files inaccessible. Then their owners will need to contact a professional data recovery services provider to get their data back. ACE Data Recovery team has an extensive experience in recovering data from all types storage media and can boast of the highest success rates in the industry. ACE Data Recovery engineers are ready to help the Teamgroup T-Force M200 4TB External SSD owners with their data recovery needs.