Synology Introduces DiskStation DS419slim
July, 2019
Synology Introduces DiskStation DS419slim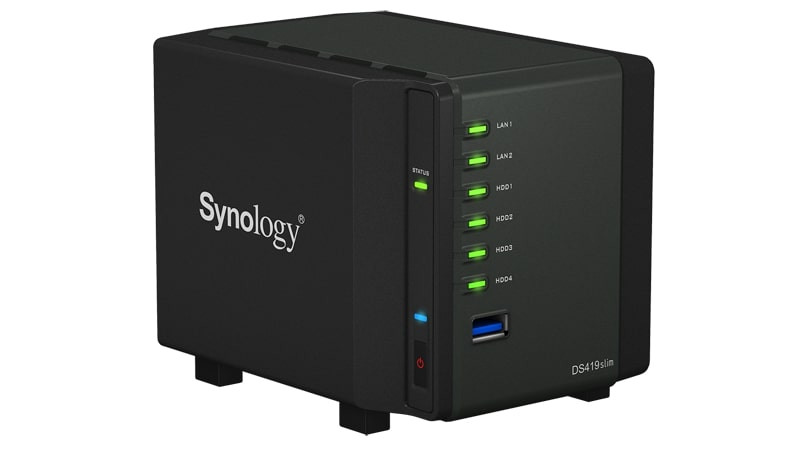 Synology has launched the DiskStation DS419slim, a 4-bay NAS equipped with 2.5" drive support and designed for small office and home users. Powered by a Marvell Armada 385 88F6820 dual-core 1.33GHz processor, this cube-shaped NAS is quoted to deliver over 220MB/s read and 94MB/s write in a dual Gigabit Link Aggregation environment. With portable design, this cube-shaped NAS is less than 15cm with 700 grams in weight
The DS419slim is also fairly power-efficient, as it consumes just 20 watts during data accessing and 7 watts during HDD hibernation. Like all Synology devices, the DS419slim is managed by the Synology DiskStation Manager, a web-based and multitasking operating system that offers a lot of apps and features to make their NAS systems easy and effective to use and configure.
Currently in version 6.2, DSM is one of the most user-friendly NAS OS on the market. It offers users the ability to configure storage capacity, easily manage personal clouds, and gives access to your DS419slim from anywhere at any time. Moreover, the DSM's built-in Package Center gives users a plethora of applications to install, including those that enable cloud sharing, online photo albums, VPN features and more.
The DS419slim is a great NAS for those looking for a personal 24-hour cloud solution that takes up very little space. "As a clever and reliable personal cloud, DS419slim helps keep your precious photos, videos, and documents in order, bringing everything under control with its powerful file management capabilities," said Katarina Shao, Product Manager at Synology Inc. Users will be able not only easily access, share, and synchronize all their files across multiple platforms, but they can also own a multimedia library where they can stream digital content on their mobile devices on the go.
But no matter how good they are, the new may fall victim of logical and physical failures and photos and videos stored on them will become inaccessible. To get their vital files back, the proud owners of DiskStation DS419slim NAS will need to contact a professional data recovery services provider. ACE Data Recovery team has been providing premium data recovery services for more than 35 years. ACEs have an extensive experience in recovering data from all storage media, including NAS. ACEs will gladly help the Synology DiskStation DS419slim NAS owners with their data recovery need.