Synology Introduces 4-bay NAS DiskStation DS418j
August, 2017
Synology Introduces 4-bay NAS DiskStation DS418j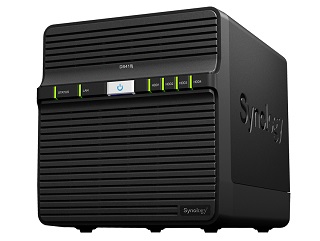 Synology has launched their latest budget friendly, 4-bay NAS server, the DiskStation DS418j which is designed to help home and individual users and photography enthusiasts manage, protect and share data effectively.
The new NAS comes equipped with a 64-bit dual-core CPU and 1GB of DDR4 memory that allow it to hit performance numbers of 112 MB/s read and 87 MB/s write under a RAID 5 configuration in a Windows environment. The NAS can have up to 40TB of total capacity with 4 x 10TB HDDs. Designed with user experience and energy efficiency in mind, the DS486j has brightness controls for its LED indicator lights and only uses 21.22W in full operation and 8.97W in hibernation.
DS418j runs on DiskStation Manager (DSM), an operating system for network-attached storage devices, and handles storage management Synology Hybrid RAID (SHR) technology allowing users to create and expand storage volumes and migrate RAID types without requiring details on RAID. SHR provides 1 to 2-disk redundancy to safeguard your data during drive failures.
Synology DiskStation DS418j is a powerful entry-level 4-bay NAS for home data backup and multimedia streaming but like other storage media, it is vulnerable to physical and logical failures that happen when you least expect them and can make critical user's files inaccessible.
Data recovery from storage devices with large capacities can be a rather challenging task as it requires advanced technologies and state-of-the-art equipment. ACE Data Recovery is a worldwide leader in providing data recovery services and has technology and expertise to handle any data recovery process and successfully recover any amount of data from any data storage device no matter what the cause of the failure is.
When standard technologies don't work, ACEs can create highly specific recovery solutions for unusual cases. ACE Data Recovery engineers perform data recovery without damaging the media device or data. ACEs use cutting-edge tools to solve difficult issues and can recover data that other companies can't.