Synology Unveils DS3622xs+ and DS2422+ 12-Bay NAS
November, 2021
Synology Unveils DS3622xs+ and DS2422+ 12-Bay NAS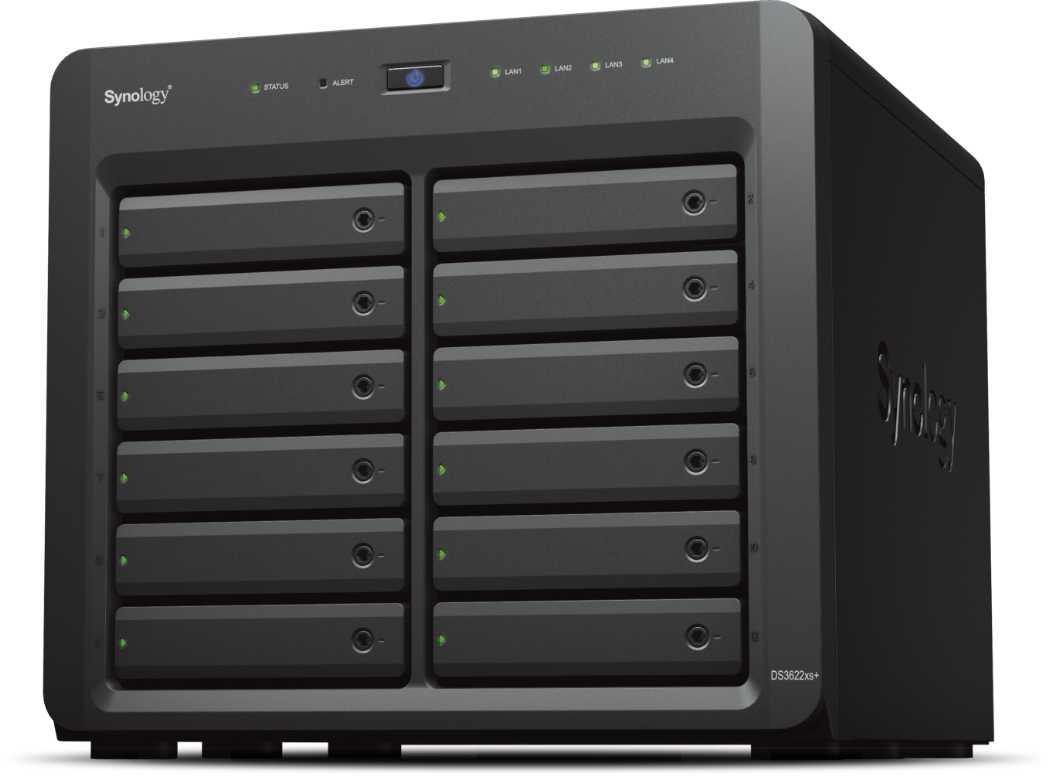 Synology announced its newest 12-bay NAS units, the Synology DiskStation DS3622xs+ and DS2422+, as well as the DX1222 companion expansion unit. These are the company's two biggest desktop form factor products that boast computing power to match their storage potential.
According to Synology, the DS3622xs+ and DS2422+ serve a very diverse market of businesses and creatives who need ample amounts of secure and fast storage, without deploying a rackmount server and the associated costs.
The DS2422+ NAS offers reliable mass storage and efficient data protection for a wide range of scenarios. Expandable to 24 bays, the DS2422+ is perfect for serving and protecting large data sets in multi-user environments, and thanks to a new processor, it outperforms its predecessor. With dependable 2,200/1,300 MB/s sequential read/write speeds, plenty of storage options, and cost-effective deployment, it can be an ideal choice for small and medium-sized businesses looking to manage and back up their data assets more productively.
The DS3622xs+ NAS can support heavy duty applications, including as networked surveillance or backup server, or storage for virtual machine storage and direct video editing. The NAS delivers over 260,000 4K random read IOPS and 4,700/2,400 MB/s sequential read/write speeds.
The DS3622xs+ NAS is equipped with dual 10GbE RJ-45 ports and three Gigabit ports. It delivers fast networking and out-of-band management (OOB) management right out of the box and supports integration with Fibre Channel SAN. The DS2422+ NAS integrates easily with existing IT infrastructure thanks to four Gigabit RJ-45 ports. Both units support 10/25GbE network interface cards for expansion. M.2 NVMe SSD adapter cards can be used to add NVMe SSD cache to improve random I/O performance for hot data.
The DS3622xs+ and DS2422+ NAS are both built for DSM 7.0, the latest version of Synology's DiskStation Manager (DSM) operating system, with more powerful data and storage management tools. Both the DS3622xs+ and DS2422+ NAS are designed to optimally work with Synology enterprise drives. The HAT5300 3.5″ SATA HDD and SAT5200 2.5″ SATA SSD are engineered specially to provide high performance and DSM integration for enhanced monitoring and maintenance capabilities.
Storage capacity can easily be doubled or tripled by connecting up to two5 12-bay DX1222 expansion units. Managing storage expansion is made simple with Synology DSM, which minimizes service disruptions during expansion.
The new Synology DS3622xs+ and DS2422+ 12-Bay NAS will provide a good solution for for all types of power uses, but they are also vulnerable to physical and NAS logical corruption that may result in data loss. To get their critical data back, users will need to rely on professional data recovery services providers like ACE Data Recovery. ACEs have extensive experience in recovering data from all types of storage and will gladly help the Synology DS3622xs+ and DS2422+ 12-Bay NAS owners with their data recovery needs.